Below is a chart highlighting the year-to-date performance of the S&P 500 and its 10 sectors. At +10.27%, the S&P 500 has already eclipsed the consensus full-year gain that Wall Street strategists were expecting. But who knew that it would be three defensive sectors leading the way? As shown, Healthcare, Consumer Staples, and Utilities are the three sectors up the most year to date. Healthcare has gone parabolic recently and is now up 17.07% on the year. Consumer Staples is up second most at +14.98%, while Utilities is up 12.05%.
The only two cyclical sectors that are outperforming the market as a whole are Consumer Discretionary (+11.86%) and Financials (+11.09%), but the margin is not very big. Every sector is currently up year to date, but the 2.58% gain for Materials and the 3.94% gain for Technology look pitiful compared to the rest of the market.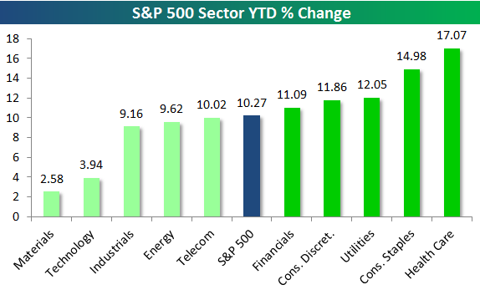 Click to enlarge
Below is a one-year trading range chart for the S&P 500. The blue shading in the chart represents the S&P 500's "normal" trading range, which is between one standard deviation above and below its 50-day moving average. The red zone represents between one and two standard deviations above its 50-day, and vice versa for the green zone. Moves into or above the red zone are considered overbought, while moves into or below the green zone are considered oversold. As shown, the S&P 500 has not been in oversold territory since last November, which was more than four months ago. Rest assured that there will be a day in the future when we are oversold again!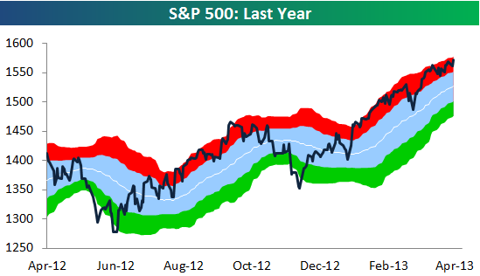 Click to enlarge
We mentioned earlier that sectors like Healthcare and Consumer Staples have had big moves lately, and you can really see them well in the trading range charts of the 10 sectors below. Utilities looks the same way. Moves higher like this just can't be sustained for long periods of time. On the other hand, most cyclical sectors are trading either in the neutral zone or just into overbought territory.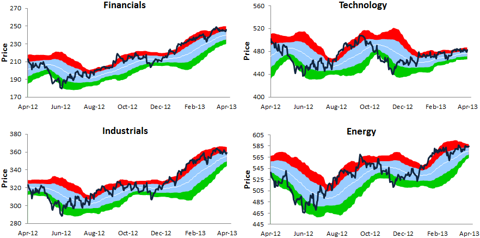 Click to enlarge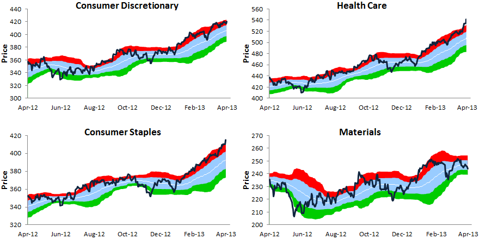 Click to enlarge

Click to enlarge