Micron Technology (NASDAQ:MU) is one of the largest memory manufacturers in the world and the largest U.S. maker of memory chips. Over the course of years the company has been able to transform its memory business through restructuring, joint ventures and acquisitions and now it is standing as the fourth-largest company in the DRAM market, based on Q1 2012 results.
Currently, the company is in the final stages of an acquisition of Elpida Memory Inc., a Japanese memory manufacturer that had petitioned for a corporate reorganization in early 2012. Under the current agreement, approximately USD 2.5 billion of total consideration, less certain reorganization proceeding expenses, will be used to satisfy the claims of Elpida's secured and unsecured creditors.
In another related transaction, Micron has acquired 24% shares of Rexchip Electronics Corporation for approximately USD 334 million from a Taiwanese corporation, Powerchip Technology Corporation. Together with this transaction and the closure of the Elpida deal, Micron will own 100% of Elpida Memory Inc. and 89% of Rexchip Electronics Corporation.
Micron after Acquisition
Using advanced technologies, Elpida has been able to make a strong brand name in mobile DRAM, targeting mobile phones and tablets. Micron, on the other hand, provides enterprise DRAM solutions for networking and servers as well as providing a wide range of products in both NAND and NOR. Combining these two complementary product lines will strengthen Micron's position in the memory market and will help the company in providing better and more complete services to its clients.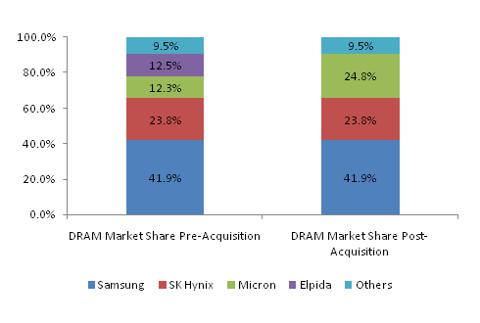 Source: iSuppli; the figure is based on 3Q 2012 results
Incorporating Elpida's and Rexchip's assets will help Micron in consolidating its position in the industry. With these acquisitions Micron will become the second-largest memory manufacturer in terms of revenues, assuming the company is able to sustain the revenues achieved by Elpida and Rexchip.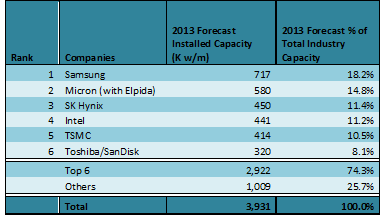 Source: IC Insights
The memory industry is expected to increase its installed capacity by 8.2% by the end of 2013 with the top six companies expected to control more than 74% of the total industry capacity. Once the acquisition of Elpida is completed, Micron is expected to stand at an estimated 580,000 300 mm wafer starts per month , making it the second-largest memory manufacturer in terms of installed capacity, a leap of 3 positions, from 5th place in 2012. The company will be benefited by greater economies of scale, higher revenues and better financial results in the future.
Another synergy for the company, as stated by the management, is that it will add scale to the company. It means that the company would be able to shift complete fabs between DRAM and NAND depending on the market conditions. Previously the company had two fabs dedicated to producing DRAM and the company had to cut DRAM production by 50 percent in order to take advantage of higher NAND prices. Once the acquisition is completed Micron will have four major DRAM fabs, thus giving greater flexibility to the company in terms of shifting production capacity between DRAM and NAND.
The Elpida sponsor agreement is drafted in a way that it provides great benefit to Micron. Under the agreement Micron will only make an initial 60 billion yen payment in exchange for 100 percent ownership of the company. The remaining 140 billion yen payments are to be made from the cash flows generated by Elpida through its operations. If Elpida is unable to generate positive cash flows, Micron would have no obligation to make any further payments. This means that with a small payment of around USD 731 million, Micron will get complete ownership of a company's assets valued at around USD 1.4 billion. Further with the closure of this deal, Micron will have access to the Intellectual Property of Elpida. Elpida currently holds around 1,000 patents, which would be owned by Micron, and given the size of Micron; it would be better able to extract the commercial value of these patents.
Currently Elpida is supplying SDRAM components for the A6 processor of Apple iPhone 5. Although it is not clear whether Elpida is the sole supplier of these parts, one thing that is certain is that buying Elpida will give Micron exposure as one of the top companies in consumer electronics. With recent talks of Apple trying to become less dependent on Samsung in terms of its supplies, the acquisition of Elpida will give Micron the ability to tap into this opportunity. The size and financial strength of Micron combined with the mobile DRAM expertise of Elpida will provide an ideal substitute to Apple. If Micron is successful in increasing its business with the iPhone manufacturer, the company would see its profitability increase many folds.
Conclusion
The large number of manufacturers and a decrease in Global PC shipments in the recent past caused the price of DRAM to fall due to oversupply. This price fall caused Micron to post losses in its recent financial years. But as it is evident from the figure above, now more that 90% of the market share would be in the hands of three companies. As these manufacturers shift their production capabilities to other types of chips (such as NAND Flash) the overall supply of DRAM is likely to decrease in the coming years. It is these cuts in supply, instead of an increase in demand that will increase DRAM prices and help Micron to earn profits in the future.
As can be seen in the figure below, DRAM's revenues are expected to improve in coming years. Although the increase is not that great, it is a positive development given the market contracted 25 percent in 2011.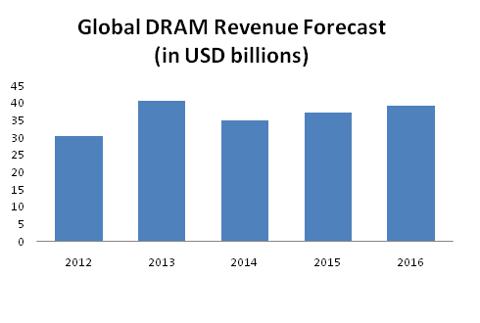 Source: HIS iSuppli
Given the expected growth in revenue and Micron's expected increase in market share, I would expect Micron's consolidated revenue from the DRAM market to increase at least by 25 percent by the end of 2013. After the closure of the Elpida deal, Micron would have control of a greater number of fabs and this would allow the company to shift its production capacity to the more profitable NAND flash without disrupting its DRAM production. With this flexibility and the expected increase in DRAM prices, I would expect Micron to improve its margins and post large profits in the coming years.
Micron, with Elpida and Rexchip, has a very promising future. With the deal in its final stages, I would recommend buying Micron in order to get your share of this growth-oriented company.
Disclosure: I have no positions in any stocks mentioned, and no plans to initiate any positions within the next 72 hours. I wrote this article myself, and it expresses my own opinions. I am not receiving compensation for it (other than from Seeking Alpha). I have no business relationship with any company whose stock is mentioned in this article.