VIX - Market Sentiment:
Tuesday S&P futures were higher yet again, trying to push up and to new highs. Trading in a tight 9 handle pattern, the futures were roaring, following Europe higher throughout the session. This was interesting to me, as both the Italian PMI and German PMI both missed forecasts. Stocks headed higher, lead specifically by the tech sector in early trading. As stated on the sonar report yesterday (here), key economic data is set to be released. Specifically, the ADP non-farm payroll number could either move us back towards the 1560 level or through the 1574 level. The markets weakened into the close as futures and volatility began to price in a possible slight pullback.
The spot CBOE Volatility Index (VIX) and futures were down across the board as the market rallied to new highs. Then around 2:30, some cracks started to form, removing some selling pressure on the volatility futures. Volatility ETF (NYSEARCA:VXX) traded down to new lows before bouncing towards the end of the trading session. Put buyers from last week were heading for the exits, booking gains all day long. Large block orders selling the May 16, 17, and 19 strike puts to the tune of 1.9M in premium were being sold. VXX activity today was overall bearish for the market, as those short volatility are looking to unwind and take profits with markets near the 1570 level.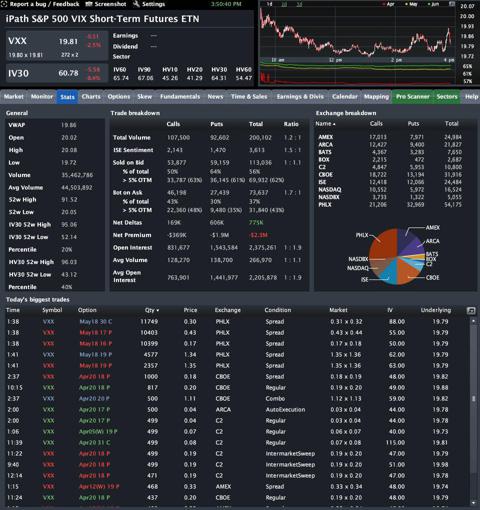 Statistics and Screenshot Provided By LiveVol
VIX futures are listed below.
Yesterday
· March VIX futures 14.50
· April VIX futures 15.60
· May VIX Futures 16.55
Today
· March VIX futures 13.90
· April VIX futures 15.30
· May VIX Futures 16.35
Options Paper:
Molex (NASDAQ:MOLX) is a computer and technology play that was down today in a relatively strong tape. Interesting, as those who watch CNBC's Fast Money know, MOLX was a buy from a contributor just a few short days ago. Today, however, this name saw the April 30 strike puts light up, paying up to 1.40 offer. This caught my eye because MOLX typically only trades 40 contracts total in a day, and today saw more than 1K of the April 30 strike puts bought throughout the day. Options activity was more than 30x average daily volume in this name, with puts outnumbering calls 7.7 to 1 on the trading session. Although not a very high dollar trade, this trader none the less believes MOLX has further downside prior to April expiration.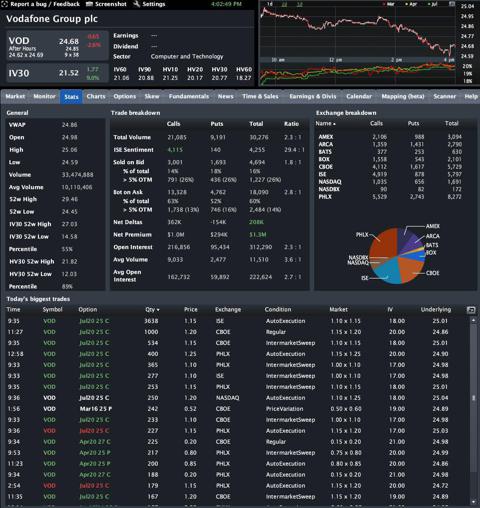 Statistics and Screenshot Provided By LiveVol
Nokia (NYSE:NOK) is a name many know, as the giant of handsets has been crushed over the past 3 months. Today, one trader believes the stock isn't done going down. A buyer of the June 3 strike puts for .24 offer sent implied volatility higher as the contracts went off 12K times. NOK continues to struggle, but the options activity, although not above average daily volume, did see inflows of more than 360K in puts today alone. This is also confirmed by 64% of the 40K puts that traded today, which were bought on the ask as puts outnumbered calls 2 to 1. NOK is not a name I would be short as more analysts continue to speculate on a potential takeover target, but long puts would be a good defined way for someone to continue to make bearish bets if they did not like NOK at 3.25. I think I'm going to stay away from this trade, but will look back in the future for any continued weakness.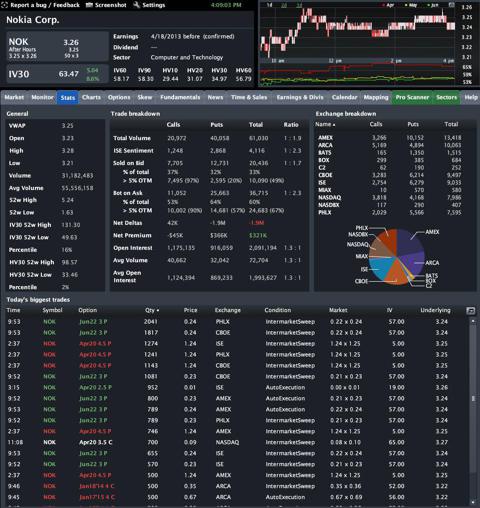 Statistics and Screenshot Provided By LiveVol
Volatility Explosion:
Vodafone (NASDAQ:VOD) is a name we went long on the sonar back when the stock traded near 25.00 back in January. Those who follow me and my trades on Twitter know I foolishly closed VOD when it popped to 26.00 and ran for the hills. Since then, VOD is up crossing 29.00 today and bulls are not backing down. One trader sold the July 27 strike calls, booking massive profits from just 5 short weeks ago and used the proceeds to buy the July 30 strike calls 13.5K times. Additionally, another trader bought the October 30 strike calls for 1.50 10K times, laying down another 1.5M in net premium on this name. Overall today, VOD saw more than 10x average daily volume in terms of calls, with calls outnumbering puts 7.4 to 1. This buying pressure on the calls pushed implied volatility higher on the session by more than 20%, confirming the buying pressure. This option buying was followed with overall net put selling in the name, showing yet even more bullishness in this name when you combine it with the 2.9M in calls purchased today. This name is officially on my radar, and I will look to get into this name if we do get a correction in the future.
Volatility Implosion:
Affymax (NASDAQ:AFFY) is a name I highlighted on the sonar (here) for put activity shortly before the stock collapsed from 16 to now just over 1.25. Today the earnings release did not help, crushing the stock another 7.3% on the day with implied volatility just getting sucked out, dropping more than 25% on the day. Option premiums were very rich going into earnings and speculative bulls unwound the positions today, looking to give some more time to for the stock to recover. More than 69% of the calls trading today were sold on the bid as bulls look to jump ship on this once high flying stock. Options activity was almost 2x average daily volume, with calls outnumbering puts 3.3 to 1.
Disclosure: I am long AGNC, BA, BAX, CBB, CONE, DNDN, DRYS, IOC, JCP, TLM, and I am short ASH, EMR, LULU, SPY.
Trades Today: Added to ASH short, Bought IOC 85-110-135 call butterfly.
I wrote this article myself, and it expresses my own opinions. I am not receiving compensation for it (other than from Seeking Alpha). I have no business relationship with any company whose stock is mentioned in this article.
Disclaimer: The opinions in this document are for informational and educational purposes only and should not be construed as a recommendation to buy or sell the stocks mentioned or to solicit transactions or clients. Past performance of the companies discussed may not continue and the companies may not achieve the earnings growth as predicted. The information in this document is believed to be accurate, but under no circumstances should a person act upon the information contained within. I do not recommend that anyone act upon any investment information without first consulting an investment professional as to the suitability of such investments for his or her specific situation.