Kimberly-Clark (NYSE:KMB) has been paying its shareholders dividends for a very long time. The first dividend was paid in 1972, over 40 years ago and since then KMB has returned billions of dollars to its shareholders. The quarterly dividend for 2013 will be $0.81 (payable on the 2nd of April).
In this article I will be looking at KMB's recent dividend history, examining the dividend growth rate, and determining the sustainability of this dividend. I will also rate its current valuation. For comparison, I have chosen to use three other dividend aristocrats; The Clorox Company (NYSE:CLX), Colgate-Palmolive Company (NYSE:CL) and Procter & Gamble (NYSE:PG).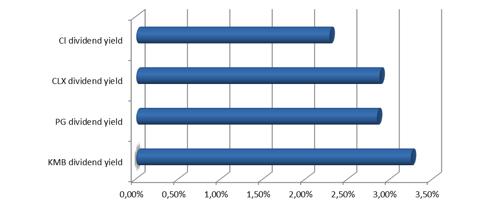 KMB definitely beats CL, CLX and PG in terms of dividend. However, I'm not too sure if KMB will be able to continue increasing its dividend the way it has over the last few years. The next graph shows increases in EPS and the dividend for KMB over the last 10 years.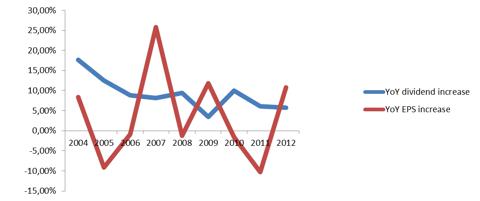 In 2003, EPS was at $3.33, with a dividend of $1.36, giving KMB a payout ratio of 40.8%, which is very reasonable. By 2012, EPS had gone up to $4.42, but the dividend has grown a lot faster, reaching $2.96. This means the payout ratio has gone up to 67%. The quarterly dividend for 2013 will be $0.81. Average analyst estimations (Yahoo Finance) for KMB's 2013 EPS are at $5.60, giving KMB a payout ratio of 57.9%.

KMB has repurchased quite a bit of shares over the past 10 years, reducing the number of shares from 509 million in 2003 to 396 million in 2012.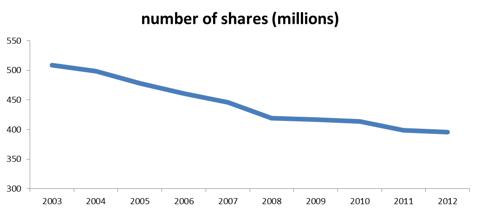 The reduction in the number of shares is the main reason for the increase in EPS, because even though sales have gone up from $14.3 billion in 2003 to $21.1 billion in 2012, net income has stayed pretty much flat.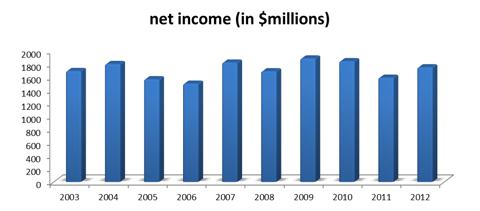 Overall, there's quite a bit of things that concern me about KMB:
The dividend keeps rising, but EPS isn't keeping up, which has increased the payout ratio to a level that I'm not very comfortable with.
Sales have gone up by almost 50% over the past 10 years, but net income hasn't even moved. The difference between the 2003 and 2012 net income is only 3%.
KMB plans to buy back a further 1 to 1.2 billion dollars in shares, even though the stock has never been as expensive as it is today.
How expensive is KMB's current share price? At a price-to-earnings ratio of 22.2, it's far above its five-year average of 15.8 and 17.1. Out of the three dividend aristocrats I have chosen to compare KMB to, only Colgate-Palmolive has a higher price-to-earnings ratio. Both PG and CLX are cheaper on a p/e basis than KMB.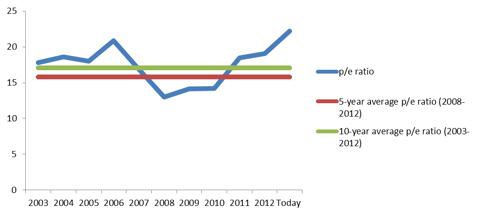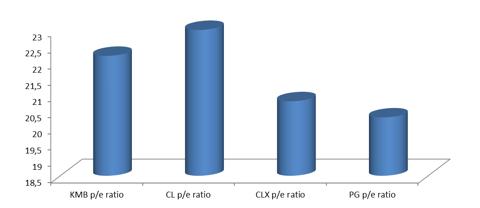 All things considered, I won't be buying KMB any time soon. I like the high dividend, but the payout ratio of over 60% worries me. The p/e ratio of 22.2 is more than KMB deserves. I believe it would be wise to wait for the p/e to drop back to somewhere around the five-year average of 15.8. At the forecasted EPS of $5.60 for this year, this would mean a good buying price for KMB would be at $88.48 or lower.
What's your view on KMB? Please comment below!
Disclosure: I have no positions in any stocks mentioned, and no plans to initiate any positions within the next 72 hours. I wrote this article myself, and it expresses my own opinions. I am not receiving compensation for it (other than from Seeking Alpha). I have no business relationship with any company whose stock is mentioned in this article.