Silver ETFs have fallen to their lowest levels in over seven months as a recent smackdown in commodities suggests natural resource investors are concerned about global growth despite the S&P 500 rising to new all-time highs.
The $9.9 billion iShares Silver Trust (NYSEARCA:SLV) was off 1.7% in early trading Tuesday after falling the previous four sessions. The silver ETF was down about 8% year to date heading into Tuesday's sell-off.
"Silver has taken it on the chin," said Frank McGhee, the head dealer at Integrated Brokerage Services LLC, in a Bloomberg article. "China slowdown worries and fear of stimulus measures ending in the U.S. have worked against silver."
Gold ETFs such as SPDR Gold Shares (NYSEARCA:GLD) have endured the selling in precious metals in recent months better than silver, which has industrial applications.
"Silver will have a lackluster year as industrial demand is not showing huge signs of improvement," Rohit Savant, an analyst at CPM Group Inc., said in the story. "Also, the safe-haven premium has diminished."
Elsewhere in commodity ETFs, Teucrium Corn Fund (NYSEARCA:CORN) has plunged 8% the past week following a government report that U.S. farmers intend to plant the biggest crop since 1936. Meanwhile, corn inventories fell less than analysts had expected.
"Corn, silver and rubber tumbled into bear markets, joining slumps in commodities such as sugar and wheat, on signs that expanding supplies will outpace demand amid increasing concern that global growth will falter," according to a separate Bloomberg report.
"You really need Europe to switch into neutral instead of reverse to get any kind of excitement about commodities," John Stephenson, portfolio manager at First Asset Investment Management Inc., told Bloomberg.
Other exchange traded products in the agriculture sector such as iPath Grains ETN (NYSEARCA:JJG) have pulled back recently with corn prices.
"You've got the agricultural sector coming off the drought-distorted pricing," said James Paulsen, chief investment strategist at Wells Capital Management, in the report. "Some of those prices are starting to come back to earth, keeping commodity-price trends somewhat depressed."
iShares Silver Trust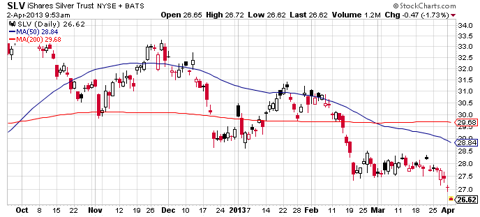 Full disclosure: Tom Lydon's clients own SLV and GLD.
Disclosure: I am long GLD, SLV. I wrote this article myself, and it expresses my own opinions. I am not receiving compensation for it. I have no business relationship with any company whose stock is mentioned in this article.