I recently took up the mantle of CEO at a Pasadena-based online marketing startup. One of the first orders of business for me was making sure we got all our files and documents organized and shared efficiently.
To make a long story short, after going through a bunch of small business software options (including Office 365), we reluctantly settled on Google (NASDAQ:GOOG) Apps for Business. I say reluctantly because the thought of putting our Intellectual Property in a place where it could be (potentially) spidered by Google gave me the shivers.
Here's the problem - Google's execution of this business solution is damn near close to flawless. We were up in 25 minutes from start to finish. Office 365 had me twisted in circles trying to figure it out and Google was intuitive and smooth sailing.
Why is any of this relevant? Well, it all got me thinking about Google's ability to execute and how Microsoft (NASDAQ:MSFT) may be making a serious strategic mistake with their push to Windows Blue.
Let's back up for a second. What is Windows Blue?
From WindowsBlue.com:
Simply put, Windows Blue is Microsoft's new strategy when it comes to updating their popular Windows OS. Instead of waiting two or three years to bring out new features, Microsoft is going to take things up a notch.

.... Windows Blue is like a "Service Pack Plus" - bringing everything you are used to getting in a service pack along with a few new features that just can't wait until the next major Windows release.
From the looks of it, Windows Blue is Microsoft doubling down on the controversial new user interface (dubbed "Modern UI") that came with Windows 8. It seems that Microsoft has decided to ignore criticism and continue in the new user interface direction. Now, while having a vision and sticking to it is admirable, the problem is, sometimes you leave yourself open to the competition if they think outside of the box.
I believe that the biggest threat to the Microsoft Windows Operating System is a new version of Google's cloud Operating System, Chrome OS. Now, let's be clear - I believe the current incarnation of Google's Chrome OS is rubbish. Currently, Chrome OS is a poorly built, shallow and meaningless user experience. In my opinion, Google tried to cut corners and made the UI way too simplistic. However, with a recent shift in Google leadership, Google may be planning to address that.
A couple of weeks ago, the verge reported:
Google has just announced that Andy Rubin is stepping down as head of Android - he'll be replaced by Sundar Pichai who is currently the senior VP of Chrome and Apps. Pichai will keep his current duties, as well.

... As for Pichai, who is now the head of both Android and Chrome, there's strong possibility that his new role could bring us to a world when Chrome OS and Android are unified, or at least more closely linked - something that's been discussed and rumored since the launch of Chrome OS in December 2010.
Here's the pickle.
Microsoft seems to be rapidly moving away from the traditional version of Windows that consumers have grown used to. For the very first time I can remember, Microsoft is really vulnerable to any company that can execute a half decent, cheap or free better imitation of Windows 7.
If Microsoft keeps its focus on moving to Windows 8, and Google revamps Chrome OS and makes it cheap or free, Microsoft will be facing a credible threat to its desktop monopoly. All Google would have to do is make it look a little better than Ubuntu Linux (below) and make it more user friendly. It could then fully integrate its Chrome OS with its Android phones and its Google apps.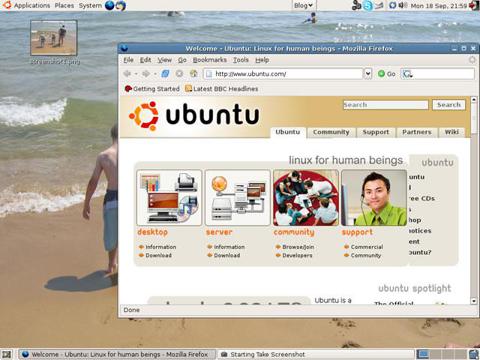 At that point, consumers would be faced with an interesting choice - pay for Windows 7 or Windows 8 or get Chrome OS for free? I used to think that Google couldn't really threaten Microsoft's dominance in some of these areas, but after seeing Google Apps for business, I'm not so sure.
The takeaway for investors.
Microsoft is fully invested in the Windows 8 ecosystem and have committed substantial company resources to heading down that path. Watch Google and Apple (NASDAQ:AAPL) carefully in the desktop space. Based on the recent mixed reports about Windows 8, I believe that a significant amount of consumers and businesses may be looking for alternatives. If those consumers can find cheaper, comparable alternatives, there may be an exodus. That is simply a terrible scenario for Microsoft because that would split its focus and by definition, make the company weaker and less profitable.
Disclosure: I have no positions in any stocks mentioned, and no plans to initiate any positions within the next 72 hours. I wrote this article myself, and it expresses my own opinions. I am not receiving compensation for it (other than from Seeking Alpha). I have no business relationship with any company whose stock is mentioned in this article.
Disclaimer: While I have no business relationship with Microsoft of any sort, I am the owner and editor of several Windows websites (Windows8update.com etc).