Market Recap:

The market rebounded from Monday's drop on the back of some positive news from Factory Orders, fairly solid auto sales data, and mixed news out of Europe. Factory Orders rose 3.0% in February, rebounding from a drop in January. Expectations were for orders to come in at 2.6%, and the beat helped get the market going this morning. Additionally, auto sales from Ford (NYSE:F) and General Motors (NYSE:GM) came in nicely. F and GM reported auto sales rose 6% year/year, while the industry, as a whole, rose 5%. That news was very positive since other data from March had shown caution in spending, and we were worried yesterday that the auto sales might disappoint. One other positive was that F and GM reported very solid truck sales, which signals a continued secular rise in housing. That news also helped keep the market healthy. Finally, the market got a boost as Italy reported a drop in unemployment this morning, while Germany, France, and the eurozone reported better manufacturing numbers for March.
The Dow (NYSEARCA:DIA) rose 89 points and the S&P 500 (NYSEARCA:SPY) rose eight points.
Stocks To Trade:
Today, we are looking at bullish positions in General Electric (NYSE:GE), Dollar General (NYSE:DG), and Hertz (NYSE:HTZ).
Defensive stocks continue to be attractive to us, as we believe that the market will start to see some potential weakness. We want to move into stocks that have low risk and solid value to growth. We recommended Procter & Gamble (NYSE:PG) for this reason yesterday, and we like GE for similar reasons. General Electric is a solid defensive stock with good yield, solid value, and decent growth prospects. Currently, GE holds a dividend yield at 3.3%, which is very positive. As we move into late Spring/early Summer, the market may start to see some correcting after such strong increases. A defensive stock has a solid yield and consistency in earnings. During the roughest periods of the recession, GE saw most of its hit to earnings/sales from GE Capital and its Media section. So what has GE done?
The company sold NBC Universal and immediately returned cash to investors, while GE Capital has been slimmed down and made more efficient. In 2009, GE Capital was 35% of revenues. As of the end of 2012, GE Capital is now only 30%. Further, GE Capital has been cleaned up tremendously. Tier 1 Common Ratio has gone from under 9% to 10.2% in the past two years. The slimming of GE Capital helps GE to be a much better defensive stock. During the financial crisis, the company got hit mostly due to GE Capital. We believe slimming down this division helps the company over the long haul to deal with a volatile economic world.
Additionally, we have to like the current value-to-growth potential of GE. The company has a 12.5 future PE and 1.6 price/sales ratio. Both of these levels are very enticing for investors and show nice value. Yet, growth potential is there for GE. The company is expected to see 5% sales growth in 2014, along with 10% growth in earnings over the next two years. Expanding margins is attractive, especially with such a discount to shares right now. How is the company expanding margins? Oppenheimer recently highlighted this margin expansion potential:
Margins, services execution, and global growth were highlighted as the core execution levers for GE for 2013 and beyond. Complexity was cited as fertile ground for margin improvement, given that evolution of GE's industrial portfolio over the past decade witnessed mix shift from about two-thirds US to about one-third US and roughly half of revenues now drawing from business GE was not in ten years ago. Services (>80% industrial OP) targets 5%+ revenue growth annually (~5% in 2013) driven by installed base (IB) growth compounded by services value/IB. GE noted 4Q12 slowing across Healthcare and HBS, and some energy pushouts, but expects orders up slightly (exwind) and for backlog to grow ~$2B during 4Q.
We like GE, and the stock looks to be bottoming right now. Look for a nice move off of the $24 level, and it could do quite well over the next several months as the company continues to benefit from margin expansion and defensive moves.
Trade: GE, Long
Entry: Break of $24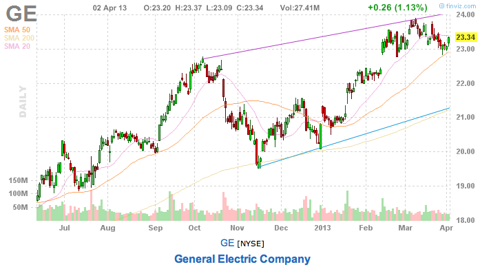 Another stock we like right now is Dollar General. We published our 6-page report recommending a Buy in Dollar General with $61 price target for 2013 today, and we believe this company can get going from here. What we like about DG is that the company has a lot of potential to expand margins, as it has moved towards some new exciting initiatives. First off, the company wants to increase its consumable products and tobacco products. Consumables actually have lower margins overall, but the company believes that if it increases its offerings, it can evolve to resemble more of a convenience stop for more frequent stops. Over time, more frequent stops will help margins as the company can increase order size and frequency. And while margins may dip slightly, the company's move means that it has a lot of sales potential. Further, DG has a lot of value for its growth potential.
DG sits with a future PE at 13.4 and price/sales at 1.0. The company, though, has growth prospects of 10% in sales in 2013 and 2014. Those prospects far outpace similar companies. Family Dollar (NYSE:FDO) and Dollar Tree (NASDAQ:DLTR) are expected to see 10% and 8% growth averaged over the next two years, respectively. Yet, when we look at value, FDO has a future PE at 13 and 0.8 price/sales ratio, while DLTR has a 15 future PE and 1.5 price/sales. Further, FDO is expected to see a decrease of sales in 2014. DG has the best value-to-growth of the group in our opinion, and we like the company's future plans over FDO and DLTR as well.
Finally, DG has some very positive near-term catalysts. The company reported that the move to consumable has been going well, with perishables and tobacco products on fire. Additionally, we like the company's attention to square foot maximization. Here is some information from our report:
Another key metric to watch out for is DG's sales per square foot. The retail arena, and even more so "dollar store" competition, is very intense. Stores are constantly competing for sales, but whom does it best. Sales per square foot data puts the competition into prospective. Of the three big "dollar store" chains, (DG, DLTR, and FDO) DG has the highest sales per square foot. DG comes in at $213 sales PSF (per square foot) while DLTR and FDO clock in at $182 and $152.
DG looks ready for a great second half of 2013, and we believe the company can really get going moving forward.
Trade: DG, Long
Buy Point: Now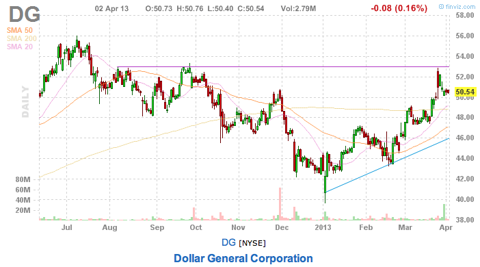 Finally, we like the looks of Hertz after a great analyst meeting today that showed some really strong potential for HTZ moving forward. What was enticing about the meeting was not so much what HTZ said about this year, as it reiterated what analysts were expecting. What was even better was that the company reported that it sees FY2015 EPS growing to 3.10- .30. That level is over 70% higher than 2013 expectations. That type of growth in earnings is outstanding. What is driving that growth? The company has lost competition, and the company is expected to drastically decrease spending moving forward. The big three in auto rentals now own 98% of the market at airports. What that means is that spending can go down, prices can go up, and profits can start booming.
The company is expected to decrease capital expenditures from $3B+ in 2012 to just over $700M in 2013. At the same time, HTZ is expected to see a boom to cash flow and earnings. The company looks tremendous, so how is value? Even after a 6%+ jump on Tuesday, the company still has a future PE at 10, and price/sales at 1.0. The company has very cheap valuations. HTZ is looking great with growth, value, and catalysts. We expect shares to move higher moving forward. Yet with such a large jump on Tuesday, one great way to play HTZ is to go long and complement it with an option spread to hedge some risk.
We can get the Jun2013 20/18 bull put spread for nearly 20% potential as well.
Trade: HTZ, Long
Buy Point: Now
Market Outlook:
The market will be getting some important employment data tomorrow that should start to signal what we can expect on Friday from Nonfarm Payrolls. ADP Employment Change will be released tomorrow for the month of March. Expectations are for 197K jobs added, dropping from the 200K in February. Continued positives for employment are important for the market to continue higher. If the numbers are weak, it could be very bad for the market. On top of that, we also get ISM Services and Crude Inventories. ISM Services is expected to drop just slightly from 56.0 to 55.5. After ISM Manufacturing was weak on Monday, Services needs to be positive. Outside of the U.S., the Chinese Non-Manufacturing PMI and HSBC Services PMI for China will be crucial to starting the day off on a positive note. Manufacturing numbers rebounded for China on Monday, so another positive on Wednesday would be good to help get China back on track. Look for the market to continue to be very focused on headlines over the next several weeks.
Charts courtesy of finviz.com
Disclosure: I have no positions in any stocks mentioned, and no plans to initiate any positions within the next 72 hours.
Business relationship disclosure: The Oxen Group is a team of analysts. This article was written by David Ristau, one of our writers. We did not receive compensation for this article (other than from Seeking Alpha), and we have no business relationship with any company whose stock is mentioned in this article.