CVD Equipment (NASDAQ:CVV) reported fourth quarter earnings Monday and finally shed some light on the company's path. The company develops, designs, and manufactures advanced electronic components and materials. After completing renovations of the new headquarters, the dust has settled and the barometer reads optimistic.
The company reported revenue of $3.2 million for Q4, down 32% from Q3. The decline in revenue over the last three quarters has driven the price of this stock down tremendously. On the other hand, when looking for key indicators of future growth, one must look at the number of accepted POs that the company has partially completed or fully completed. Logged as backlogs, these orders do not guarantee future growth but do give an indication of revenue trajectory. Backlogs came in at $8.3 mil, down 4% from Q3. Normally, a q2q shift isn't that telling, but until now backlogs have been in a double-digit decline for five consecutive quarters. I believe backlogs are on track to see an increase next quarter, which will be the company's first in seven quarters.
Another good indication of CVD Equipment's future growth can be measured with bookings. Bookings, are defined as the sequential difference in deferred revenue in addition to current revenue. Combining the data of backlogs, bookings and revenue paints a good picture of growth. I have used these key indicators before in my article, "CVD Equipment: Facing A Demand Slowdown," to map out the course of CVV and the correlation has been significant. Although fourth quarter bookings were down 30% for the quarter and down 64% for the year, they lag backlogs. As backlogs begin to increase, before long bookings and revenue will also. Here is an updated chart of the turnaround.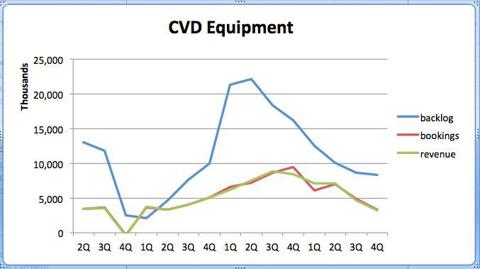 CEO Leonard Rosenbaum made the case in Monday's press release that the company had voluntarily allowed orders to decline in order to ease the move into the new facility. And the recent backlog numbers support it. Considering the current backlog numbers, it shows the enthusiasm behind CVD's product offerings.
The Company and Product Offerings
CVD Equipment Corporation has moved all its operations to a new facility in Central Islip, New York. With over 200 customers worldwide, its operations are split into three divisions, each with its own operating manager.
The CVD/First Nano division operates an Application Library and supplies Chemical Vapor Deposition Solutions for use in the research and development of carbon nanotubes, semiconductor fabrication, LEDs, nanowires, solar cells, and other applications.
The Stainless Design Concept (SDC) division designs and manufactures ultra-high purity gas and chemical delivery control systems. These systems are used for semiconductor fabrication, carbon nanotubes, solar cells, nanowires, and other various applications.
The Conceptronic division provides electronic assemble solutions. These solutions are used for printed circuit board assembly and semiconductor packaging.
Graphene Market
There is also plenty of enthusiasm behind graphene and its seemingly unlimited applications. Some of the newer discoveries of this material are attracting new industries. Keep in mind this material is only about eight years old and researchers and engineers across the globe are starting to give it traction. Engineers at Rensselaer Polytechnic Institute created a battery using graphene that can charge 10 times faster than a traditional battery. Northwestern University has discovered making a graphene electrode can make lithium-ion batteries last longer and charge faster. Researchers at the UCLA Kaner Laboratory have explored making a super capacitor (a battery/capacitor hybrid). Graphene NanoChem developed a method to extract graphene from biogases and are applying the material in mixtures used in gas and oil exploration.
The above mentioned are just a few examples of CVV's clients and competition. CVD customers include technology giants such as Acer, Hewlett-Packard (NYSE:HPQ), IBM, Intel (NASDAQ:INTC), and Xerox (NYSE:XRX). However, some R&D departments within firms and institutions are manufacturing nano products in-house rather than purchasing the technologies and products from CVD Equipment. The researchers from UCLA even went as far as using a simple over the counter DVD-RW drive to create the film. This home grown ability to create graphene film will put some pressure on the ability of CVV to rule the market. Nevertheless, the graphene market is still new and there are no clear leaders yet.
Summary
CEO Leonard Rosenbaum announced that the new facility would bring together CVD/First Nano equipment manufacturing, the Application Laboratory, and CVD Materials Corporation. Now with all the departments under one roof, operating costs will decrease and orders can be fulfilled faster than before. Rosenbaum acknowledged, "It has taken longer than expected, but the new facility will now enable the company to continue our growth." Management made the decision several months ago to stop taking orders because they knew the move to the new facility would hinder their ability to complete them in a timely manner. Now the company is settled in and backlogs are starting to build. It only takes one technology giant or energy firm approaching CVD Equipment with a large order to put its new facility to work and easily double its revenue.
In my last May article my valuation stated revenue would remain flat at $32 million and net tangible assets would be $24 million making the stock overvalued. The trajectory I predicted was accurate - CVV's shares fell 35% to a low of $7.92 in November. But now, I believe in using the same indicators, I believe the shares are prepared for a rebound. Considering management's ability to turn the numbers around in their favor. I would now use a valuation of $16. This takes into account a twelve month ramp up of the new facility and sequential revenue growth of 15% per quarter and net tangible assets of $20 million.
I'm excited about graphene and the new wave of technology it will bring. My article, "Undervalued CVD Equipment: Facilitating A Change In Semiconductors" goes into great length about the material's growth potential. As for CVV's growth potential, "the proof is in the pudding." Stay-tuned for more backlog data and revenue that will support my thesis.
Disclosure: I have no positions in any stocks mentioned, but may initiate a long position in CVV over the next 72 hours. I wrote this article myself, and it expresses my own opinions. I am not receiving compensation for it (other than from Seeking Alpha). I have no business relationship with any company whose stock is mentioned in this article.