Two months ago, we made a call to consider shorting AuRico Gold (NYSE:AUQ). AuRico has since released its 2012 results and provided guidance for 2013. In the present article, we would like to revisit the arguments that we presented in our first article and evaluate the case for a continuation of our sentiment in the light of the newly available information.
To recap: AuRico is a gold mining company based in Canada with a market capitalization of $1.5B, a trailing P/E of 50.76 and a forward P/E of 11.75, according to Yahoo.com. After divesting a number of assets in 2012, AuRico now owns two operating assets: the newly commissioned Young Davidson mine in Canada and the El Chanate mine in Mexico. The last year has been rightly described as a transformative year in various company communications, with the sale of AuRico's Australian assets and the Mexican El Cubo and Ocampo mines. AuRico's CEO Scott Perry described this process as "trading up on asset quality" in the company's 2012 Earnings Call.
In our original article, we listed 4 arguments, which we would like to test in order to determine if they still have merit two months on.
1) The share buyback was heavily oversubscribed, and only about a third of the shares offered up for buyback were actually bought back by AuRico. This indicates that a lot of shareholders are uncertain about the company's present valuation and the way forward. Presumably, many shareholders will try to sell the remaining two thirds of their holdings in the near future on-market, creating downward pressure on the share price in the coming days and weeks.
We believe that most of these potential sellers have been flushed out and discontinue viewing this argument as a driver for a lower share price.
2) Many investors will certainly appreciate the maiden dividend that has been foreshadowed. However, AuRico is a much smaller company now with only two operations remaining. Any substantial dividend announced in the near future will raise the question whether or not this dividend can remain sustainable once the cash reserves generated from the 2012 asset sales will be used up. Shareholders might be tempted to cash in on the maiden dividend and then run for the exit creating further downward pressure on the share price.
The first quarterly dividend is payable to shareholders of record on April 4. We would not be surprised to see some additional pressure to the downside in the days following this date.
The yearly dividend for the present year is $0.16 per share, which computes to a yield of 2.6% at present share price levels. Starting 2014, the dividend will be set at 20% of the cash flow for each preceding quarter. Using the 2013 guidance as a template, we note production of 190,000 to 220,000 ounces of gold at an all-in cash cost of $1,100 to $1,200. Assuming middle-of-the range values and a spot price of $1600, we arrive at a (very) rough estimate for 2013 cash flow of $92.25M. Considering 250M outstanding shares, this would yield a dividend of $0.075 per share for 2013 if the 20% rule for 2014 was applied. We therefore anticipate a significant reduction of dividend payments in 2014.
3) The inability to turn the El Cubo mine and the Ocampo mine into profitable assets is fresh in our mind, and the question lingers: what would be the management's actions if problems occurred at one of the remaining operations?
We believe that this argument is still the strongest of all four offered in our previous article. We also noted the write-down of $127M at the El Chanate mine, which was announced in the 2012 financial report. Although management went to some pain explaining this write-down as a "prudent stance" and a "conservative step," it left us wondering. We also noted that the 2012 depletion at the El Chanate mine was not fully replaced in the updated reserve for the latest life-of-mine plan, and that there are hardly any resources listed for El Chanate in the most recent Reserve & Resource Update. Upcoming Q1 2013 reports will be watched very carefully by investors for signs of underachievement at the two operating assets.
4) A recent article on SA valued AuRico at a fair price of $5.63 per share, which is about 30% lower than the current market price. We concur with the valuation presented in this article.
We believe that this valuation still holds water and might even be optimistic, considering the ongoing weakness in the price of gold and gold miners in general, which we expect to continue well into the summer months.
In addition to these arguments, we also take note of AuRico's publication of a feasibility study for the Kemess Underground project. The study showed initial capital costs of $452M, an NPV (5%) of $134M and an IRR of 10% for the base case, indicating a marginal project in its present state. AuRico has allocated $5M for further exploration and permitting at this project. We are finding it difficult to understand how the Kemess project fits with management's assertions of pursuing quality ounces.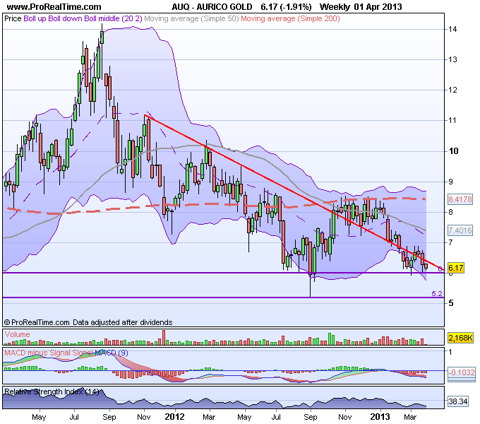 Click to enlarge
The weekly chart above shows the downtrend of AuRico's share price since mid-2011. Since our initial call at the start of February, AuRico's share price has shed more than 15%, significantly underperforming the price of gold, which declined by 5.9% in the same period of time. Today the share price broke under $6.00, which we believe to be an important support level. Indicators are giving bearish signals throughout. We put the next support level at $5.25, and believe that the share price will test this support in the not too distant future, maintaining our call to consider trading AuRico on the short side.
Disclosure: I have no positions in any stocks mentioned, and no plans to initiate any positions within the next 72 hours. I wrote this article myself, and it expresses my own opinions. I am not receiving compensation for it (other than from Seeking Alpha). I have no business relationship with any company whose stock is mentioned in this article.