Another day passes and the markets continue to show internal weakness. Although the S&P 500 flirted with highs again Tuesday, breadth continued to decline. Poor manufacturing data Monday pushed markets lower, but Tuesday, favorable government policy pushed the the health care sector (NYSEARCA:XLV) to new highs against the broader market. The fundamentals continue to look positive for markets, but the intermediate trend looks overheated.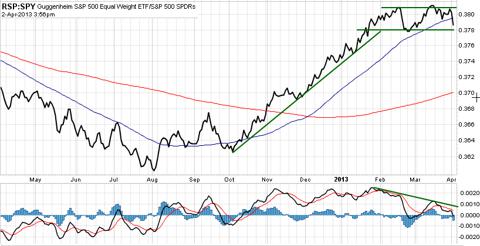 Click to enlarge
The first chart above is of the breadth indicator. This ratio puts an equal weight equity index (NYSEARCA:RSP) over the weighted index (NYSEARCA:SPY). Trend strength is seen when the indicator leads higher, signaling participation of a majority of the sectors, as opposed to just a lot of strength from one. It looks as if most sectors are lagging behind health care. Without a solid catalyst like good economic data or government policy action, the remaining sectors look poised for a pullback.

Click to enlarge
The chart above shows the relative strength of funds pouring into the health care sector today. The move was drastic and provided a boost, alongside good economic numbers coming from factory orders. The market rose on a ruling that gave increased payment rates for some health insurers, which boosted the sector. Health Care in itself is seen as a defensive rotation of funds, thus signaling a more cautious stance.

Click to enlarge
An alarming cross is that of Russell 2000 (NYSEARCA:IWM) over Russell 1000 (NYSEARCA:IWB) shares. Small caps lead during periods of market strength, but this ratio tanked Tuesday. It is mainly due to the strength of large caps in health care and utilities, but it is disturbing nonetheless. The increased volatility at the multi-month highs highlights a top to the ratio and foreshadows a pullback across risk assets in the coming days/weeks.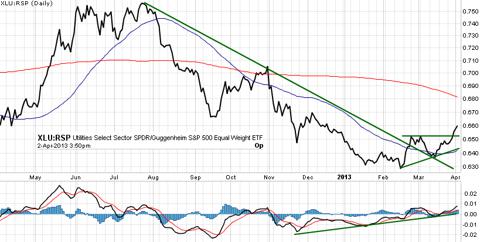 Click to enlarge
The last pair that represents the market's turn towards defensive positioning is utility stocks (NYSEARCA:XLU) over an equal weight equity index. This pair gains traction when the markets turn bearish or move towards profit taking, and that is seen in the break of its intermediate downtrend. This shows that investors are looking towards less volatile positions that have the added opportunity of dividend payouts. The cross is showing strength ahead of nonfarm payrolls releasing Friday and major central bank decisions across the world this week. Considering the multitude of indicators, look for equities to turn down soon.
Disclosure: I have no positions in any stocks mentioned, and no plans to initiate any positions within the next 72 hours. I wrote this article myself, and it expresses my own opinions. I am not receiving compensation for it (other than from Seeking Alpha). I have no business relationship with any company whose stock is mentioned in this article.