Recent news by the Environmental Protection Agency (EPA) has caused tremendous selling pressure on the oil refineries such as Western Refining, (NYSE:WNR) Tesoro (NYSE:TSO), and Valero (NYSE:VLO). The EPA will now require a higher standard of fuel emissions that will reduce the amount of sulfur produced by oil refineries. The EPA estimates that they will save approximately 2,500 lives and prevent over 20,000 asthma attacks. This is certainly good news for the American consumer, who is currently being subjected to these harmful sulfur emissions. However, how will this impact the future of the oil refineries in 2017 when the rules are set to kick in?
Investors took this news as an opportunity to take their money and run. During intra-day trading as of Tuesday, April 2, 2013, WNR has reached a low of $31.94, or over a 7.5% decline. Tesoro has had its shares slide to $54.26, or more than 4.5%.
This panic selling of oil refineries created a buying opportunity. Oil refineries are estimating a cost of hundreds of millions of dollars to adhere to the new rules of the EPA. This may seem like a big cost and burden, but it is important to look at the overall impact. Since these rules do not apply until 2017, it gives these large oil refineries nearly 4 years to adjust accordingly and shift part of that burden to its consumers. Refineries will be able to cut unnecessary costs, and have more incentive to become as efficient as possible. Similarly, the cost of gasoline will rise in order to mitigate the oil refineries' cost of removing the harmful sulfur.
Valero commented on Tuesday, and revealed that the company expects to spend $300 million to $400 million on new equipment and expand their current facilities to meet the new regulations of the EPA and the Obama administration. The future costs each year are not known yet, however Valero does plan on increasing prices at the pump in order to reduce its costs. Environmental tax credits will most likely be issued by the Obama administration, as has been previously given to environmentally friendly automobile manufactures, homebuilders, etc.
The EPA must hold public hearings before the rules become reality and eventually become effective in 2017.
As the chart illustrates below, the Brent-WTI Spread has been narrowing in the last 6 months. This has created even more pressure on the oil refineries, as the profit margin has diminished from over $25 per barrel to $12.60 per barrel.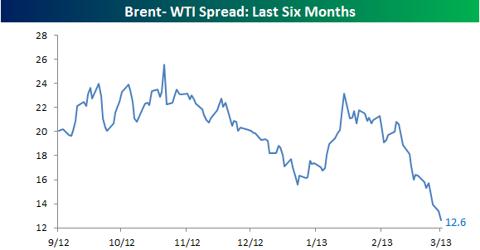 A narrower Brent-WTI spread is expected throughout 2013 by most analysts in the industry. However, the amount of light oil being produced in the United States as a result of the shale revolution, will widen the spread towards the end of 2013. Light shale oil has been slowly taking the place of the more expensive Brent imported oil from the Gulf Coast. There is a limited capacity for refining light oil from the switch to heavy oil. Hence, the price of light oil in the United States depends on the lower refining capacity for light oil. The most profitable refineries will be the Gulf Coast Refineries. Western Refinery and Valero stand to greatly benefit from the shale revolution, which will widen the WTI-Brent spread back over to $20 per barrel.
As a result, oil refineries such as Western Refinery will prosper, and thus be able to increase its dividend further. WNR has tripled its dividend from Q1 of 2012 to Q1 of 2013. The current yield is 1.48% as of Tuesday, April 2nd. Western Refining is committed to increasing shareholder wealth through raising its dividends and issuing special dividends as it had done twice in December of 2012.
The recent news announcement by the EPA's Obama administration has caused a panic sell off in oil refineries. Investors should consider an entry position into WNR, TSO and VLO with the current dramatic sell off. Ultimately, part of the new sulfur removal cost to these refineries from the new legislation will be placed upon the consumers at the pump in 2017 and beyond. Take this fear as an opportunity to benefit handsomely.
Disclosure: I am long WNR, TSO. I wrote this article myself, and it expresses my own opinions. I am not receiving compensation for it (other than from Seeking Alpha). I have no business relationship with any company whose stock is mentioned in this article.