Real-time Monetary Inflation (per annum): 7.8%
Thursday's equity market rally provided confirmation of the commodity stock breakout discussed in yesterday's Desktop piece ("The MOOve Toward Commodity Stocks").
The Market Vectors Agribusiness ETF (NYSE Arca: MOO) gained 22 cents to close at $30.95, while the GreenHaven Continuous Commodity Index ETF (NYSE Arca: GCC) finished at $22.20, a loss of 29 cents. The disparate closes ratcheted the MOO/GCC ratio to a new year-to-date high of 1.39.
One of the stocks leading the agribusiness sector higher was giant Bunge Ltd. (NYSE: BG), a New York-based outfit that makes up 3.9% of the Market Vectors portfolio. Thursday, Bunge climbed $1.71, or 3.1%, higher to finish at $57.63.
Bunge Ltd (BG) Vs. Market Vectors Agribusiness ETF (NYSEARCA:MOO)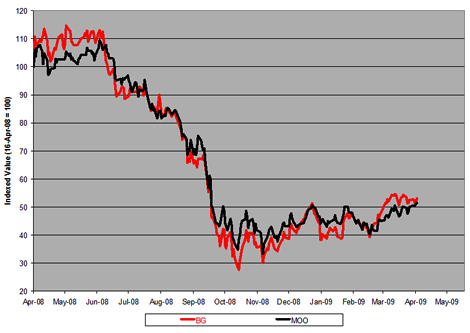 Bunge's share price led agribusiness lower in 2008, plunging from $135 to the $27 level as earnings fell at a rate that left analysts astounded. The stock's been rangebound since November, but has recently moved into the lead again, this time on the upside. After clearing a critical retracement hurdle in March, Bunge shares are signaling that an interim stop at the $60 level may be on the itinerary on the way to a $74 objective.
The speed at which Bunge reaches these levels - more importantly, IF Bunge reaches these levels - depends upon the company's earnings. First-quarter numbers are set for release before the market opening on April 23. Bunge's last two earnings releases were stunningly awful. Street estimates for first-quarter profits – at $1.81 a share just three months ago – have since been pared back to 62 cents.
Given the earnings momentum of the past four quarters, analysts shouldn't be surprised if a loss as great as $1.43 were actually posted by Bunge.
12-Month

Return

Annual

Volatility

Correlation

To MOO

Earnings

Surprise EMA

Consensus

EPS Forecast

EMA-Adjusted

EPS Forecast

Bunge Ltd (BG)

-46.9%

74.4%

76.4%

-330.3%

$0.62

-$1.43

Market Vectors Agribusiness (MOO)

-48.6%

63.0%

--

--

--

--
EMA = exponential moving average
Traders in the options market seem to be more bullish in their Bunge bets. Thursday, July 75/50 strangles were traded at prices suggesting decreased volatility expectations for the stock. Historically, price volatility is higher in downtrending markets and lower in bull moves.
In a strangle, calls and puts with different strike prices are simultaneously purchased, or sold, on the same underlying stock. Traders selling the July strangle for a combined premium of $4.30 a share advertised their expectation that Bunge's price won't exceed $79.40 or dip below $45.70 over the next three months.
Plainly, the optionistas are giving Bunge more than a little room on the upside. The trade pattern on April 23 may tell us if that was a prescient move.