On Thursday, China Eastern Airlines Corporation Limited (NYSE:CEA) announced a 2008 full-year net loss of RMB15.3 billion (down from earnings of RMB269 million a year ago), including RMB6.3 billion on oil fuel hedging losses and RMB3.0 billion in impairment losses, from write-downs of acquisition goodwill and older, less fuel-efficient aircraft.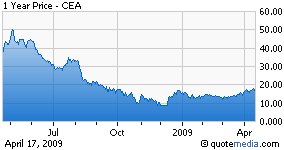 Revenues slumped 3% to RMB41.7 billion on weaker demand as CEA reported a 5.9% decline in passenger traffic and a 280 basis-point decrease in the passenger load factor, while fuel costs jumped 22%.
To prop up its balance sheet, CEA sold 2.9 billion A and H shares, raising close to RMB7 billion, received a RMB5.5 billion working capital loan from its parent, and obtained RMB36 billion in additional bank credit lines.
Because CEA reported negative equity at the end of 2008, it is subject to special treatment, meaning that daily share price movements are limited to 5% on the Shanghai Stock Exchange. Moreover, the shares could be delisted should CEA continue to sustain a loss in 2009. According to press reports, CEA is seeking additional aid from the government. It is unclear if or when this financial aid will be forthcoming, and the government has made no commitment to date.
Somewhat offsetting these negatives are a roughly 33% drop in the producer price of jet fuel as announced by the National Development and Reform commission, which will save CEA about RMB3 billion per year. This was further reduced on April 1, 2009 to RMB460 per ton, which will lower fuel costs for this industry as a whole about RMB4 billion. In addition, CEA will benefit from exemption from the business tax on fuel surcharges from January 1, 2008 through December 31, 2010, expected to save RMB2.5 billion for the Chinese airline industry.
Moreover, domestic passenger traffic in China is beginning to show signs of recovery, aided by low ticket prices. According to the Civil Aviation Administration of China (CAAC), domestic passenger travel increased 21.3%, 17.0%, and 15.8% in the first three months of 2009.
Furthermore, China Eastern is also taking steps to mitigate the effects of the global economic slowdown on its operations. These include implementing:
Five new operating strategies, including hub networking, brand management, informatization, alliance cooperation and sophisticated management
Cost-effectiveness measures, including slashing management salaries by 30% and encouraging extended annual vacation time
Greater market control and marketing capability
Greater control over capital expenditures, including cutting 2009 aircraft deliveries from Boeing (NYSE:BA) and Airbus to 13 planes from the 30 planes originally scheduled
Sale of a 35% stake in Joy Air Co., Ltd. to Aviation Industry Corp. of China, a state-owned aircraft manufacturer
Despite theses measures, we are increasing our 2009 ADS per share loss estimate to $11.05 from $6.10, as we have reduced our revenue assumptions due to greater declines in international air traffic and increased interest costs on higher debt levels needed to fund the company's operations. This compares to a loss of $45.15 per ADS in 2008. This is consistent with the company forecast, which expects the 2009 loss to narrow from 2008 levels, before reaching breakeven in 2010 and full profitability in 2011.
We have a Sell recommendation on CEA and note that the current Zacks rank is 3, indicating no clear directional pressure on the share price over the near term. CEA shares are down over 10% since CEA reported fourth quarter results on Thursday.
(US$1=RMB6.85; 1ADS=100 shares)
-- Ann Heffron