BB&T Corp. (NYSE:BBT) reported its 1Q09 financial results on Friday. Operating earnings for the quarter came in at $187 million or $0.33 per diluted share, two pennies ahead of consensus. Though the company had a decent growth in loans and deposits and increased production in mortgage banking operations, credit quality worsened sharply, mainly due to deterioration in its housing loan portfolio in Florida, Atlanta and Metro D.C. areas.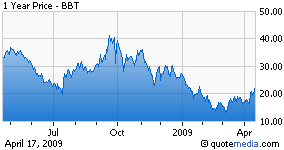 BBT joined the group of banks, including Goldman Sachs (NYSE:GS) and JP Morgan (NYSE:JPM) waiting to be de-TARP-ed, as soon as possible. During the conference call, the CEO said that the bank would pay back TARP funds as soon they get government approval to do so, (presumably after the stress tests are completed), as he considers it to be "destructive."
Net interest income for the quarter was $1.2 billion, up 1.6% sequentially and average loans and leases for the quarter increased to $97.3 billion, with growth spread in all categories except the retail loans and mortgage loans. Average deposits increased 8.5% year-over-year to $93.9 billion.
Core non-interest income (which excludes securities gains and losses) for the quarter increased 21.0% year-over-year to $881 million, mainly due to a 218.6% increase in mortgage-related revenues and 18.9% increase in insurance income. Non-interest expense for the quarter increased 4.5% sequentially and 13.7% year-over-year to $1.1 billion.
BB&T had $7.4 billion in mortgage originations during the quarter. With the mortgage rates at record lows, there is a rush of refinance applications in the banks, as we also saw in the recent results/preannouncement by Wells Fargo (NYSE:WFC), JP Morgan Chase and Regions Financial (NYSE:RF).
Credit metrics deteriorated further during the quarter, with NPAs rising 68 bps sequentially to 2.72% and net charge-offs (NCOs) increasing 29 bps sequentially to 1.58%. Profitability metrics also suffered during the quarter, with ROAA and ROAE down to 0.86% and 8.29% as compared to 0.86% and 8.47%, respectively, at the end of 4Q08.
Though the company is in somewhat better position than many of its peers due to its diversified revenue base, strong capital structure and impressive loan and deposit growth; continued deterioration in the housing markets will keep the credit related costs high throughout 2009.
We are maintaining our Hold recommendation on the shares.