Given the significant equity market run-up in Q1 2013, investors should be prepared for a possible market correction in the near term, though the magnitude could be modest given the Fed's policy support. Under the current market conditions, defensive sectors appear to be the "safe heaven". Of the various defensive selections, I believe General Mills (NYSE:GIS) is worth a look given the following 4 compelling reasons:
1. The share price has steadily appreciated by 23% over the past 12 months, yet the stock is still priced reasonably based on the company's solid financial performance relative to its industry peers'. According to the chart shown below, General Mills' consensus revenue, EBITDA, and EPS growth estimates are notably below the peer averages, however, the company demonstrates a superior profitability performance as its various margin metrics are markedly above par. On the debt side, General Mills carries a relatively low level of debt as reflected by its below-average leverage ratios. In terms of liquidity, the company's trailing free cash flow margin is significantly above the group average. Due to the lower debt load, General Mills was able to maintain a healthy interest coverage ratio. Both the firm's current and quick ratios are only marginally below par, reflecting a healthy balance sheet condition.

As such, General Mills' relatively weaker growth potential would likely be the primary drag on the stock valuation. However, given the company's strong profitability and liquidity performance, I believe the stock's fair value should be in line with the peer-average level. The current price multiple at 17.3x forward EPS (next 12 months) is 8% below the peer-average multiple at 18.8x. After accounting for General Mills' long-term EPS growth estimate, the stock's PEG ratio of 2.3x is only 4% above the group average at 2.2x, suggesting the shares are priced fairly on a relative basis (see chart above).
2. Market's consensus revenue and EPS estimates for General Mills have trended within a tight range over the past 12 months and thus demonstrated a limited volatility. In the past 3 months, market sentiment has slightly improved as both the revenue and EPS consensus estimates have experienced some upward revisions. In addition, analysts' average estimated long-term earnings growth rate has also been steadily raised from 7.3% to 7.6% since 12 months ago, further evidencing the company's steadily improving profile (see charts below).



3. There has been a technical ceiling at around 3.5% for General Mills' dividend yield throughout the past 5 years, and this would likely provide a strong downside support to the share price (see chart below).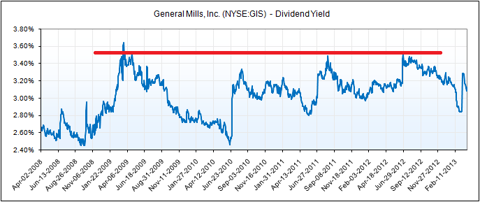 Further, the company is also committed to a sound dividend policy as its dividend per share has been raised 4 times since 2010 by 14%, 9%, 8%, and 15%, consecutively. Given the firm's industry-leading free cash flow margin and the current earnings payout ratio at 47% which is below the peer average at 61%, I believe General Mills has an ample capacity to sustain the current dividend growth speed. As such, assuming a target dividend yield range from 3.0% to 3.5%, and supposing that the annualized dividend yield would be raised by just 6% from the current level at $1.52 to $1.61 in July 2014 payment period, this conservative scenario would yield a stock value range from $46.00 to $53.67, or a favorable price return band from -5.8% to 10.0% even before considering the dividend income throughout the holding period.
4. Argus recently upgraded their rating for General Mills from hold to buy. In a research note dated March 21, 2013, Kenneth Zaslow at BMO Capital Markets commented on the company's growth prospects which I tend to agree on (sourced from Thomson One, Equity Research):
"After exceeding expectations for the fourth consecutive quarter, GIS has reestablished its long-term growth algorithm for F2014 by maintaining momentum in key core businesses, addressing missed opportunities/issues (e.g., Greek yogurt), making Bolton acquisitions, and expanding internationally. First, US Retail profits exceeded our expectations and likely will accelerate in F14 reflecting 1) improving share trends in cereal from ad spending; 2) a sequential improvement in yogurt sales; and 3) early traction from new products. Second, despite near-term issues (e.g., Venezuela devaluation, cereal softness in Southwestern Europe), International should drive long-term growth, reflecting 1) increased penetration across Europe; 2) ongoing momentum in China; and 3) opportunities created by acquisitions. Third, Bakeries/FS should maintain momentum as GIS continues to 1) focus on faster growing channels; 2) benefit from cost-saving initiatives; and 3) leverage its direct sales force."
Bottom line, investors should consider adding defensive stocks in order to position for a potential market correction ahead. In the light of the healthy company financials, promising growth prospects, and solid margin of safety, the stock of General Mills appears to be a wise choice.
All charts are created by the author except for the consensus estimate tables which are sourced from S&P Capital IQ, and all financial data is sourced from S&P Capital IQ unless otherwise specified.
Disclosure: I am long GIS. I wrote this article myself, and it expresses my own opinions. I am not receiving compensation for it (other than from Seeking Alpha). I have no business relationship with any company whose stock is mentioned in this article.