Elevator Pitch
Oversold MeetMe (NASDAQ:MEET) looks ready to swing higher.
Company Description
MeetMe is a social media technology and online advertising company. The company operates a social network and social games site. They make money from social media advertising and virtual currency.
Thesis & Catalyst For MeetMe, Inc.
MeetMe stock soared to $4.25 in early November 2012 on speculation that it would become the next Facebook after merging with Quepasa.
On November 9th 2012, MeetMe filed its quarterly report. The 10-Q showed a loss of more than $2.3 million for the three month period ending September 30th 2012. Investors felt MEET was overvalued. The stock plunged over 35% in 6 days to bottom at $2.30 by the middle of November 2012.
What happened next was a series of good moves by management. On November 27th 2012, MeetMe Photoboard was released for the iPad. On December 20th 2012, MeetMe was launched in French, Italian, and German. On February 25th 2012, MeetMe was launched in Chinese, Russian and Japanese. Think about this for a minute. In June MeetMe was available in one language, English. Today, MeetMe is available in a total of 8 languages with more on the way.
On March 7th 2013, MeetMe released their fourth quarter and full year 2012 financial results. Revenue for 2012 increased a whopping 31% over 2011 to $46.7 million, and fourth quarter 2012 revenue increased by 96% to $11.6 million from $5.9 million in the forth quarter of 2011.
In my opinion, MeetMe looks like a young company in the early stages of its growth phase with plenty of upside potential for the rest of 2013.
Swing Trade Long
MeetMe is testing the $2.30 support area. Four times since August of 2012, MeetMe has bounced off the $2.30 support to swing over 10% higher.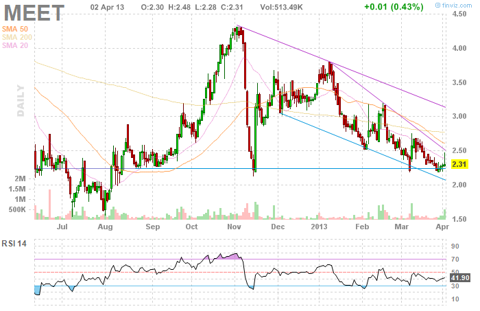 Valuation
Michael Matte with MeetMe said, "We are extremely pleased with the growth and continued demand we see in the market by our pipeline of business as we head into 2013."
MEET is not yet profitable and so it does not have a P/E ratio. The next best metric to use is the P/B ratio which is a sizzling hot 1. The book value per share for MEET is $2.31, exactly where it trades at today.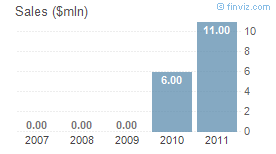 Another thing to consider when looking at the valuation of MeetMe is that it is more of a growth play rather than a valuation play. Just last week, we learned how MeetMe plans to grow revenue in its mobile app division.
Mobile Revenue Increasing
MeetMe's management realized early on that mobile platforms were an excellent source of future revenue growth. As such, they released mobile apps for both Android and the iPhone. Today, MeetMe ranks as the #1 grossing app in the Social category of the Google Play Store and in the Top 10 of the top-grossing apps in the Social Networking category of the iTunes App Store.
On March 22nd 2013, MeetMe announced the launch of its mobile premium subscription product, MeetMe+. The MeetMe+ app will broaden MeetMe's revenue stream beyond virtual currency and advertising. You can read more about MeetMe's new mobile app technology here.
Variant View
MeetMe, from a revenue point of view, is primarily an online advertising company. Online advertising has been tough lately with industry bellwethers like Google having to rapidly expand their service offerings to make up for declining online advertising revenue.
Market conditions continue to be extremely difficult for companies that derive a considerable amount of revenue from online advertising.
MeetMe does not provide forward revenue or EPS guidance at this time. This means that there could be an increased risk of surprises and volatility following earnings releases.
Disclosure: I have no positions in any stocks mentioned, but may initiate a long position in MEET over the next 72 hours. I wrote this article myself, and it expresses my own opinions. I am not receiving compensation for it (other than from Seeking Alpha). I have no business relationship with any company whose stock is mentioned in this article.