Booz Allen Hamilton (NYSE:BAH) is a highly sophisticated management consulting firm that has quickly built a track record for shareholder-friendly dividend policies since its November 2010 IPO. The company has an excellent history of revenue growth and cash generation and is currently trading at a very attractive free cash flow multiple due to excessive concerns about the sequester and an uncertain government spending environment.
BAH was founded in 1914 and has served the U.S. government since 1940. The commercial and international portion of the company's business was spun off to its management in 2008 (now Booz & Co.) and BAH was subsequently acquired by The Carlyle Group, which is still a majority owner.
Today, the company serves substantially all of the cabinet-level departments of the U.S. government, including the Department of Defense, all branches of the U.S. military, the U.S. intelligence community, and a wide variety of civil agencies. BAH supports these clients by established expertise in four primary areas: Strategy & Organization, Analytics, Technology, and Engineering & Operations. Through these, BAH performs critical tasks for its clients: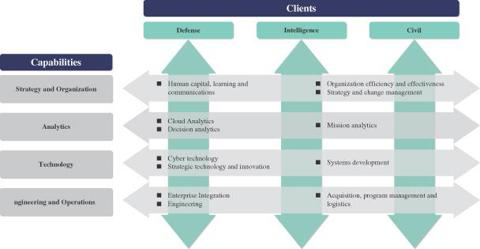 In the original S-1 filed before the IPO, BAH provided financial data back through the fiscal year ended 3/31/2006, when revenues were $2.9 billion. Six years later, they have doubled, to $5.85 billion in FYE 3/31/2012, representing a 12% CAGR completely uninterrupted by the recession. While the historic financials made public in the S-1 require more complicated analysis based on management ownership and the Carlyle transaction, Adjusted EBITDA has followed the strong revenue growth:
| | | | | | |
| --- | --- | --- | --- | --- | --- |
| FYE Ending 3/31: | 2008 | 2009 | 2010 | 2011 | 2012 |
| Adjusted EBITDA: | $227mm | $277mm | $368mm | $444mm | $488mm |
Of course, free cash flow is a more important metric, which was $221mm in FY10, $208mm in FY11, and $283mm in FY12. Ignoring a boost from working capital runoff from accelerated government payments, TTM FCF at 12/30/12 was $344mm. With a market cap of $1.85 billion at 4/2/13, this represents an 18.5% FCF yield. What has BAH done with all this cash? Well, it paid $1.1 billion of dividends in 2011 against that $1.85 billion market cap.
Show me the money:
Prior to the IPO, at 3/30/2010, BAH had a bit over $1.5 billion of debt outstanding after the Carlyle transaction. Only $238mm of cash was raised for the company, which was used along with cash flow to reduce debt by $600mm. Following the IPO, The Carlyle Group retained a 71% ownership stake that has only been reduced to 67% at 12/31/12. This could lead to speculation that the IPO primarily provided liquidity for management and Carlyle is still very interested in owning a large part of the attractive company.
After refinancing its existing loans and retiring its expensive mezzanine debt in 2011, BAH was upgraded from a B+ credit rating to BB+ and the company started paying a 9-cent quarterly dividend in February 2012. Four months later, in addition to the second 9-cent dividend, BAH paid a $1.50 special dividend from existing cash on hand. Two months after that, with the third 9-cent dividend, BAH paid a $6.50 special dividend funded through a leveraged recapitalization.
Due to the strength of BAH's operations, the company's credit rating was only downgraded one notch, to BB, with S&P's calculated debt/EBITDA increasing from 2.5x to 3.9x, which is elevated but manageable:
"The outlook is stable, reflecting our expectations for moderate organic revenue and EBITDA growth over the next year, despite headwinds in the government contracting industry and from the U.S. federal budget deficit pressures," said Standard & Poor's credit analyst David Tsui.
In addition to funding generous payments to shareholders, BAH spent $158mm to acquire the Defense Systems Engineering and Support business from ARINC Incorporated, another Carlyle portfolio company. DSES is expected to be accretive to earnings almost immediately, for BAH's fiscal 2014, which began on April 1, 2013. Looking to sell the company, Carlyle split ARINC's defense business from its commercial aviation offerings as potential acquirers were concerned about organizational conflicts of interest.
BAH has modest capex requirements after completing the setup of a hoteling model for its consultants to cut back on office space required for growth, and these should run at ~$30mm annually vs. ~$80mm of depreciation expenses, boosting FCF versus reported net income.
But why would a shareholder-friendly company be trading at an almost 20% FCF yield?
Sequester this:
The inability of Congress to make a budget deal has resulted in the automatic budget cuts known as the sequestration to take effect as of March 1, 2013. Due to exemptions on some programs, including Social Security and Medicaid, the cuts appear to fall disproportionately higher on defense spending as a percentage of total government spending. While this has already been extensively covered in the media, there are two primary takeaways:
1. The sequestration cuts were negligible.
2. Many people don't realize this and completely overreacted.
The sequestration cuts removed $85 billion from the U.S. government's fiscal year 2013 spending. In fiscal year 2012, the government spent over $3.5 billion, including ~$675 billion on national defense and ~$650mm on non-defense discretionary spending available from the U.S. Government Printing Office (or condensed on Wikipedia). This is a 6.4% "cut", yet government outlays are still projected to increase in nominal dollar terms over the next few years according to CBO projections. Government outlays as a percentage of GDP would decline from 22.8% of GDP in 2012 to 21.5% by 2017, which is still slightly above the 40-year average of 21%. Accordingly, in spite of the commotion in the news media, companies like BAH seem to have relatively little to worry about.
The problem is, when people overreacted to the sequestration, some contracts and programs in FY13 were delayed due to some uncertainty at BAH's customers since no one really knew what the sequester would look like at the time. Following the increased interest from the leveraged recap, BAH guided to adjusted EPS of $1.60-$1.70 for FY13. On the 3Q13 conference call, the CFO guided down slightly to $1.60-$1.65. As a result of what was billed as the most painful government cuts imaginable, BAH, a company that generates 98% of its revenues from the U.S. government, cut the top range of its EPS guidance by 3%. Due to this uncertainty, the CFO also indicated that they would not yet guide for FY14.
Regardless, 3Q13 results were positive: Revenue was down 3.5% from 3Q12, but this was primarily due to lower indirect/subcontracting arrangements, which acts as a contra-revenue item, but has reduced costs further. Adjusted net income was up 5.9%, Adjusted EBITDA was up 13.1%, and Adjusted EPS increased slightly, from $.40/share to $.41/share. BAH's funded backlog was essentially flat, with an organic total of $2.9 billion at 12/31/12 and 12/31/11 (DSES added $247mm). More detail regarding these items and adjustments can be found in the 3Q13 investor presentation.
Even if the sequester or any shutdowns would be worse than expected, BAH has positioned itself with a highly variable cost structure, so the company can protect its margins by reducing headcount if revenue does take a hit. If not, BAH can continue adding consultants and growing revenues like it has done consistently for decades.
The Warren Buffett value approach is to buy excellent businesses facing temporary setbacks. Given that the sequester is really a very minor setback for BAH, potential shareholders are being offered a bargain with a very large margin of safety at an almost 20% FCF yield for a company that has very clearly demonstrated its desire to return this cash to shareholders.
Disclosure: I am long BAH. I wrote this article myself, and it expresses my own opinions. I am not receiving compensation for it (other than from Seeking Alpha). I have no business relationship with any company whose stock is mentioned in this article.