BGC Partners (NASDAQ:BGCP) stock rose 48% on April 2, and it was not a late April Fool's joke. Although share prices are still down 24% from its 52-week high and have been underwater by as much as 58% in 2012, BGCP may still have room to move higher, albeit at a slower pace than Tuesday. Management announced after the market closed on April 1 the sale of a portion of its business, and the proceeds will remake the company.
BGC Partners is named after B. Gerald Cantor who founded Cantor Fitzgerald in 1945. BGC is one of the five largest interdealer brokers in the world and was formed by the merger in 2008 of the BGC Division of Cantor Fitzgerald and eSpeed. Cantor Fitzgerald is one of the largest privately-owned bond dealers and investment banks, and retains a large interest in BGCP . eSpeed offers propriety services and trading technology using electronic marketplace transaction. BGCP has been moving towards commercial real estate services with its recent purchase of Grubb and Ellis from bankruptcy. Grubb has been merged with BGC's real estate leasing segment, Newmark, Night, Frank and combined BGC operates over 100 commercial real estate office. BGC Real estate Capital Markets segment has originated and syndicated over $150 billion of real estate loans.
From their website:
BGC Partners is a leading global brokerage company primarily servicing the wholesale financial and real estate markets. Products include fixed income securities, interest rate swaps, foreign exchange, equities, equity derivatives, credit derivatives, commercial real estate, commodities, futures, and structured products. BGC also provides a wide range of services, including trade execution, broker-dealer services, clearing, processing, information, and other back-office services to a broad range of financial and non-financial institutions. Through its eSpeed, BGC Trader, and BGC Market Data brands, BGC offers financial technology solutions, market data, and analytics related to select financial instruments and markets. Through the Newmark Grubb Knight Frank brand, the Company offers a wide range of services including leasing and corporate advisory, investment sales and financial services, consulting, project and development management, and property and facilities management. BGC's customers include many of the world's largest banks, broker-dealers, investment banks, trading firms, hedge funds, governments, corporations, property owners, real estate developers, and investment firms.
Overall, the market for financial trading has been depressed due to low interest rates, higher popularity of risk aversion, and tighter spreads. These headwinds are not likely to subside anytime soon, and BGCP has seen earnings falter over the past few years as the financial crisis has unfolded. Since 2009, net earnings and earnings attributable to shareholders have stagnated at between $20 and $24 million, but diluted shares outstanding have grown from 211 million shares to 281 million. Reported EPS has fallen from $0.24 a share in '09 to $0.16 in 2012.
Below is a recap of financial results for the year, as reported on February 14. Much like other partnership-structured companies, net reported earnings, GAAP income, and partnership distributable income are important financial performance benchmarks, but the most valuable to investors in the post-tax distributable income. This fell 25% in 2012 from $0.78 a share to $0.58 a share.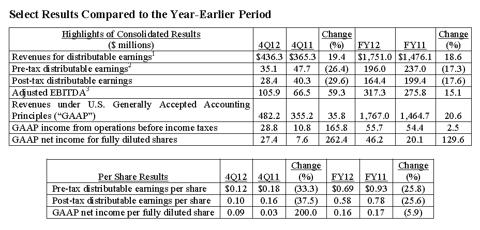 BGCP pays a dividend in excess of its reported earnings. In 2009, the company paid $0.30 a share and it increased over the years to $0.65 in 2011. For the 4th quarter last year, the dividend was cut back from $0.17 a quarter to $0.12 a quarter, or $0.48 annually. Management announced that 96% of the 2012 dividend of $0.63 is classified as non-taxable return of capital, and investor's share price accounting should reflect this ROC distribution. The return of capital feature creates a non-taxable event at distribution but may increase capital gains tax exposure when shares are disposed. Unlike an MLP, according to the company, investors receive 1099-DIV distribution declaration forms rather than K-1 and the distribution is eligible for Qualified Dividends.
The April 2nd stock action was the result of an announcement the company has sold its eSpeed business to NASDAQ (NASDAQ:NDAQ) for about $750 million in cash plus an additional $484 million in NASDAQ stock based on performance benchmarks over the next 15 years. While eSpeed accounts for about $100 million annually in revenue, or 6% of total revenues for BGCP, the sale of this business generated in cash about 70% of the pre-announcement market capitalization. Even with the higher post-announcement valuation, the cash generated from the sale amounts to about 50% of market cap. While eSpeed generates about $100 million in revenues, EBITDA is reported at $70 million, making the transaction worth an immediate 10.7x and the potential of 17.0x EBITDA. Valuation for the transaction seems reasonable.
Cash on the balance sheet will grow from $390 million reported on December 2012 to about 1,140 million after the transaction is completed, versus $1,305 million in total liabilities. The proceeds from the sale will generate $2.66 in cash with a current stock price of $5.72.
However, the sale of eSpeed reduces overall EBITDA by about 22%, is material to the business, and as such, to its investors. eSpeed was one of the growth engines for BGCP going forward as global interest rates begin to rise and trading volumes of US Treasuries increase. With a reduction in Treasury trading exposure, the importance of management's push into real estate services takes on a bigger slice of the pie.
The large infusion of cash will allow management to offer a special dividend, buy back shares, or reduce the outstanding debt -- or a combination of all three. In addition, management's war chest is a bit larger, allowing the company to expand either in the interdealer business or more likely in the real-estate segment. In addition, upcoming financial regulations may force big bank competitors to scale back their trading desks, relinquishing some market share to the specialists like BGCP.
On the negative side, the company's higher exposure in real-estate is relatively new and relatively untested over an entire economic cycle, and management's expertise has been with interdealers relationships. The diversion of focus may be detrimental in the current weak trading environment. In general, financial services markets are still recovering from the financial crisis, are experiencing endemic trading volumes of interest sensitive products and are negatively affected by lower volumes of investment banking needs.
As a global economic recovery continues to take hold and the continued uncertainty of some situations such as China's economic growth and the final resolution of the Euro banking fiasco, financial trading should improve. This improving environment over the next few years should turn current headwinds into a bit of a tailwind for BGCP.
Based on its current annual distribution of $0.48, the shares offer an 8.3% yield. While this is down substantially from the 12% yield of last week, income investors capable of accepting higher risk and higher volatility may be pleasantly surprised. Especially if shares are bought on dips in price that may exist after the euphoria wears off.
More information can be found in the latest investor presentation found here.
Below is a 36-month graph of BGCP and the S&P Financial ETF (NYSEARCA:XLF). Even though the price graph shows a decline of about 35% for BGCP and a gain of 15% for XLF, total returns over the past 3 years for BGCP would have been closer to breakeven - still underperforming the benchmark. On a 5-yr basis, total returns for BGCP would also be about breakeven while XLF would have generated total returns of about -20%.
3-Yr Price Graph BGCP, XLF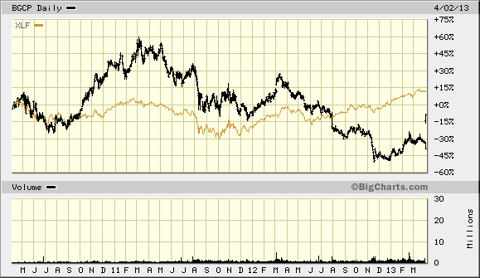 I have been following BGCP for a while, but never felt comfortable with the current low trading volume environment. However, with the added flexibility that comes with having $1 billion in cash and the high quality of management, BCG Partners is definitely on my radar screen - and it should be on yours.
Author's Note: Please review important disclaimer in author's profile.
Disclosure: I have no positions in any stocks mentioned, but may initiate a long position in BGCP over the next 72 hours. I wrote this article myself, and it expresses my own opinions. I am not receiving compensation for it (other than from Seeking Alpha). I have no business relationship with any company whose stock is mentioned in this article.