Introduction
Westport Innovations (NASDAQ:WPRT) is a global leader in natural gas engine technology and one of the best ways to invest in the increased natural gas adoption by the transport industry. I like Westport as the company is more of a technology investment rather than an infrastructure or commodity investment. The company generates most of its revenue by licensing technology to the world's top automobile and engine companies.
The company has been growing revenues at a tremendous rate over the past few years, though it is still not profitable. The stock has been volatile as natural gas usage by the transport industry in the U.S. has not reached the mass adoption stage. While a number of companies with large truck fleets-- like Waste Management (NYSE:WM)-- have been converting their vehicles to use natural gas engines, the vast majority of U.S. vehicles still depend on gasoline. However, WPRT's fundamentals continue to improve and I remain bullish on the stock. I had explained my long thesis on the stock in an earlier article. A number of positive catalysts have occurred since that time which have made me more confident.
How Things are falling into place for Westport Innovations
1) U.S. Natural Gas Infrastructure sees entry of more players - The biggest hurdle towards adoption of natural gas engines in the U.S. is the absence of a robust nationwide NG fueling infrastructure. Nobody wants to buy a natural gas engine powered vehicle without being sure of the availability of a NG fueling station. Also, nobody will build enough NG fueling stations without there being enough NG vehicles to use those stations. This is a classic chicken and egg problem that has hurt natural gas adoption.
Clean Energy Fuels (NASDAQ:CLNE) has taken the initiative of building a Natural Gas Highway in the U.S. and they have already completed 50% of their target by building 70 stations. The sector got a further boost when a Chinese company decided to enter the market. The ENN Group plans to build 50 stations initially and may construct up to 500 more stations in the U.S. WPRT has a lot to gain as its customers will find additional options to fuel their vehicles. Other companies such as Shell (NYSE:RDS.A) and Conoco Philips (NYSE:COP) are planning to build NG fueling infrastructure in the U.S.
Shell and its affiliates have signed a memorandum of understanding with TravelCenters of America LLC (NYSEMKT:TA) to sell LNG to heavy-duty road transport customers in the U.S. through TA's existing nationwide network of full-service fuelling centers. Other fuel providers such as Encana, FortisBC, and Gaz Metro have built permanent LNG refueling stations for Westport 15L fleets. New fuel providers such as Blu, have built two LNG stations in Utah. In addition, Conoco Phillips has expressed interest in building a small-scale natural gas liquefaction facility to manufacture up to 100,000 gallons per day of LNG to supply truck fleets in Dallas-Fort Worth, Texas.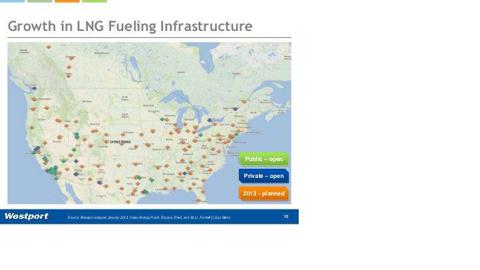 2) New Partnership with Clean Energy Fuels - WPRT and CLNE are in a symbiotic relationship as the success of one company depends on the success of the other. These companies have now formed a new partnership to bundle the new Westport LNG Tank System with a long-term fuel contract from Clean Energy. The Westport Tank System is optimized to work with Cummins-Westport ISL engines and should be available by September 2013.
3) U.S. EPA increases emission requirements - The U.S. EPA has been steadily increasing the emission requirements from vehicle makers which will improve fuel efficiency and decrease harmful emissions. The proposed nationwide standard reduces sulfur levels in gasoline down to 10 parts per million, which will be an average reduction of 60 percent for most of the nation. In addition, the EPA wants to reduce tailpipe emissions beginning in 2017 - cutting certain smog-forming chemical compounds by 80 percent and harmful particulates by 70 percent. The NG engine technology is a direct beneficiary as NG vehicles are less polluting than gasoline vehicles.
4) 2012 Revenue growth was impressive - Westport reported its full year results on March 7, 2013 which showed good overall revenue growth. All segments showed high double digit to triple digit growth. Though the company continued to lose its money, the fundamentals continue to improve with new product developments and lowering of costs.
Segment revenue for the year ended December 31, 2012 was: $155.6 million for Westport (growth of 54% year over year); $198.0 for Cummins Westport Inc. (CWI) (growth of 21% year-over-year); and $272.1 for Weichai Westport Inc. (WWI) (growth of 148% year over year).
For 2013, Westport expects revenue growth between 16 to 29 percent. Though the growth has slowed down compared to the past few years, it should accelerate in 2014 . Analysts expect WPRT to show a revenue growth of 30% over the next 5 years.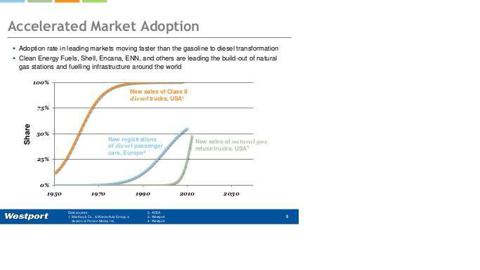 Stock Performance and Valuation
WPRT has climbed by ~12% since I recommended the stock as a buy due to its strong technical advantage in the NG engine segment. The stock remains volatile and has been moving in a range of $26 and $32. WPRT will continue to remain a high beta stock as the company is still losing money. WPRT's valuation is in the slightly expensive zone with a P/S of 10.3x and a P/B of 4.9x. The P/S seems inordinately high as the company has changed the way it accounts for revenues from its two main Joint Ventures with Cummins (NYSE:CMI) and Weichai. I remain optimistic about the stock given its technological advantage and growth prospects. The company is making a loss, but that is because the management is investing heavily in R&D and marketing.
Summary
WPRT remains my favorite pick in the Natural Gas area as the company is a technology leader. The company has been growing at an impressive pace over the last few years and will continue to do so in the next few years. The company is spending a huge amount of money to improve its technology which is leading to losses. The business case for WPRT continues to improve with more companies entering the NG infrastructure space in the U.S. While the company is not cheap at the current price, it is not too expensive considering its growth prospects. I would look to buy WPRT stock on pullbacks.
Disclosure: I have no positions in any stocks mentioned, and no plans to initiate any positions within the next 72 hours. I wrote this article myself, and it expresses my own opinions. I am not receiving compensation for it (other than from Seeking Alpha). I have no business relationship with any company whose stock is mentioned in this article.