On Tuesday, April 2nd, Zalicus, Inc. (ZLCS) announced that "the US Patent Office granted the company a patent which covered a wide-range of compositions and application methods for its Z160 drug. Z160, which is currently in two separate Phase IIa trials for the treatment of chronic neuropathic pain, was granted patent protection until 2032".
As a result of the company's positive news regarding one of its lead-drug candidates, Z160, I wanted to examine a number of additional catalysts behind my decision to establish a long position in the company.
Based in Cambridge, Massachusetts, Zalicus is a small-cap biopharmaceutical company, "engaged in the discovery and development of novel treatments for patients suffering from pain. The company develops Z160, a novel oral N-type calcium channel blocker that is under 2 Phase 2a clinical trials for the treatment of neuropathic pain, including post-herpetic neuralgia and lumbosacral radiculopathy; Z944, a novel oral T-type calcium channel blocker that has completed Phase 1 clinical studies for the treatment of pain indications; and Nav 1.7 and Nav 1.8 types sodium channels for the treatment of acute and chronic inflammatory and neuropathic pain". (Yahoo! Finance)
Shares of Zalicus, which possess a market cap of just under $83.95 million settled at just over $0.66/share on volume of 460,050 shares by the end of Tuesday's trading session. One of the things to point out for growth investors is the fact that shares of ZLCS are only 0.39% higher since January 1st of this year.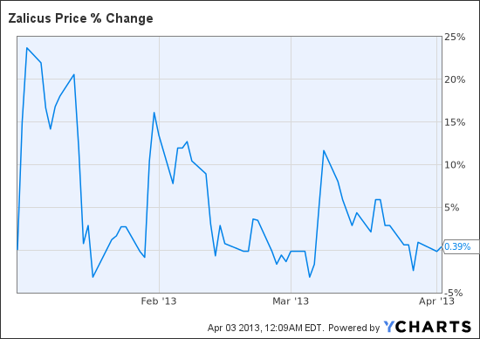 ZLCS data by YCharts
There are three catalysts to consider when it comes to Zalicus and they are the company's recent EPS performance, its significant increase in year-over-year revenue due largely in part to the company's pre-existing collaborative efforts, and its pre-existing partnership with Novartis (NYSE:NVS) which is set to expire in May of this year.
Recent EPS Performance: On Wednesday, March 6th Zalicus announced its fourth quarter and full year earnings performance. For the 12 months ending December 31st, 2012, the company demonstrated an increase of 13.5% in its full year EPS results when it reported a full year loss of $0.38/share for 2012 vs. a full year loss of -$0.43/share for 2011. One of the biggest contributing factors behind the company's much improved earnings lies within the continued development of its combination High Throughput Screening technology, better known as cHTS.
According to the company's website, "cHTS is an analysis platform capable of recognizing and quantifying synergistic drug combinations and integrating complex disease, pathway, target and drug information, our platform enables the discovery of new combination biology and the identification of specific combinations of drugs with the potential to treat serious diseases by simultaneously modulating multiple biological pathways". If the company continues to improve on the technology behind its cHTS platform, I see no reason why both earnings and revenues won't see an improvement over the next 12-24 months.
53.65% Increase in Year-over-Year Revenues: Also included in the company's in the company's fourth quarter and full year results, were its year-over-year revenue numbers which demonstrated an increase of 53.65% or $4.4 million between 2011 when the company earned $8.2 million in revenues and 2012 when the company earned $12.6 million in revenues.
According to the information provided within its earnings release, "For the year ended December 31, 2012, revenue was $12.6 million compared to $8.2 million for 2011. Zalicus recognized $5.2 million in royalty revenue from Mallinckrodt based on Exalgo® sales for the year ended December 31, 2012 and a total of $9.4 million in Exalgo royalty revenue from its commercial launch in April 2010 through December 31, 2012. The increase in revenue for the year ended December 31, 2012 was primarily due to an increase in Exalgo royalties and collaboration revenue from Novartis. We expect revenue for the year ending December 31, 2013 to be much higher than that recorded in the year ended December 31, 2012 due to higher expected royalties on Mallinckrodt's net sales of Exalgo and increased cHTS collaboration revenue".
Given the fact Zalicus generates a majority of its revenue through a number of previously established partnerships; potential investors may want to keep an eye out for any news regarding larger biotech firms coming in and teaming up with the company as a result of its recently awarded patent. They may also want to consider the fact that one of the company's most important partnerships is up for reconsideration come May of this year.
Collaborative Partnership with Novartis: Anytime a collaborative effort involving a larger biotech firm is responsible for just under 58% (or approximately $7.3 million) of the $12.6 million in annual revenues the company had managed to generate, I think terms of the agreement between both parties need to be highlighted.
According to Zalicus' website,
Under the agreement, which was first forged in May of 2009, Zalicus received a $4 million upfront payment and funding for research support for two years. In addition, for each combination advanced to the market from the collaboration, Zalicus is eligible to receive up to $58 million in clinical, regulatory and commercial milestones. The alliance had an initial two-year term that may be extended by Novartis for three additional one-year periods and has been renewed into May 2013.
The fact that this particular partnership has the potential to dissolve in May leaves investors with two very compelling scenarios. On one hand, if Zalicus can manage to renew its partnership with Novartis, 2013 could see the company surpass the $15.03 million revenue estimate the street is calling for. If, on the other hand, the company is unable to renew this particular partnership, I personally think that at the very least shares could see a significant sell-off.
Disclosure: I am long ZLCS. I wrote this article myself, and it expresses my own opinions. I am not receiving compensation for it (other than from Seeking Alpha). I have no business relationship with any company whose stock is mentioned in this article.