Medical isotopes are gaining traction in the fight against cancer and other diseases. Medical isotopes provide safe, cost-effective diagnostics and treatment for cancer and other diseases. Medical isotopes help us learn more about diseased tissue by tracking its movement from the inside, as opposed to standard diagnostic procedures, which take pictures from the outside. Medical isotopes usage often results in an earlier disease diagnosis, which allows patients to be treated in a timely manner, resulting in increased survival rates. Medical isotopes also help kill off diseased cells. The energy transmitted by radioisotopes can destroy these cells. When medical isotopes are delivered straight to the site of a tumor or group of cancer cells, cancer cells are selectively killed off while healthy tissues are spared. Even more promising, the latest technologies used in fighting cancer enable medical isotopes to be delivered directly to the tumor site or group of diseased cells.
Investing in medical isotope producers now could prove to be highly lucrative in the coming years. In this article, I will focus on medical isotope producer Advanced Medical Isotope Corp (OTCPK:ADMD), and also discuss two competitors, Nordion (NYSE:NDZ) and Covidien (COV), to see if any investment opportunities are present in this fast-growing space.
Radiopharmaceutical Market
According to the highly notable market research and consulting firm, Marketsandmarkets.com:
"The global radiopharmaceuticals market, which was valued at $3.8 billion in 2012, is expected to reach $5.5 billion by 2017. In addition, diagnostic procedures using Technetium-99m are forecasted to increase approximately 15% to 20% in Europe, North America, Korea and Oceania between 2010 and 2030. Radiopharmaceuticals are preferred by medical practitioners to complement conventional treatment of neurological diseases such as Alzheimer's disease, Parkinson's disease, and dementia. Radioisotopes, such as Ra-223 (Alpharadin) and Ga-68, possess huge potential for clinical applications. The therapy market is predominantly driven by its oncologic applications. Since conventional treatment procedures of cancer, surgery and chemotherapy have significant side effects, radioisotopes are being preferred by medical practitioners due to minimum or no side effects."
However, the scheduled shutdown of the NRU reactor in 2016 and OSIRIS in France in 2018 is creating a big long-term challenge for manufacturers in the radiopharmaceutical market.
North America currently holds a 49% share of the global diagnostic radioisotope market, with the U.S. as the largest consumer of radiopharmaceuticals and Canada as one of the largest producers of technetium-99m. According to the most recent data available, the U.S. accounts for approximately 44% of total global demand of molybdenum-99 and technetium-99m.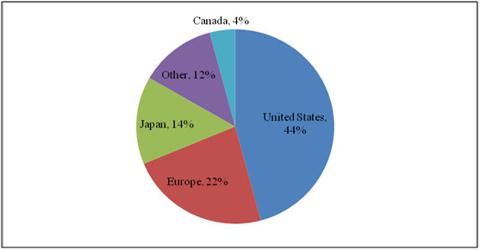 Five government-owned reactors fill 95% of the global demand for molybdenum-99. The NRU reactor in Ontario, Canada is the world's largest reactor, followed by the Petten reactor in the Netherlands, the BR2 reactor in Belgium, the OSIRIS reactor in France, and the SAFARI reactor in South Africa. In addition, 95% of the world's supply of technetium-99 is produced at five nuclear reactors around the world, including the National Research Universal (NRU) reactor in Chalk River, Ontario.
The heavy water leak in 2009 led to the shutdown of the NRU reactor for more than a year that resulted in a worldwide shortage of medical isotopes, forcing the cancellation of some medical imaging scans. A similar reactor in the Netherlands was forced to shut down temporarily for maintenance during the NRU shutdown, worsening the problem.
Advanced Medical Isotope Corp.
Advanced Medical Isotope provides radioisotopes for innovative technologies such as RadioGel, which enable more effective and less risky radiology procedures (brachytherapy) for treatment of cancer and other illnesses. A key advantage of Advanced Medical Isotope's technology, in addition to the fact that it is far more readily available, is that it is also far more cost effective. Advanced Medical Isotope enables critical lifesaving treatments such as brachytherapy and RadioGel and Seed Technology. RadioGel in particular is groundbreaking in that it does not cause any harm to tissue surrounding the infected area, effectively targeting only the cancerous tissue.
RadioGel therapy involves injection of a water-based biodegradable polymer that delivers yttrium-90 microspheres directly into tumorous tissue. The solution warms to body temperature quickly after injection and then polymerizes into a lattice that traps the yttrium-90 (a cost effective radioactive element) microspheres in place. Because it involves lesser treatment and healing time than any other surgical method, and due to the inclusion of yttrium-90, it becomes more effective and economical in terms of costs of hospitalization and recovery.
Partnerships
In March 2013, Advanced Medical Isotope negotiated an agreement with GSG International GMbH to produce, market, and distribute the related isotopes, equipment and services. The first attempt for this alliance is going to focus on the distribution of molybendum-99 (Mo-99) and related technetium-99 generators and kits that are acquired or manufactured by GSG on behalf of the alliance.
Advanced Medical Isotope, along with Safety by Design, PC, Colorado and Colorado State University, have entered into an agreement to manufacture and supply medical isotopes in areas with high demand and low supply. Their initial focus is on the treatment of skin cancer, then on using the same isotope (holmium-166) to treat joint pains, liver cancer, and myeloma.
In addition, the company has also obtained an exclusive license for RadioGel from Battelle, the world's largest independent research and development organization, for eight patents to produce, use, and sell the water-based biodegradable polymer product that transfuses the yttrium-90 microspheres directly into infected tissues.
Nordion & Covidien
Advanced Medical Isotope has outperformed peers like Nordion, one of the global leaders in medical isotope production, in terms of sustaining its supply of medical isotopes. The biggest issue facing Nordion currently is its lack of molybdenum-99 due to the NRU Reactor shutdowns. Nordion currently produces most of the world's supply of molybdenum-99, which is a source of technetium-99, a widely used isotope in medical diagnostics. Nordion's survival has depended on its creation of more effective medical isotopes for use in targeted therapies. Since many companies in different industries rely on Mo-99, Nordion faces a significant risk of revenue loss.
In mid-March, Atomic Energy of Canada Limited (AECL) announced a 30-day planned shutdown for inspection and maintenance of the NRU reactor. Atomic Energy of Canada Limited is Nordion's primary supplier of medical isotopes. The shutdown is expected to last from mid-April until mid-May, and will interrupt the supply of medical isotopes.
Nordion is exposed to risks involved with medical isotope production shortages. While Nordion reported revenue of $53.7 million for the first quarter of fiscal 2013, compared to $53 million for the same period in 2012, adjusted net income decreased to $4.1 million in the quarter from $7.1 million during the same period in 2012. The company reported first quarter fiscal 2013 adjusted non-GAAP earnings per share (EPS) of $0.07, compared to $0.11 in the first quarter of 2012. I believe Nordion's vulnerable position in terms of isotope production makes it a questionable investment for those looking for exposure to the medical isotope market. Investors looking for exposure to this space should watch carefully for any new developments surrounding the NRU reactor.
Covidien has been dealing with similar supply issues. The company's isotopes primarily come from nuclear reactors in Europe and South Africa. Covidien, which is highly dependent on HEU materials used to produce its Mo-99 isotopes, has taken steps to convert from HEU to LEU isotopes. The company has announced a plan to convert its Netherlands Petten Mo-99 processing facility. However, the company's size has reduced the impact of isotope supply shortages on its bottom line.
Covidien's net sales jumped 5%, while sales of medical devices jumped 8%. Covidien reported first quarter net sales of $3.06 billion, compared to $2.90 billion in the same quarter of 2012. The company reported first-quarter GAAP earnings per share of $1.03. Covidien plans to announce second quarter 2013 results toward the end of April. Due to its size, Covidien has much less exposure risk in the medical isotope space than Nordion.
Advanced Medical Isotope has created a reliable, domestic Mo-99 supply and distribution system. Its potential joint venture with MU Research Reactor to produce Mo-99 is part of its overall supply strategy. In addition, it has access to a subcritical system (technically and legally not a nuclear reactor, thus avoiding significant and costly regulations) that will enable it to continually produce effective and economical isotopes. Advanced Medical Isotope, despite being a small player in its field, has been able to consistently produce and sell higher quality medical isotopes while continuing to meet demand levels for the product.
The company has eight patented medical therapies:
"Stimulus Sensitive Gel with Radioisotope and Methods of Making "- in U.S. with two different patent numbers.
"Sensitive Gel with Radioisotope and Methods of Making"- in Canada
"Thermogelling Biodegradable Aqueous Polymer Solution"- in U.S.
"ThermogellingOligopeptide Polymers"- in U.S.
"Thermogelling Biodegradable Aqueous Polymer Solution"- in Canada.
"Multiple Stimulus Reversible Hydrogels"- in U.S. with two different patent numbers.
Advanced Medical Isotope obtained the exclusive license to these eight patents for the Radiogel technology back in February 2011. As mentioned earlier, with these patents, Advanced Medical Isotope has the right to produce and sell the RadioGel platform.
Advanced Medical Isotope took its first step in the pre-market approval process in early February 2013 in submitting data on RadioGel to the FDA. The company estimates the entire FDA approval process for RadioGel to cost somewhere between $5.5 million and $8 million. Advanced Medical Isotope did secure funding in October 2010 through a grant from the Department of Energy in the amount of $1.2 million.
Currently, the company's stock is trading around $0.13, between a 52-week range of $0.08 and $0.30. One big factor that could cause the stock to continue growing is the passing of the American Medical Isotope Production Act. The company's key position should allow it to gain access to funding here. Funding will be supplied to companies based on the time to start production of Mo-99, the capacity to meet a big portion of Mo-99 demand, and the total cost of the project.
Conclusion
The key to Advanced Medical Isotope's future rests in its ability to secure the necessary funding to get RadioGel through the FDA approval process and into production. Investors who believe in the company's vision should consider buying the stock. I believe the company's proprietary technology and access to a stable supply of input materials will weigh heavily in its favor when securing additional funding.
Disclosure: I am long OTCPK:ADMD, COV. I wrote this article myself, and it expresses my own opinions. I am not receiving compensation for it. I have no business relationship with any company whose stock is mentioned in this article.