On Monday morning I was watching CNBC and saw Vanguard founder John Bogle speak about the upcoming decade. Mr. Bogle believes that the ensuing decade for investors could be a bumpy one. He went so far as to say that he wouldn't be surprised if the market experienced multiple 50% pullbacks. All the while, he was cool as a cucumber, saying that investors should view these theoretical situations as value buying opportunities because the market has always recovered from such events. So many people forget this and allow their fear to cause them to lock in losses. Mr. Bogle said simply, that if investors invest in companies paying a 2% dividend with earnings increasing at 5%/year, they will double their money in 10 years. I decided to take this estimate a step further, screening for stocks who pay a 5% dividend while maintaining this proposed 5% annual future earnings growth estimate. Just for fun, I added the requirement of a less than 50% pay out ratio, insuring that the 5% dividend yield in my screen was safe. Here are the companies that I came up with, with the exception of Deer Consumer Products, Inc (OTC:DEER) because it only trades at $0.10/share.
Corrections Corporation of America owns and operates privatized correctional and detention facilities and prisons in the US. The company trades under the ticker symbol (NYSE:CXW) on the NYSE. CXW houses more than 80,000 inmates with its total capacity of 90,000 beds in more than 60 facilities. CXW owns 44 of these facilities. The company has partnerships with all three federal corrections agencies: The Federal Bureau of Prisons, Immigration and Customs Enforcement, and the U.S. Marshals Service. CXW very recently converted to a REIT is currently trading at $38.24 which is only 2.72% off its 52 week high. The stock has had an incredible run of over the past year but still trades at a forward P/E ratio of 18.65x. CXW has a low Beta: 0.96. The stock's EPS growth over the past 5 years was 9.11%. With domestic prison population growth outpacing the growth of new prison beds in the Federal system, there is ample opportunity for the continued growth of CXW looking into the future as the company is the largest private prison bed provider in the US. The company's expected EPS growth rate over the next 5 years is 12.25%. CXW currently pays a quarterly dividend of $0.52 which represents a 5.52% yield at current prices. The company's current payout ratio is 38.33%, making this a very defensible and safe dividend paying stock. CXW's current mean analyst target price is $43.60, giving the stock a perceived 14% upside. The stock is up 8.295% YTD.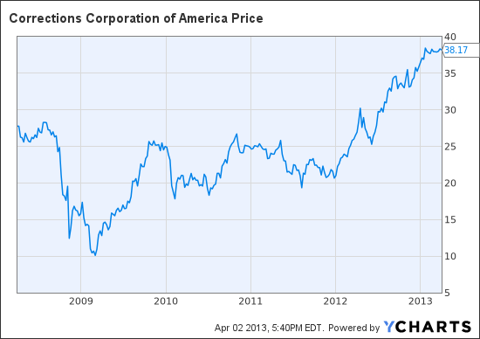 CXW data by YCharts
GEO Group Inc (NYSE:GEO) is a provider of government-outsourced services focusing on the management of correctional, detention, and community reentry. Unlike CXW, GEO gives investors international exposure with 96 facilities housing approximately 72,000 beds in the US, the UK, Australia, and South Africa. The company operates as a low Beta (0.78) REIT paying a $0.50 quarterly dividend which represents a 5.35 yield at GEO's current stock price of $37.25. GEO's payout ratio is 16.60%. GEO is trading only 1.59% off its 52 week high after having nearly doubled in price over the past year (the stock is 98.45% off its 52 week low hit April 4th, 2012). The company's P/E ratio is 30.89x with a forward P/E of 20.88. The company's past 5 year EPS average growth rate is 9.51%. The company's expected future 5 year EPS growth rate is 14.35%. Like CXW, GEO is benefiting from discrepancies between incarcerated prisoner growth and related total prison bed growth. The company's mean analyst target price is $38.71, giving the stock a perceived 4% upside even after its tremendous 34.61% run up YTD.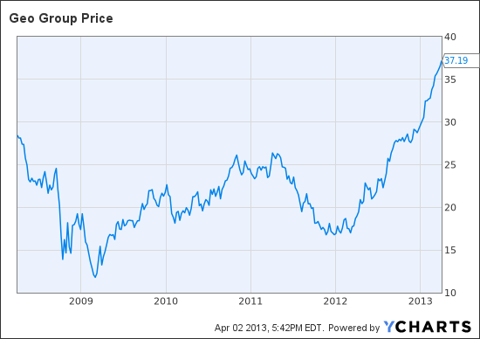 GEO data by YCharts
Main Street Capital Corporation (NYSE:MAIN) is a principal investment firm that provides debt and equity capital to lower and middle market companies. The company states that its lower middle market companies usually have annual revenues between $10 million and $150 million. MAIN currently trades at the P/E multiple 9.04x and has a forward P/E of 14.48x. MAIN's ttm operating margin and profit margin increased 65.54% and 115.38% respectively. The company maintains a low Beta of 0.72. The company is coming off of a great year as far as EPS growth goes; MAIN's 2012 EPS growth rate was 28.24%. MAIN's past 5 year average EPS growth rate was 64.17%. Main Street pays a $0.155 monthly dividend which accounts for a 5.81% yield on its current stock price of $32.13. MAIN's management effectiveness numbers are impressive as well; the company's ROA is 11.78%, its ROE is 19.91%, and its ROI is 12.17%. Recent sales have increased greatly with a 48.64% annual sales growth over the past 5 years. This stock is widely considered as being overweight by the analyst with the company's mean price estimate coming in at $28.50. This figure represents a perceived downside of 11%. The stock is viewed as being overweight because of the recent lofty EPS growth figures and doubt as to whether MAIN can maintain these sort of figures. The company's expected future 5 year EPS growth rate is 7% which represents solid growth; just not the 28.24% annual growth that MAIN experienced this year.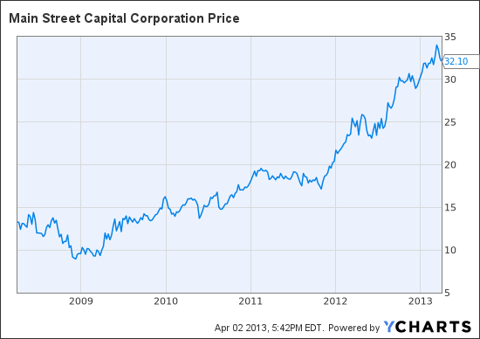 MAIN data by YCharts
Silicon Motion Technology Corporation (NASDAQ:SIMO) is a Taiwanese holding company. SIMO is a fabless semiconductor company specializing in the design, development, and marketing of its high performance-low power solutions. Unlike the other companies on this list thus far, SIMO is down on the year and YTD, 45.59% and 20.68% respectively. SIMO has a high Beta (1.94) and is currently trading 2.09% off its 52 week low. With this being said, the company's gross margin is up 48.49% ttm. SIMO's management effectiveness numbers are impressive as well; the company's ROA is 19.50%, its ROE is 23.54%, and its ROI is 23.19%. SIMO pays a $0.15 quarterly dividend with represents a 5.38% yield at its current share price of $11.26. The company's average analyst target price is $22.57 which gives the stock a perceived upside of roughly 100%. This estimate comes after SIMO's tremendous one year EPS growth 856.29%. This figure is excessively high because the company faltered in 2011 causing the stock to hit its recent peak in early 2012. SIMO's previous 5 year average EPS growth rate was 6.70% and its expected 5 year future average annual EPS growth rate is 20%. With such a high Beta this company is not for the feint of heart; however, SIMO does offer great upside with a high dividend paying its investors for their patience.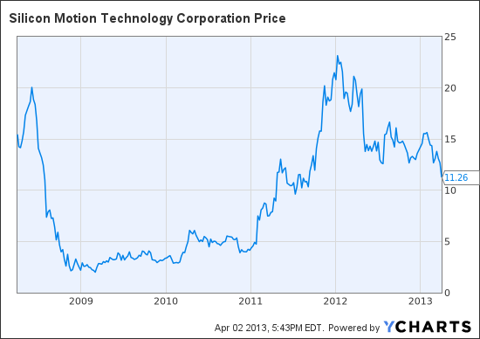 SIMO data by YCharts
Charm Communications Inc (NASDAQ:CHRM) is an advertising agency in China. The company plans, manages, creates, and places its advertisements. Charm has agency agreements with three television channels: Shanghai Dragon Television, Tianjin Satellite Television, and Hubei Provincial Economic Television. The company also has agreements with four programs on China Central Television and Beijing Gehua Cable Network. Because of these agreements, Charm has been able to establish a television media investment management business. CHRM is currently trading at $5.20/share which is in the middle of its 52 week trading range: 65.61% off its 52 week low. CHRM's shares have fallen 45.18% over the past year; however, they are up 28.96% YTD. The company's past 5 year average EPS growth rate was 25.74%. The stock's 1 year EPS growth number is 14.40%, with future 5 year average estimates coming in at 20%. CHRM's annual sales growth over the past 5 years has been 59.73. CHRM pays a $0.50 annual dividend which represents a 10.59% yield at its current share price. The company's mean analyst target price is $8.22/share, accounting for a perceived 58% upside. This stock has been extremely volatile: 8% over the past month. CHRM's average volume over the past 10 days is 22.4k; this stock is a bit of an enigma and I personally wouldn't recommend it. However, if you are interested in a speculative play in the Chinese market paying a juicy dividend, then CHRM might be the stock for you.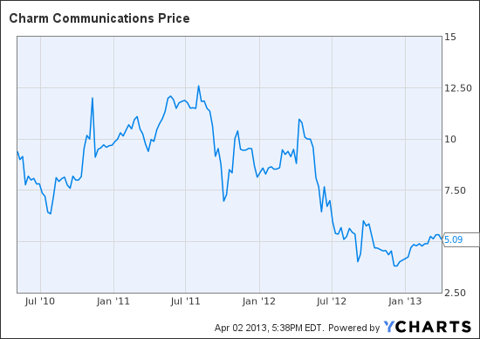 CHRM data by YCharts
Disclosure: I have no positions in any stocks mentioned, and no plans to initiate any positions within the next 72 hours. I wrote this article myself, and it expresses my own opinions. I am not receiving compensation for it (other than from Seeking Alpha). I have no business relationship with any company whose stock is mentioned in this article.