Gold prices fell hard yesterday, after breaking through the $1600/ounce level, and we are beginning to think that in order to make moves within the gold complex that one has to get cute. Investing in gold via currencies that are not the US$ would be more beneficial for those expecting the greenback to continue to be strong, whether that is strength created by internal moves or simply relative strength due to others becoming weaker or having stumbles (think the EU with stumbles). It adds more risk and one would be better off simply doing the currency trade, but if you need exposure to gold, that might be the way to go.
Commodity prices this morning are as follows:
Gold: $1571.50/ounce, down by $4.40/ounce
Silver: $27.185/ounce, down by $0.063/ounce
Oil: $96.74/barrel, down by $0.45/barrel
RBOB Gas: $3.003/gallon, down by $0.0378/gallon
Natural Gas: $3.975/MMbtu, up by $0.006/MMbtu
Chart of the Day:
After a break lower yesterday, it appears we are trending higher this morning.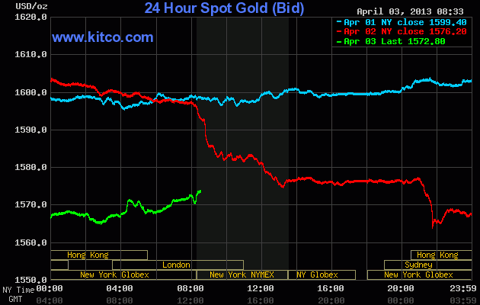 Chart courtesy of Kitco.com
Oil & Natural Gas
For our traders and those who have been following stocks we are highlighting as approaching levels where they are tradable, we want to point out that SandRidge Energy (NYSE:SD) is now near the $5/share level we have talked about. Yesterday the shares went to test $5/share, however found support just above that level and finished a couple of pennies above there. Whether you are bearish or bullish of the company here, there is an opportunity to trade it either way as volatility usually picks up around these support levels...especially if there is a breakdown.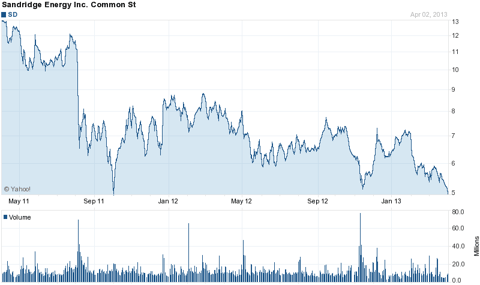 Chart courtesy of Yahoo Finance.
Refiners
Refiners in general had it rough yesterday and Valero (NYSE:VLO) was no exception. As it relates to oil and oil pricing the wind is at the refiners' backs, however corn prices and government regulations are now proving to be formidable headwinds and beginning to worry investors. There was a big sell-off in Valero shares as they closed at $42.41/share after falling $2.56 (5.69%) on volume just a hair shy of 19 million shares. We have stated before that so long as the shares can remain above the $42/share area we would expect the bullishness to continue, however any move lower and the perception would turn to neutral or negative (depending upon the severity of the move). This is one to keep an eye on.
Iron Ore/Steel
When iron ore prices fall one would expect steel makers to thrive and do well, however the problem is not an iron ore supply problem, but rather a steel demand issue and in an environment such as that both sectors suffer. We have said that if you must invest in either sector that you stick to the big names with solid assets and an ability to operate in a difficult environment. As such we have thrown out names such as Vale (NYSE:VALE) for the investor interested in iron ore exposure and US Steel (NYSE:X) for those interested in steel. We have received a couple of emails telling us how wrong we were on these two names, and yes if one is investing in these to outperform the market then they were bad. However if one is investing to outpace their industry peers and has to have exposure then we are doing just that. It is all relative, and sometimes losing is winning, it is important to first figure out what the trade is and those who bought US Steel instead of AK Steel are surely thanking us for throwing out the suggestion and keeping them from making that mistake.
Coal
And it has happened again...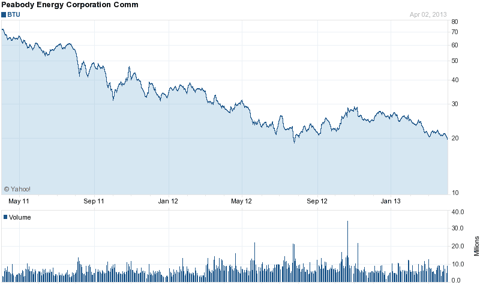 Chart courtesy of Yahoo Finance.
Just further evidence that we have been spot on with this whole coal story is the fact that Peabody Energy (BTU) has once again crossed the $20/share level, something we said was quite possible again (after being correct on our first call) and once again were laughed at. The bulls in the coal sector cannot be laughing right now, as momentum has severely shifted and blood is beginning to once again flow in the streets. Is it time to buy? Probably not yet, a double dip may very well be in store for the industry and until China and India begin to start cranking out more coal plants and demand rises due to economic growth, it is hard to see either of the coal (thermal or metallurgical) producers doing well in the near-term. As we said in our other morning commentary article, we are not even trading these names here due to fear of possibly getting trapped in a bear raid. Neutral with a bearish bias would best describe us right now.
Disclosure: I have no positions in any stocks mentioned, and no plans to initiate any positions within the next 72 hours. I wrote this article myself, and it expresses my own opinions. I am not receiving compensation for it (other than from Seeking Alpha). I have no business relationship with any company whose stock is mentioned in this article.