Cedar Fair LP (NYSE:FUN) owns and operates amusement and water parks in the US and Canada. It owns 11 amusement parks. It has one amusement park under contract. It has 4 separately gated water parks, 5 hotels (about 1700 rooms), 5 campgrounds, 2 marinas, 850+ rides and attractions, and 120+ roller coasters. It has about 1700 regular employees and about 37,000 seasonal/part-time employees. It also floundered in the last recession. With a new one likely approaching, it seems likely to do so again soon. With the double whammy of the payroll tax hikes, this is even more likely.
What business is more dependent on discretionary spending than an amusement park business? Sure, kids go to amusement parks, but they are taken there by their parents. How many parents feel like going to an amusement park when they have home budget issues or job issues? How many want to spend the extra money? If you have a 2.9% cut to your take home income due to the payroll tax hikes, what discretionary spending can you most easily cut? Clothes? Food? Housing? Transportation? Education? Or amusement parks? The answer for many people is vacation or amusement park spending. This lone factor makes FUN a sell in this NO FUN year -- 2013. Yes, it has a distribution of 6.2%, but that distribution virtually disappeared in the last recession. Even a much smaller cut to the distribution/dividend would mean a significant stock price fall. The risk/reward is not there for FUN.
How distressed are current times? Cyprus had to literally confiscate large percentages of depositors' money in order to get a bailout deal (to avoid a default). The EU manufacturing PMI fell from 47.9 in February 2013 to 46.8 in March. The EU GDP growth was down by -0.9% year over year in the Euro Area and -0.6% in the EU 27 in Q4 2012. These numbers were in turn down significantly from the -0.6% and the -0.4% in Q3 2012 respectively. Japan's GDP growth was negative at -0.7% year over year in the October-December quarter of 2012. The OECD (most western developed countries) GDP contracted by -0.2% in Q4 2012. The negative growth of these other major economies has to put a damper on the US economy. These countries will buy fewer US goods. They will try to dump more of their own goods in US markets in order to keep their citizens employed. This will make it harder for US firms to remain profitable. Let us give this factor a -0.5% effect on US 2013 GDP as a ballpark figure. It may perhaps deserve a stronger weighting.
With the above environment as a back drop, the US raised the payroll taxes in January 2013 by +2.9%. It raised a number of taxes on the rich, including a 3.8% ObamaCare surtax on investment income. Mark Zandi of Moody's estimates these new taxes may trim -1.4% from US GDP growth in Q1 2013 (and probably roughly as much for the rest of 2013). Since then Obama has put the sequester into effect. The CBO, a historically conservative organization, estimates that the sequester will knock -0.6% off US GDP growth in 2013; and it lead to the loss of 750,000 US jobs. Adding the above GDP growth losses together, you get a loss of about -2.5% in US GDP growth from whatever the number would have been otherwise. Even if you thought US GDP growth was going to be in the 2%-3% range, these numbers have to make you think a recession is likely. If you had lower original estimates, you should think a US recession is a certainty. The US GDP growth in Q4 2012 was only +0.4%.
The following chart shows FUN's small, constant Adjusted EBITDA growth for the last four years. It also shows FUN's expected growth.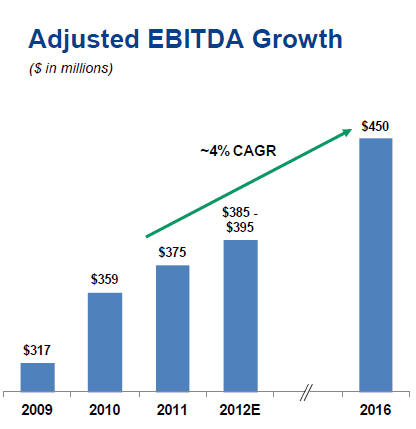 The 4% CAGR is just fine for good times, but when times are turning tougher such a small growth rate can disappear very quickly. When you remember that the average American will have 2.9% take home pay due to the payroll tax hikes, it seems probable that will translate into about -3% less adjusted EBITDA growth if not more. If you add the European problems and the negative effects of the sequester, you should see adjusted EBITDA growth in 2013 completely disappear, if not go negative.
If adjusted EBITDA growth disappears, this may make FUN's proposed distribution/dividend payments unsupportable. In fact in the last recession that is exactly what happened (see chart below).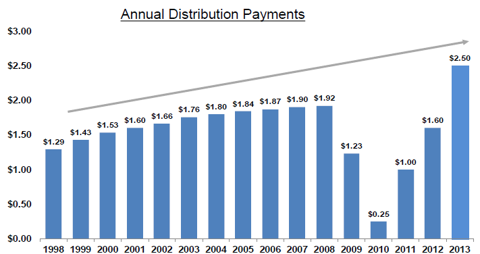 As you can see the distribution/dividend payments were down dramatically in 2009; and they almost ceased in 2010 in the aftermath of the recession. FUN has already given investors reason to worry on this score. Revenues in Q4 2012 were $129.2 million. This was down approximately 11% or $15.6 million from Q4 2011. The company claims this was mostly due to bad October weather; but it is worrisome nevertheless. Although operating costs decreased in the underperforming Q4 2012, for the FY2012 operating costs and expenses increased $21.4 million or 3.2% to $684.7 million. If Q4 is the start of a downward revenue trend, which seems likely given the external fundamentals already mentioned above, then both the stock price and the dividend of FUN are highly in question.
FUN reported negative adjusted EPS of -$0.19 in Q4 2012 after a 14% miss on EPS in Q3 2012. The average analyst estimate for Q1 2013 is for a loss on adjusted EPS of -$1.15. Plus, this has worsened by -$0.20 in the last 90 days, so the trend is already negative. With a next five years EPS growth estimate per annum of +6.00%, FUN does not deserve to sell at a premium multiple, especially with its fundamentals in jeopardy. With that in mind its PE of 22.27 is too high for the stock; and its FPE is likely a mirage. Plus, the 6.2% dividend is in severe danger. A return to the recent $0.40 dividend seems a likely first step. This is only about a 4% distribution/dividend; and such a move would have a large impact on the stock price.
If all the above wasn't bad enough, FUN has a Total Debt/Total Capital (MRQ) ratio of 90.58% versus an average for its industry of 54.12%. It has a Quick Ratio (MRQ) of 0.82x and an Interest Coverage (MRQ) of only 0.35x. In other words in tough times it will have extreme problems in paying its bills. This will mean that FUN's stock price will get hit by a double whammy of both fundamentals and negative speculation about its ability to continue for long absent bankruptcy. This is not to say it will go bankrupt, management seems to have been generally doing a good job lately. The mean analysts' recommendation of 1.8 (a buy) is testament to that. However, this recommendation is likely far too high for the current US economic situation. That means analysts will likely lower their recommendations in the near future. Each lowered recommendation will likely mean a stock price fall.
Some might then insist that the book value will hold the stock up. However, the Price/Book (MRQ) is 14.07x. In other words, the book value per share is only about $2.86, which is not close to its $40.30 share price. By comparison, the average Price/Book for FUN's industry is 5.74x. FUN is clearly NOT a VALUE investment.
The five year chart of FUN provides some technical direction and a look at the stock performance in the last recession.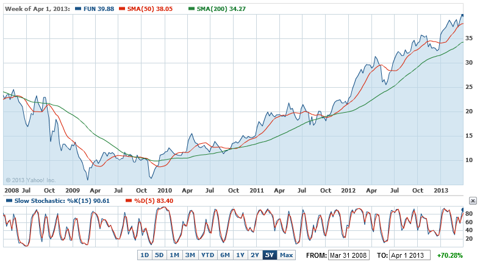 As you can see from the chart, the stock price got as low as $6 in 2009. I doubt the stock price will go that low in the possibly coming US recession, but you never can tell. There should be increased negative pressure on the stock as the US economic conditions worsen this year. Even positing good economic growth in the US, there should be more than adequate negativity from the European crisis to put pressure on FUN for just its overbearing debt level (and its questionable ability to service those debts).
Technically the slow stochastic sub chart shows that FUN is overbought. The main chart shows that it is in a strong uptrend. Uptrends often continue. If the overall market continues to go upward, FUN may follow it. You may wish to wait to sell. However, with FUN currently overbought, now appears to be a great time to start taking profits in this fundamentally weak company. Remember Fed rallies often pump up weak stocks undeservingly, and the analysts often just follow the trends. As Cramer famously says, "Pigs get slaughtered." Don't be a pig.
If you are an aggressive trader, you might want to try shorting this stock. You could possibly do this with longer term put option spreads approximately 6 months to a year out. However, it is always worrisome to short good dividend yielding stocks. In contrast, making the decision to take profits seems like a "no brainer". The overall market is overbought, and it is likely to pull back significantly soon.
NOTE: Some of the fundamental financial data above is from Yahoo Finance and TD Ameritrade.
Good Luck Trading.
Disclosure: I have no positions in any stocks mentioned, but may initiate a short position in FUN over the next 72 hours. I wrote this article myself, and it expresses my own opinions. I am not receiving compensation for it (other than from Seeking Alpha). I have no business relationship with any company whose stock is mentioned in this article.