While most of the investment community is delving in the prospects of huge potential gains in short trades with equities such as BlackBerry (NASDAQ:BBRY), Best Buy (NYSE:BBY), etc., I'd like to digress to the more conservative and viable aspect of making money: dividend stock investing. So, I'd like to offer the community 2 dividend stocks that offer over 4% and have adequate growth potential.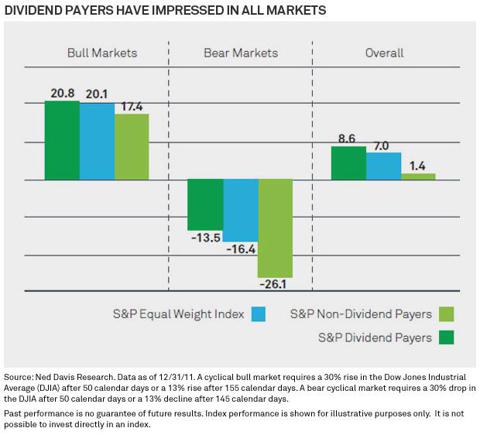 Click to enlarge
(Click to enlarge)
Before we get into the actual picks (or you can just scroll down), I'd like to offer some "invaluable" dividend stock investing information. According to research conducted by Blackrock, dividend paying stocks have outperformed both the S&P 500 Equal Weight Index and S&P 500 Non-Dividend Paying stocks based on the fluctuations of both bull and bear markets. From 1/31/72 to 12/31/11, money invested in dividend paying stocks averaged a higher return in all situations. For reasons that are apparent, companies that pay dividends are more willing to share its earnings with its shareholders because its confident in its current/future cash flow.
Investing in dividend stocks may actually lag in comparison to the intermediate returns of a small-cap equity portfolio, but over time, companies that have solid underlying fundamentals prevail victorious for your pocket.
To shed some light on the advantages of this style of investing, let's consider these few facts:
From 2000 to 2010, reinvested dividends accounted for 87% of the S&P 500's total return.
From 1990 to 2010, reinvested dividends accounted for 43% of the S&P 500's total return.
From 1871 to 2003, reinvested dividends accounted for 97% of the S&P 500's total return.
In this article, and the others I have written, I usually like to follow a pretty straight forward criteria for selecting these stocks. I prefer my stock picks to have been established for more than 25 years and have a consistent history of paying dividends to the shareholders. With this credibility alone, it shows that these stocks can prove to be both safe and lucrative investments. These dividend stocks are well established in their industry, meaning they have been around for quite a while and have gone through economic turmoil and a few stock market collapses (and even a hurricane). I also only chose stocks that I know possess sustainability in the market to completely mitigate any type of investment risk associated towards your money. Without further delay, the 2 dividend stocks offering over 4% dividend yield possessing upside potential are Public Service Enterprise Group Inc. (NYSE:PEG) and Enterprise Products Partners (NYSE:EPD).
1) Public Service Enterprise Group Inc.
Public Service Enterprise Group Inc. is a diversified energy holding company that is among the nation's leading wholesale energy producers and most reliable electric and gas transmission and delivery utilities. PEG's three main subsidiaries are PSEG Power, Public Service Electric & Gas, and PSEG Energy Holdings. Founded in 1903, its New Jersey's oldest and largest investor owned utility.
Although indubitably affected by Hurricane Sandy, PEG will ultimately prevail over mother nature. To put into figures the damage from Sandy, here are a few examples:
96 Electric Substations Damaged (39% of the total)
14 Switching Stations Affected (33% of the total)
51 of 154 Transmission Lines Interrupted (33% of the total)
2,427 Utility Poles Replaced or Repaired
48,000 Trees Removed or Trimmed
4,200 mutual aid or contract workers brought in to assist restoration efforts
One of the many reasons I like this stock is because of the solid management decisions. One being to invest $3.9B into an Infrastructure Program that will strengthen PSE&G's electric and gas system increasing asset durability and resiliency within the company. The details are as followed:
Protecting 40 utility installations from severe storms ($1.7B)
Making electric grid smarter and easier to repair ($454M)
Adding backup distribution lines and system redundancies ($415M)
Undergrounding 20 miles of overhead distribution lines ($60M)
Modernizing gas distribution system ($1.1B)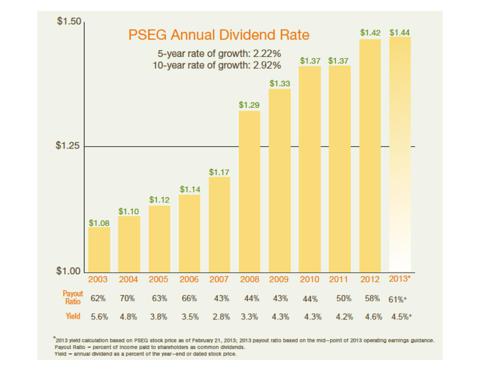 Click to enlarge
(Click to enlarge)
Most notably, when it comes to dividend stocks and which company could be considered the "greatest and most reliable" dividend stock, PEG is up there with the best of them. 2013 represents the 106th consecutive year PEG will be paying dividends to the holders of its common stock. PEG has paid dividends each year since 1907, a clear sign of a sure thing.
The Board of Directors of PSEG declared an increase in the common stock dividend on February 19, 2013. The Board increased the quarterly dividend to 36.0 cents per share from 35.5 cents per share. The indicated annual common dividend rate is $1.44 per share. According to the chart, there is a compound annual rate of growth in the dividend of 2.9% over the past decade. To date, this is the 9th dividend increase in the last 10 years.
I like PEG long because of its resiliency and presence in its industry. Although afflicted with the inevitability of unlikely events, it handled the situation superbly initiating over 2,000,000 homes' lights within 7 days. That sort of efficiency is unheard of where I'm from in Louisiana. PSEG also achieved operating earnings of $2.44/share at the high end of guidance. Beginning the year at $30.60, it's up around 12% at $34.23 (as of 4/2/2013), but I believe there's much more room for improvement in this stock. With a dividend yield of 4.21% and $1.44/share, this company could make itself snug in your portfolio.
2) Enterprise Products Partners
Enterprise Products Partners L.P. is a natural gas and crude oil pipeline company and also the largest publicly traded partnership. Since its IPO in July 1998, EPD has grown significantly. It's original asset base was at $715 million and by June 30, 2012, those assets increased to $34 billion. This sort of unprecedented growth is a product of acquisitions and expansions from organic growth opportunities. EPD's market capitalization is currently close to $56B with a 4.31% dividend yield.
As of 4/2/2013, EPD closed hitting its 52-week high of $61.25 with a YTD increase of around 20%. Investors tend to lean away from stocks approaching their 52-week high, but I say again, I believe this to be a sign of significant strength. I wrote an article describing KMB while it hit its 52-week high of $89 and exclaimed that it was not the end of the climb, and now it's currently trading for almost $100. I believe it's the same situation with Enterprise Products. Let's start by listing some of the company's key assets:
21,212 miles of natural gas pipelines
17,499 miles of NGL and petrochemical pipelines
6,055 miles of crude oil pipelines
5,176 miles of refined products pipelines
Approximately 200M barrels of NGL, crude oil and refined products storage capacity
14 billion cubic feet of natural gas storage capacity
24 natural gas processing plants
21 NGL and propylene fractionation facilities
From 2009 to 2012, total assets have increased from $27B to $35B along with revenues increasing from $25B to $42B. Future growth and expansion plans are promising with projects costing around $7B. This year alone, the company spent around $3B on projects. From 2007 to 2012, EPD completed 50 major capital growth projects totaling $8B of invested capital. These projects were completed on time and 4% under the original budget, a sign of quality management. From 2008 to 2012, the Gross Operating Margins significantly increased from $2.6B to $4.4B with Distributable Cash Flow peaking $4.1B in 2012.
When it comes to Master Limited Partnerships, you can find truly great companies. Kinder Morgan Energy Partners is one that comes to mind, but I'm preferential to EPD specifically because of the management of the company. EPD has a long history of buyouts and acquisitions accompanied with significant distribution growth. EPD is also in the midst of delving into a huge pipeline project called the ATEX Express. The 1,230-mile Appalachia-to-Texas (ATEX) Express Pipeline is designed to facilitate development of natural gas liquids by providing takeaway capacity for ethane from Pennsylvania, West Virginia and Ohio to the Texas Gulf Coast petrochemical market. The project will provide a capacity of 190,000 barrels per day which can be efficiently expanded to meet increased demand. This project will also create 4,000 jobs. With a 4.31% dividend yield and a consistent history of dividend increases and payments, EPD may be the best MLP on the market.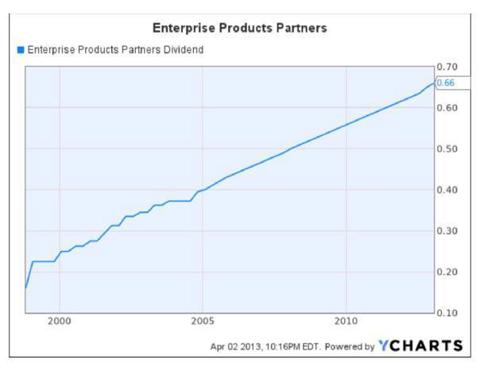 Click to enlarge
(Click to enlarge)
Disclosure:
I have no positions in any stocks mentioned, and no plans to initiate any positions within the next 72 hours. I wrote this article myself, and it expresses my own opinions. I am not receiving compensation for it (other than from Seeking Alpha). I have no business relationship with any company whose stock is mentioned in this article.