Back in December I wrote a piece on Galena Biopharma (NASDAQ:GALE) entitled Galena Biopharma: Recent Developments Paint A Picture Of The Year Ahead, where I discussed my thoughts on the developments of the company in 2013. I mentioned that I believe Galena will continue to progress and rally this year. So far it is looking good, as the stock is indeed moving higher since the start of the year. January 2013 saw Galena's market cap at about $100 million, and currently it hovers around $170 million and the share price has increased about 37% since then.
Looking for Key Developments in 2013
As an investor we always crave noteworthy news, key developments, and other exciting catalysts to help propel our stock forward. So far, we have seen several developments this year that rival the impact of the Teva partnership and Leica deal that were announced in 2012.
For one, the FDA has developed a program to help with the expediency of new drug and therapy approvals, and this bodes well for all involved. Albeit, the program called the Food and Drug Administration Safety and Innovation Act (FDASIA)-was approved already in July of 2012, it still has an impact for this year and the future. What is important about this program is that it allows a provision for "breakthrough therapies" in where a treatment or drug can receive the Breakthrough Therapy designation in consideration for an expedited approval. This would directly correlate to Galena's NeuVax™ of course. With this program in place, we may see far greater approvals in the coming years, though it should be noted that 2012 already saw a 16-year high with U.S. regulators approving 39 new drugs. Though NeuVax™ is not a drug per se, the benefit still remains as the program could still potentially designate it as a Breakthrough Therapy.
For those not familiar with NeuVax, according to the website, (nelipepimut-S), is the immmunodominant nonapeptide derived from the extracellular domain of the HER2 protein, a well-established target for therapeutic intervention in breast carcinoma. The nelipepimut sequence stimulates specific CD8+ cytotoxic T lymphocytes (NYSE:CTL) following binding to HLA-A2/A3 molecules on antigen presenting cells (NYSE:APC). These activated specific CTLs recognize, neutralize and destroy through cell lysis HER2 expressing cancer cells, including occult cancer cells and micrometastatic foci. The nelipepimut immune response can also generate CTLs to other immunogenic peptides through inter- and intra-antigenic epitope spreading. In non-medical terms, it is an immunotherapy treatment that could eliminate the recurrence of breast cancer among a large subset of breast cancer sufferers.
As the year progresses, so does the coverage initiation by analysts. Galena Biopharma continues to display popularity with analysts, as they initiate BUY and OUTPERFORM ratings and up their price targets. Most recently, Roth Capital increased the price target from $5.00 to $7.00. Analyst confidence leads to increased confidence with investors. Increased confidence with investors leads to increased buying. But this isn't all just hype, savvy traders are catching on to what and what doesn't hold promise in the biotech field; who the big winners and who will be yet another statistic in the "failures".
Another very important development for Galena recently has been its acquisition of Abstral® (fentanyl) Sublingual Tablets from Sweden's Orexo AB (ORX.ST). The agreement between the two companies (announced March 18) will give Galena rights to sell and distribute the very established pain-suppressing drug. In this form, the analgesic is quick-to-act in its indication for breakthrough pain, a terrible condition that afflicts 40%-80% of cancer patients. The drug is administered to patients already receiving opioid therapy and who have become tolerant. Under the terms of the agreement Galena agrees to pay Orexo $10 million upfront and another $5 million within 12 months of closing, as well as royalties in the "low double digits" and "one-time milestone payments based on pre-specified net sales".
Abstral® has been approved in Europe since 2008 and is expected to be the market leader in fast-acting fentanyl-based products this year in the EU. January 2011 met the product with an FDA approval in the U.S.-and also a February 2011 approval in Canada. In November 2011, Orexo's Japanese partner-Kyowa Hakko Kirin-submitted a New Drug Application for the product in Japan. Orexo's other partner, ProStrakan, acquired the rights for EU sales as well as other parts of the world in 2012.
Orexo boasted 2012 sales of Abstral® in the EU amounted to approximately $350 million Swedish crowns (SEK) or about $53.79 million USD. Though not a whopping sales figure in the grand scheme of the biotech and pharma space, the potential is certainly there, as the total U.S. sales demand for transmucosal immediate-release fentanyl (TIRF) products reached $400 million 2012. This latest play by Galena in acquiring this much needed drug is another smart move by the company, a clever strategy that should set the company in a position to make added revenue in the near future. If Galena is able to capture just 10% of the US market that $40 million will look extremely nice on the company's financial statements. It should be noted that Galena intends on financing this acquisition and product launch via non-dilutive debt financing of up to $15 million.
Pondering the Rest of 2013 and Beyond
Upon examining and delving into Galena Biopharma, it becomes apparent the company is continuous in its endeavors to set its next goal, carefully planning its moves, and operating with a wide open acceptance to new possibilities. As with all biotechs, there will be bulls and there will be bears. No doubt. In any case, it is good to see new developments for the company, as this is what investors hope for. Now we must wait and see if management will move forward with milestones and achievements already in place. Much potential still lies with the Teva and Leica partnerships. This should not be forgotten. Its all about careful execution as Galena grows and evolves, and so far so good.
As Galena grows and reaches out into a worldwide presence, we can expect to see more and more catalysts occur, as the company continues to fulfill objectives, align partnerships, acquire product rights, and make progress in its Phase III PRESENT clinical trial for NeuVax™, etc. The next major development for the company could be potentially anything at this point. The company has pleasantly surprised investors with the announcement of the Teva and Leica deals, and the acquisition of the US rights for Abstral distribution. Considering that Galena has a cash assets around $40 million, after a recent financing round, it puts them in a good position to continue clinical trial work and expand the company's pipeline.
Conclusion
Galena Biopharma looks to have a bright future. The groundwork that has been laid down thus far only serves to catapult the company into higher echelons. With the new Abstral® acquisition, the company may see revenue in the near future. After that, there is NeuVax™, which either alone or with Herceptin® has the potential to garner Galena billions of dollars in sales, as well as save many lives. Herceptin® is currently ranked as number 24 in sales of all U.S. pharmaceuticals, though it only targets 25% of breast cancer patients (those exhibiting HER2 3+). Sales for Herceptin were about $6.4 billion in 2012. Galena's vaccine targets the remaining 50% of low-to-intermediate (HER2-Negative) patients, who are not eligible for Herceptin®. The marriage of NeuVax™ and Herceptin® spells huge financial and medical possibilities for Galena. Along with the rich pipeline in the works, there is a lot to look forward to with this company.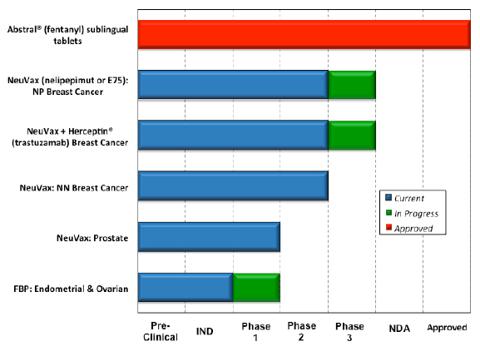 Click to enlarge
Currently, Galena Biopharma is trading at $2.05 on volume averaging about 1.6 million shares, and the trend has been an upward one. Management will continue to attend industry conferences and meetings, and analysts will continue to tout the stock, as will the public continue to have its opinions. As is the case with volatile and risky biotech investing, there will be price swings, there will be bulls and bears, there will be praise and criticism, and there will be hope. Anxious investors depend on success and more importantly, cancer sufferers depend on it. I, for one, have hope and see a very bright future for Galena Biopharma.
Disclosure: I am long GALE. I wrote this article myself, and it expresses my own opinions. I am not receiving compensation for it. I have no business relationship with any company whose stock is mentioned in this article.