I have been trying to tune out the noise about new highs and fears of summer slumps. Instead, I am waiting for earnings season for clues about the next move in the S&P 500. In my previous article (S&P 500's Summer Slumps And Why This Summer Could Be Different), I discussed that three main causes for the summer slump in the S&P 500 last year - jobs, the Fed, and Europe - look better now, but the real wild card is the upcoming earnings season. Therefore, I want to present the key things that I will focus on during earnings season. I hope to update this as Q1 numbers roll in, and please let me know your expectations and concerns for earnings season. Here is my roadmap:
S&P 500 Earnings Need To Finally Show Growth
Below are four charts for tracking S&P 500 earnings. There is a divergence between the S&P 500's rising multiple (second chart) and the flattish earnings for the last few quarters (third and fourth charts).
For the S&P 500 to sustain its current high price and high multiples, it will need to show better earnings growth. Analysts' estimates call for a 5.2% increase in Q1 operating earnings and a 8.6% increase in Q1 reported earnings, compared to last year. These may be ambitious targets since we haven't seen growth this high in over a year.
Please note that the last data points in charts 2, 3, 4 are the Q1 projections, which are the ones pointing up.
The S&P 500 may continue to rally even if earnings fall short of these estimates depending on what happens with specific companies/sectors, but it is important that the aggregate number shows growth.
(Source: Standard & Poor's. Operating earnings: Income from product (goods and services), excludes corporate (M&A, financing, layoffs ), and unusual items. As Reported earnings: Income from continuing operations, also known GAAP (Generally Accepted Accounting Principles) and As Reported. LTM: Last twelve months, not including estimates for current quarter.)
Banks Need To Continue To Lead
The banks have been a market leader out of the 2008/2009 financial crisis, especially since last summer. However, bank stocks have been weak following the stress test results.
Several of the big catalysts have already played out, at least partially: discounts to book value and the stress test results. We now need new drivers for the stocks, such as more earnings growth and increasing ROE.
I am not looking for outstanding results from the banks. Instead, I am looking to see if the Q1 numbers are enough for the banks to hold onto most of their recent gains.
Interestingly, Goldman Sachs (NYSE:GS) has experienced positive earnings revisions over the last quarter. The market rally is probably one of the drivers. The following table of earnings revisions for Goldman Sachs shows the optimism (FQ1 represents the fiscal quarter that will be reported):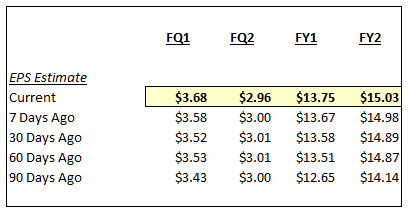 (Source: Yahoo Finance)
Goldman Sachs is one of my main indicators for the sector. Although it may not be very important for the broader economy, it is important for market sentiment. Other banks to watch, with broader implications for the economy, are: Wells Fargo (NYSE:WFC), JPMorgan (NYSE:JPM), Bank of America (NYSE:BAC) and Citigroup (NYSE:C).
Apple's Time To Deliver
Apple (NASDAQ:AAPL) is still the largest component in the S&P 500 and represents 2.97% of the SPY ETF. Apple has been a clear underperformer since last summer, despite the concurrent rally in the S&P 500. One of the reasons for the Apple selloff has been the downside revisions to EPS estimates. The following chart shows the trend over the last quarter.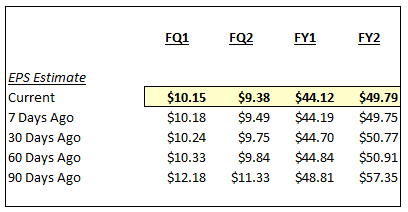 (Source: Yahoo Finance)
On the last earnings call, Apple's management announced a change in the way it gives forward guidance and embraced a more conservative approach. This change is partially to blame for the big drop in earnings expectations, but the numbers continued to fall throughout the quarter due to other concerns as well.
The S&P 500 can clearly rally without Apple, but Apple's size gives it a greater impact on the performance of the index and it seems to have a noticeable impact on investor psychology.
Apple may finally make an announcement about deploying its cash hoard for buybacks, dividends or iPrefs (that is David Einhorn's idea) when it announces earnings. More importantly, I am interested in seeing if the results from Apple can stem the downward trend in earnings estimates.
Will There Be A Rotation Into Tech?
Lately, the defensive sectors in the S&P 500 have been strong. However, the P/E multiples for some large cap defensive companies are getting stretched. Therefore, I am looking to see if the underperforming tech sector can provide leadership for a continued S&P 500 rally.
The following graph compares the performance of the S&P 500, the QQQ ETF (NASDAQ:QQQ) that tracks the top 100 NASDAQ companies, and the SPDR Technology ETF (NYSEARCA:XLK). The QQQ and XLK ETFs are both weighted more toward large tech companies, so the good performance of some smaller tech companies is not captured.
Clearly, big tech is lagging.
SPY data by YCharts
Furthermore, in a March 25th article (S&P 500's P/E Multiple Ending Q1 At 3-Year High), I noted that almost all of the top 100 companies in the S&P 500 had experienced multiple expansion in the previous 90 days except Apple, Oracle (NASDAQ:ORCL) and EMC (EMC).
The tech sector is facing several headwinds, which will likely be discussed on many earnings calls, including: the problems in Europe (an important geography for many tech companies) and the restraints on government spending in the US (including the sequester).
There have been some recent disappointments from tech companies, such as Oracle, Tibco (NASDAQ:TIBX) and Red Hat (NYSE:RHT). These results do not bode well, but we'll see if they are outliers or indicative of a greater trend.
It Would Be Nice To See A Rotation Into Cyclicals
I would like to think that cyclicals, especially metals/mining/materials companies, could be candidates for market leadership. These companies will probably need a few more quarters, at least, to work out their problems, but I will be looking to see if Q1 earnings can stem the downward pressure.
Caterpillar (NYSE:CAT) set a negative tone for the metals/mining sector with the release of its dealer statistics a few days ago. The metals/mining sector lagged for several reasons, most notably the slower pace of growth in China as well as China's shift to more consumption-oriented growth. In addition to Caterpillar, some companies that I will focus on are Freeport-McMoRan (NYSE:FCX), BHP Billiton (NYSE:BHP) and Rio Tinto (NYSE:RIO).
Homebuilders are a domestic-oriented cyclical sector. The following chart compares the iShares Dow Jones U.S. Home Construction ETF (NYSEARCA:ITB) and the SPY year-to-date.
ITB data by YCharts
We know home construction is making a comeback so earnings reports can only tell us if the pace is accelerating or decelerating relative to expectations. The homebuilders are also an important source of employment and have positive implications on lots of other industries.
Conclusions
There are high expectations for Q1 earnings with the S&P 500 at record levels and an expanding P/E multiple. Q1 earnings will likely be the catalyst for the next move, not Europe or other factors. Throughout earnings season there will be a lot of data for investors to digest and I will be following closely several data points. Most broadly, it is about time that aggregate earnings for the S&P 500 showed some growth. In terms of sectors, I think it is most important that the banks and homebuilders continue to lead the rally. Because certain other sectors seem to be stretched, especially defensive stocks, it will be important for the tech sector to show good results and break out of its malaise. It may be too early for the metals/mining/materials stocks to rebound, but we will see if Q1 earnings cause further losses or stem the tide. Finally, Apple is widely watched and has a big weighting in the S&P 500. Will it finally bottom?
Disclosure: I am long ORCL. I wrote this article myself, and it expresses my own opinions. I am not receiving compensation for it (other than from Seeking Alpha). I have no business relationship with any company whose stock is mentioned in this article. I may trade any of the securities mentioned in this article at any time, including in the next 72 hours.
Disclaimer: The opinions expressed above should not be construed as investment advice. This article is not tailored to specific investment objectives. Reliance on this information for the purpose of buying the securities to which this information relates may expose a person to significant risk. The information contained in this article is not intended to make any offer, inducement, invitation or commitment to purchase, subscribe to, provide or sell any securities, service or product or to provide any recommendations on which one should rely for financial, securities, investment or other advice or to take any decision. Readers are encouraged to seek individual advice from their personal, financial, legal and other advisers before making any investment or financial decisions or purchasing any financial, securities or investment related service or product.
Information provided, whether charts or any other statements regarding market, real estate or other financial information, is obtained from sources which we and our suppliers believe reliable, but we do not warrant or guarantee the timeliness or accuracy of this information. Nothing in this article should be interpreted to state or imply that past results are an indication of future performance.
THERE ARE NO WARRANTIES EXPRESSED OR IMPLIED AS TO ACCURACY, TIMELINESS, COMPLETENESS, OR RESULTS OBTAINED FROM ANY INFORMATION IN THIS ARTICLE OR ANY LINKED WEBSITE.