The way shares of Tesla Motors (NASDAQ:TSLA) surged on April 1, 2013 is a classic example of what a single piece of good news can do to the price of a stock.
The electric vehicle manufacturer announced that sales of its Model S electric car beat its own guidance and the company will report a small profit in the next quarter. Price of Tesla shares shot up 16% in a day. On top of it there was news of a big announcement following. The company made two announcements in two days and promises another three in the coming days/weeks. Besides, there was also a cryptic tweet by the CEO.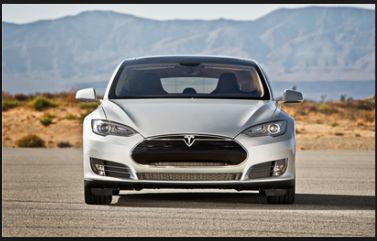 The Tesla Model S, Not Cheap, But Doesn't Guzzle Gas
In the last one month, Tesla shares have appreciated 28%. This becomes even more significant considering that Tesla shares figure among the top four highly shorted shares on Nasdaq.
Is the time right to go short on Tesla? Let us try and find out.
Tesla Motors
Tesla Motors is an electric vehicle and component manufacturer. The company also sells electric power train components including lithium-ion battery packs to other car manufacturers including Toyota Motor Corporation (TM) and Daimler (OTCPK:DDAIF). The company's first product was the Tesla Roadster, a high performance electric sports car. Model S is the company's second offering, a full-sized four-door five-passenger electric fastback sports sedan.
The company reported an $89.93 million loss on Q4 FY 2012 revenue of $309.33 million.
Model S
Retail deliveries of Tesla's Model S started in June 2012. This year in mid February the company had announced that it hoped to sell 4,500 units. On April 1, 2013 the company announced that it has exceeded the target and was able to sell 4,750 units.
The company also announced that the smaller battery option of the car will not go into production as only 4% of customers opted for it, which does not justify production. However, to customers who opted for the smaller battery pack the company will deliver the 60kWH pack albeit with a software-limited range. This actually means that these customers will be getting a better than ordered car - improved acceleration and top speed of the bigger battery pack - which can be upgraded on request.
Riding on good sales numbers, the company expects to report a profit in the first quarter FY 2013.
Revolutionary finance option
Following the announcement of better than expected results, the company unveiled a cheaper way to own a Model S, what it calls a revolutionary finance product. People buying Model S can buy it on credit from Wells Fargo (NYSE:WFC) and US Bancorp (NYSE:USB). As per the company, after taking into account savings on gas, the "true net out of pocket cost" of buying a Model S calculates at less than $500 a month. In addition, customers have the right, but not the obligation, to sell the car back to Tesla at the same residual value percentage as the Mercedes Class S premium sedan.
Elon Musk, Tesla's CEO, personally guarantees the buyback value. If it turns out that the value of Model S depreciates more than the Mercedes Class S, Elon Musk will pay the difference from his own pocket. Musk is a billionaire who made his money as a co-founder of PayPal, which he sold later on. He also runs SpaceX, the rocket launching company.
Competition
Tesla competes with General Motors' (NYSE:GM) electric Volt car. Although the company chooses to call it an electric vehicle with extended range, it is basically a hybrid car. It is a pricey compact car at $40,000, with federal tax credit reducing it by $7,500. The cost is still pretty steep and customers would take years to break even, even after taking into account savings on gas. General Motors has been heavily subsidizing lease deals for the Volt, which it can afford because the depreciated value of the Volt remains high.
Toyota, on the other hand, worked with Tesla Motors to develop its second generation RAV4 EV and the company's electric SUV was launched in the U.S. in September 2012. The starting suggested retail price of $23,300 is attractive but the manufacturer does not seem to be too keen on electric vehicles.
Conclusion
Any discussion on Tesla cannot be complete without a look at the overall picture. For the present, the outlook does not appear to be encouraging for electric vehicles. The electric car, despite 100 years of development and sporadic attempts to revive it, has failed to garner customer support in a big way. Even the Obama administration had to give up its goal of putting a million electric cars on roads in the U.S.
Neither have consumers warmed up to electric cars nor are automakers, at least not the two major Japanese automakers, too hopeful. Toyota believes that the future lies in available technology and not in electricity driven cars. Nissan Motor (OTCPK:NSANF) has, despite huge investments in "green" transportation, announced a strategic shift to hybrid gasoline-electric cars. With major automakers not very keen on electric cars and shifting focus to hydrogen, Tesla may become the dominant player in the space.
Things seem to be going Tesla's way for the moment - better than expected sales of Model S, an innovative finance option and hopes of making a profit this quarter. The market seems to have taken all this very positively. This is evident from the fact that despite a high short interest of 49.87% of total outstanding shares of Tesla, its shares have been going up. News of good numbers and becoming profitable was probably bolts out of the blue for those who were short on Tesla.
I am not bullish on the stock and believe that it is a risky proposition. That said, despite a bleak outlook on the future of electric cars and regardless of the phenomenal rise in share price, I do not believe that the time is right for going short. Going short on the stock does not make sense at this time as the stock is likely to go further up as and when the shorts start covering their positions.
Disclosure: I have no positions in any stocks mentioned, and no plans to initiate any positions within the next 72 hours. I wrote this article myself, and it expresses my own opinions. I am not receiving compensation for it (other than from Seeking Alpha). I have no business relationship with any company whose stock is mentioned in this article.