The current situation in the Union of South Africa is ominious. Exposure of its currency (ZAR) to large amounts of foreign "hot money" further adds to the impact. Since 2009, gross S. Africa public debt grew by about $80 billion, with half picked up by foreign-creditor "yield chasers."
Currently, S. Africa only has $40 billion in forex reserves. Given the country's ballooning trade deficits at 6.3% of GDP, that's enough to cover about three or four months of import (similar to Egypt: see Economic Collapse in Egypt). But unlike Egypt, S. Africa's currency is relatively well traded, making it especially vulnerable to a currency-speculator attack. Such an attack is increasingly likely as the country runs out of rope. The rand decline against another second-rate currency, the U.S. dollar, has been steady.



S. Africa's fundamentals are overwhelming and getting worse. The country faces inflation, labor unrest, lack of investment and a decaying infrastructure. Electricity costs in the country have jumped an average of 25% over the past three years, hurting its key mining industry.
Education is a disgrace. According to the World Economic Forum, S. Africa ranks 132nd out of 144 countries for its primary education, and 143rd in science and math. The unemployment rate, officially 25%, is probably nearer 40%. Half of S. Africans under the age of 24 are looking for work and have none. Among those who have jobs, a third earn less than $2 a day. Crime and murder is among the highest in the world and is believed to be under-reported.
Typifying the worldwide yield-chasing bubble, S. African sovereigns pay only 6.5% This is barely enough to cover inflation in the country, which is reported at around 6%, let alone the credit risk. The rating agencies are once again behind the curve, but late last year they cut the rating to BBB.
South African sovereign yield: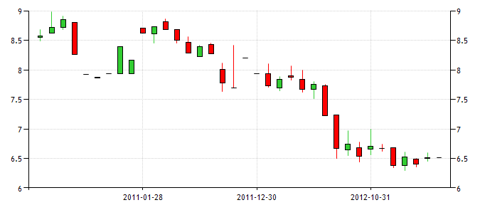 From an investor actionable perspective, S. Africa is important for several reasons. A blow up in the currency and sovereign debt will have an impact on the inflated, crowded, emerging bond bubble.
Of additional importance to precious metal investors, in particular the PGMs and gold, is that S. Africa's mining decline is not cyclical. It is a collapse. This is removing considerable supply to the market. To my thinking, this makes miners and deposits in the safer jurisdictions that I favor even more valuable.
The former No. 1 in production saw gold output fall by 8.1% in terms of volume in January. This comes just months after the agency released numbers revealing an even more drastic output drop of 32.2% in November of last year. Platinum exports were particularly hard hit, falling 18.5% last year. Russia and S. Africa produced the great majority of palladium. This ties in directly with S. Africa's rapidly worsening trade deficit issues.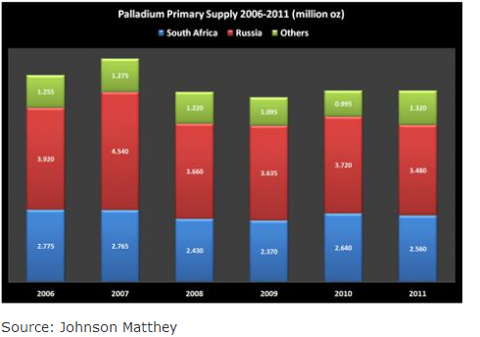 Just two decades ago, S. Africa led the world in gold production. The country's output peaked at an average of 1,000 tons in 1970; but by 2012, that outstanding amount had dwindled to a meager 190 tons. The majority of the world's platinum, roughly 80%, comes from S. Africa, and 90% of that production comes from a limited area in the Western Bushveld region of the country.
Disclosure: I have no positions in any stocks mentioned, and no plans to initiate any positions within the next 72 hours. I wrote this article myself, and it expresses my own opinions. I am not receiving compensation for it (other than from Seeking Alpha). I have no business relationship with any company whose stock is mentioned in this article.