Shortly before test-driving Nissan Motor Co.'s (OTCPK:NSANY) still-unnamed electric vehicle last week, Edmunds.com consumer advice expert Phil Reed told EnergyTechStocks.com that investors shouldn't expect the EV revolution to arrive until gasoline is back up to $4 a gallon, which given the state of the economy, could be a lot later than the fourth quarter of 2010, which is when EVs are expected to appear in dealer showrooms.
In an exclusive interview, Reed said he was dismayed that lower gasoline prices "have cooled off lots of interest" in plug-in electric hybrid vehicles (PHEVs). "Consumers have gone back to their wicked ways," he said, noting the growing sales of bigger, less fuel-efficient vehicles. "It's as if last summer never occurred," he said glumly. "Nobody seems to care about global warming. I'm afraid we're going to have to go back to $4-a-gallon gasoline" before the EV market takes off.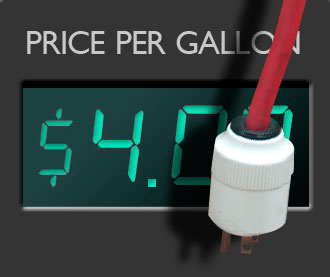 Given that the U.S. Energy Information Administration (EIA) sees gas selling this recession-scarred summer for only about $2.30 a gallon on average, and that even the most dire predictions of rising gasoline prices don't anticipate the $4 level being breached again until perhaps 2012, if Reed is right, a lot of investors with money tied up in electric battery developers and similar concerns could be waiting a long time for their hoped-for payoff.
It's not just consumer attitudes that are standing in the way of electric vehicles, Reed said. Probably an even bigger issue is that U.S. auto makers appear to him to just be "pretending" to be sold on electric vehicles. That includes even General Motors Corp. (NYSE:GM), whose fate, according to many analysts, rests in large part on the success of its plug-in Chevrolet Volt. "I don't see anyone pulling the trigger," Reed said, adding that when it comes to Chrysler's EV models, "Nobody really knows if anything's there."
But according to Reed, there is at least one car manufacturer worth investors' attention right now, no matter how long the EV revolution may be delayed, and that's Nissan.
"Nissan will succeed in niche markets and if gas goes to $4 they will be well positioned to own a large section of the EV world," he told EnergyTechStocks.com.
Based on what Reed was told by Nissan, it would appear that the Japanese firm is ahead of its competitors, not just the "pretenders" in Detroit but also the hard-chargers in Japan and China, especially Mitsubishi Motors Corp. (Symbol: Tokyo 7211), Toyota Motor Corp. (NYSE:TM) and BYD Company Ltd. (Symbol: Hong Kong 1211). The vehicle, which Reed described as a five-door hatchback with compact car acceleration, has a 100 mile range and will NOT have a price premium. In addition, it may be capable of recharging its battery to 80% of capacity in just 20 minutes.
But how does it drive?
"It's spooky quiet and smooth," Reed reported, adding, "I can't wait until these cars arrive."
Disclosure: no positions