The railroad companies we generally follow are either right around their all-time highs or looking to break out to new all-time highs. They've been able to do so without multiple expansion too as nearly all are trading right in-line with their average forward PE multiple over the past 15 years, which means the move has come with rising earnings estimates. For example, Kansas City Southern (NYSE:KSU) has seen next year's estimates revised higher to $4.95 per share.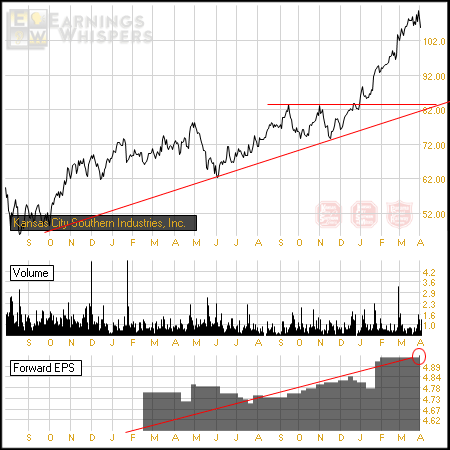 The rails are seeing increased shipping in most items from automotive to agriculture, but most of the strength is from the shipping of oil from the North Dakota Bakken oil fields to the Louisiana refineries - a trend that is expected to continue over the next two years. The growing earnings provide the railroad companies with the ability to pay for new freight car equipment, and the growing demand with visibility over the next couple of years means the equipment is needed as well. We haven't seen much of that growth trickle down to Greenbrier Companies (NYSE:GBX), but that appears to be at the cusp of changing.
Our chart for Greenbrier shows earnings estimates for 2014, which bottomed basically in February. The company had revamped one of its production lines to add capacity and that was resulting in flat earnings growth expectations for 2013 while the rail industry expanded and its railcar peers outperformed. Now the new production is beginning to come online and, in the meantime, the company has been gaining new orders and increasing its backlog. That's why you see the increase in 2014 earnings estimates begin to move higher in March on the chart below and that appears to be the beginning of a trend that should continue for at least several more months and quarters as the more recent orders bring the backlog to more than a full year's production rate. About half of the recent orders have been for the higher-margin tank cars, which is part of the reason why Michael Baudendistel at Stifel Nicolaus recommended that clients own shares of Greenbrier ahead of its earnings release.
Greenbrier's peer that has led the group has been Wabtec (NYSE:WAB), and it is currently trading fairly close to its historical forward PE multiple of 15.8. Greenbrier has not commanded the same multiple as Wabtec in the past since it has historically traded at just 13.9 times forward estimates. But the stock still needs to get to $34 to trade at this historical multiple using current estimates - estimates that are expected to trend higher for the next several months and quarters or - and that means the stock will need to increase by approximately 50%.
Most of the upside is still ahead of us, but for the quarter, the consensus earnings estimate is $0.37 per share and the Earnings Whisper ® number is $0.42 per share. Greenbrier is scheduled to report earnings before the market opens on Thursday, April 4, 2014 with a conference call at 11:00 AM ET.
Since this is not the quarter that we expect to see the real strength, the stock did not meet our criteria for a trade ahead of the news, but we want to look to trade it long going forward. Ideally, the stock will move above $22.70 and hold, but weakness going forward should likely be bought.
Disclosure: I have no positions in any stocks mentioned, but may initiate a long position in GBX over the next 72 hours. I wrote this article myself, and it expresses my own opinions. I am not receiving compensation for it. I have no business relationship with any company whose stock is mentioned in this article.