Too much optimism in the market triggers alerts for smart investors. While the market is at a level of multi-year highs, it may be a good time to reduce some risks and review stocks with low beta and strong cash flow, including Nike Inc. (NYSE:NKE) and VF Corporation (VFC), two apparel companies in the consumer goods sector with a good mix of income and growth.
Nike Inc.
Nike Inc., with a market cap of $52.86B and the largest seller of athletic footwear and apparel in the world, comes to light. Nike has a low a beta of 0.85 and continues to generate strong cash flow. Nike remains a great long-term holding as it continues to grow profitably.
Q3, 2013 Management Discussion
Nike's Q3 revenue was up 10% on a currency neutral basis. The growth was well balanced across most of Nike's brands, key categories and geographies.
Gross margin was better than projected and grew 30 basis points versus 2012. The return on invested capital expanded to 23%. Diluted EPS outpaced revenue growth, up 20% to $0.73. Nike continues to leverage the strongest parts of the business to fund investments in long-term growth across the portfolio. The management continues to focus on balancing the profit and revenue growth, as well as gross margin expansion and cost.
For the product highlights, Nike Flyknit technology created a lot of excitement with athletes and consumers. The company is blending it with other technologies to achieve new levels of performance, like Nike Flyknit Lunarlon plus running shoe. There is tremendous potential in Nike Flyknit. The company also advanced three of the most successful shoe franchises in history, including the Air Jordan XX8, Air Force 1 family, and the Air Max 2013.
However, Q3 revenue for Greater China declined 10% on a constant currency basis and fell 9% on a reported basis. Management expects Q4 reported revenues for Greater China will be lower than the future's orders would indicate and remain weak for the next few quarters. Management will continue to work with retailers to right-size inventory, accelerate sell-through and improve retail productivity.
Looking forward, the expectations for fiscal 2013 remain largely unchanged, but the guidance reflects updated expectations for China and the phasing of growth across Q3 and Q4. For revenue, a mid to high single-digit growth rate is expected for the full year.
Analysts' Calls and Estimates
On March 25, UBS reiterated a buy rating and increased its target price from $57.50 to $63 for NKE. Analysts currently have a mean target price of $57.34 for NKE. Analysts, on average, are estimating an EPS of $2.66 with revenue of $25.31B for 2013, which is 4.90% higher than 2012.
VF Corporation
VF Corporation has a solid free cash flow and a low beta of 0.93. VF Corporation, with a market cap of $18.49B, is an apparel and footwear company, which designs and manufactures or sources from independent contractors a variety of apparel and footwear for all ages. VFC is also an attractive investment for its consistent, solid growth.
Management Update
For 2012, VFC's total revenues grew 15% to $10.9B or 17% on a constant dollar basis, including organic growth in every coalition, every geographic region and in both our wholesale and direct-to-consumer businesses. Full year gross margin rose by 75 basis points to a record 46.5%, with improvements in nearly every business. All 5 coalitions ended 2012 with double-digit operating margins for a combined 13.5%. Lastly, the adjusted EPS increased 17% to $9.63, well above VFC's long-term expectation for 12% annual EPS growth.
Looking forward into 2013, management expects revenues to increase approximately 6%, which will take revenue to the $11.5B. The 6% expectation is below 10% average growth due to 1) unreasonably warm winter and 2) weak economic conditions in Europe (22% of VF's revenues). Beyond 2013, the company expects to resume 10% revenue growth. The management also expects margin expansion in 2013, where gross margin should expand by 100 basis points to 47.5% and adjusted operating margin is expected to grow by nearly 100 basis points, which is very close to the goal for 2015 target (2 years ahead of schedule). EPS is expected to grow 11% to $10.70.
Analysts' Calls and Estimates
On March 28, 2013, Goldman Sachs resumed coverage on VFC with a buy rating and $200 price target. Goldman also called the company, "a powerful brand stories executing on a micro level, driving long-term sales and earnings across the portfolio." As quoted,
"The company has shown: (1) a proven ability to drive organic growth in its portfolio of preeminent brands by filling out product and distribution white space without compromising brand equity, (2) best-in-class supply chain capabilities that support ongoing margin expansion, and (3) its unique opportunity to acquire high-quality orphan brands and deliver outsized earnings accretion."
The firm expects a more than 70% dividend hike over the next two years to an annualized $6.00 per share as the company achieves its 40% payout objective.
Analysts currently have a mean target price of $176.25 for VFC, suggesting 5.07% upside potential. Analysts, on average, are estimating an EPS of $10.78 with revenue of $11.57B, which is 6.30% higher than 2012.
Nike Vs. VF Corp
With VFC's solid growth and strong profitability, it will be interesting to see how it compares to Nike, the largest seller of athletic footwear and apparel in the world, from cash flow and profitability perspectives.
Nike's free cash flow started to recover at a faster rate since mid-2012 and reached $1.96B by the end of 2012. VFC's free cash flow reversed its declining trend and started to increase by late 2011 and reached $1.023B by the end of 2012, as seen from the chart below. By the end of 2012, VFC's free cash flow already recovered to its high in mid-2010 while Nike's free cash flow remained below its high in 2010.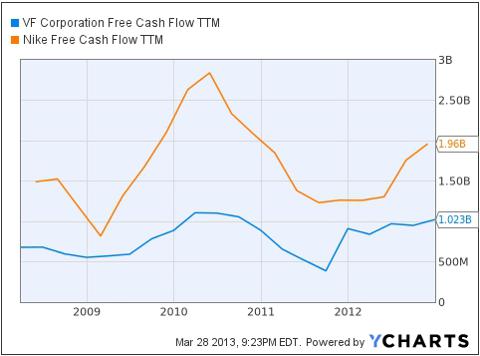 Source: YCharts.com
Both NKE and VFC's ROE started to recover by late 2010. Interesting, VFC continued to narrow the gap between NKE's and VFC's ROE difference and even surpassed NKE's ROE by the end of 2012 before NKE's rebound in early 2013, as seen from the chart below.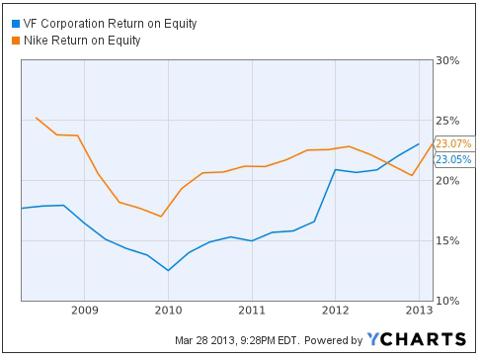 Source: YCharts.com
Looking forward, VFC enjoys a faster EPS growth than NKE, as estimated and seen from the chart below.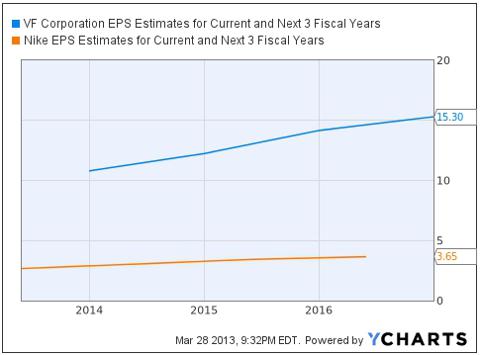 Source: YCharts.com
In short, VFC achieved faster free cash flow recovery and stronger ROE increase. VFC also has higher EPS growth estimate than NKE for the next few years.
Fundamentally, a quick comparison between Nike and VF Corp will be reviewed below.
| | | |
| --- | --- | --- |
| | Nike, Inc. | VF Corp |
| Revenue Growth (3 Year Average) | 8.0 | 14.6 |
| Operating Margin (%, ttm) | 11.8% | 13.5% |
| Net Margin (%, ttm) | 8.2% | 10.0% |
| ROE, ttm | 20.8 | 22.5 |
| Debt/Equity | 0 | 0.3 |
| P/E | 26.2 | 17.1 |
| P/B | 4.7 | 3.6 |
| Forward P/E | 18.8 | 13.3 |
VF Corp has a faster revenue growth with higher margins and generates stronger ROE as compared to Nike. However, Nike is trading at a higher P/E and P/B multiples. Both Nike and VF Corp are strong investment targets for investors seeking investment into consumer goods sectors with a good mix of income and growth; however, VFC offers a faster growth with a more leveraged balance sheet.
Bottom Line
Despite the weakness in Greater China, Nike's long-term outlook remains solid and should continue to achieve a good balance of growth and profit. For bullish investors, a credit put option spread of July 20, 2013 $50/$55 put can be reviewed, which will allow investors to gain some upside credit premium or to acquire NKE shares at a price below $55 upon options expiration. Investors can also review the following ETFs to gain exposure to NKE:
Dow Jones U.S. Consumer Goods Index Fund (IYK), 2.35% weighting
MSCI USA ESG Select Social Index Fund (KLD), 2.21% weighting
S&P 500 High Quality Portfolio (SPHQ), 1.24% weighting
If investors like Nike's solid balance sheet, strong cash flow, and steady growth, VFC will be a superb alternative investment target with faster ROE growth and EPS growth, even though with a smaller cash flow and a higher debt/equity ratio. Both NKE and VFC are good holdings for long-term with their solid fundamentals.
Note: Investors and traders are recommended to do their own due diligence and research before making any trading/investing decisions.
Disclosure: I have no positions in any stocks mentioned, and no plans to initiate any positions within the next 72 hours. I wrote this article myself, and it expresses my own opinions. I am not receiving compensation for it (other than from Seeking Alpha). I have no business relationship with any company whose stock is mentioned in this article.