Dendreon (NASDAQ:DNDN) pulled out all the stops in mid-March, 2013, with the introduction of what in all likelihood is the first direct-to-consumer (DTC) advertisement on television for an oncology product. The ad is for Provenge, the company's immunotherapy for the treatment of asymptomatic or minimally symptomatic metastatic castrate resistant (hormone refractory) prostate cancer. At this writing, the ad has been aired 446 times in all national markets, including all major television and cable networks.
The question on everyone's mind of course is: are the ads working? This really is a two-part question:
1. Is the ad causing people to take an interest in Provenge?
2. Is the ad resulting in more patients being treated with Provenge?
At this point, I only can respond to the first part…and the answer is: Yes, there is no question the ad has had an impact on viewer interest in Provenge.
How do I know? Well, one way to measure the impact of any television advertisement today is to look at the historical data on Internet searches. Specifically, using Google Trends, it is possible, for example, to look not only at how interest in Provenge has varied with time, but also, to compare the public's interest in Johnson & Johnson's (NYSE:JNJ) Zytiga as well as Medivation's (NASDAQ:MDVN) recently introduced Xtandi (albeit that neither of the latter two drugs are advertised on television). The results are shown below, courtesy Google Trends.

Click to enlarge
As seen here, Dendreon's Provenge DTC ads have given a shot in the arm to their marketing effort, more than doubling the relative number of "hits" from a normalized number of 13 in February 2013, to 29 in March, thereby reversing a downtrend that had been in place since early 2011. This number is not quite as high Zytiga's (37) - the numbers for which seem to be declining - and is considerably higher than Xtandi's (14).
Of course, one month's data does not a trend make. Nor does it - or even several months' data - allow us to answer the second question above. Certainly, in advertising Provenge, Dendreon is "plowing new ground" in a field where consumers are used to viewing ads for drugs used to treat ailments ranging from simple headaches to such major diseases as diabetes and asthma. So, the jury is still out on whether or not the apparent increased awareness of Provenge will lead to higher number of Provenge prescriptions.
Conclusions
Dendreon already has stated that for a number of reasons, including seasonal impacts, it did not expect 1Q13 revenues to exceed those of 4Q12. However, it is hoped that the company, at the next scheduled conference call in late April, will provide some insight into what might be expected for April, and perhaps May, revenues, especially given the anticipated impact the new DTC television ads should have had on Provenge usage by this time.
Technical Analysis
The Daily chart, courtesy StockChart.com, shows the stock fighting its way back to $5. The Relative Strength is just above oversold conditions, and the MACD appears to be turning.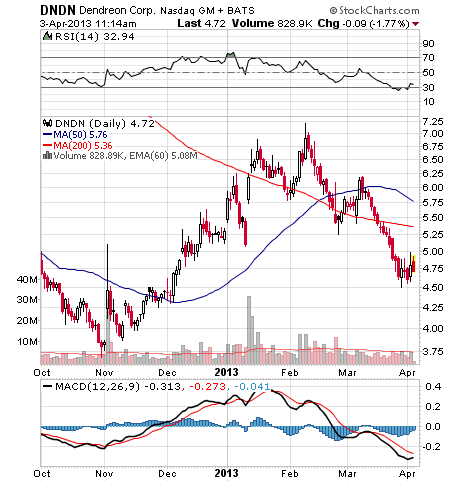 As to the Weekly data, the average price is just under $5 The Relative Strength is low and the MACD is neutral.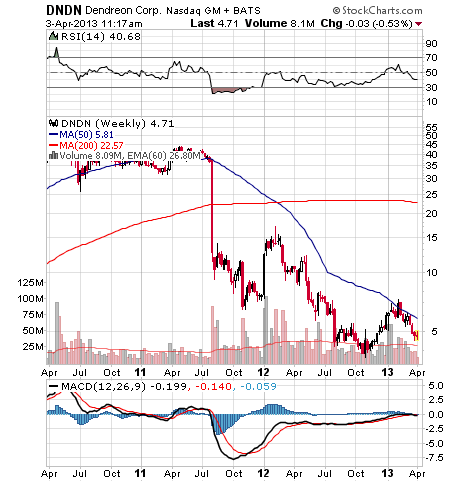 Disclosure: I am long DNDN. I wrote this article myself, and it expresses my own opinions. I am not receiving compensation for it (other than from Seeking Alpha). I have no business relationship with any company whose stock is mentioned in this article.
Additional disclosure: I am long DNDN and the May 2013 $3 PUTs. I am not a registered investment advisor and do not provide specific investment advice. The information contained herein is for informational purposes only. Nothing in this article should be taken as a solicitation to purchase or sell securities. Before buying or selling any stock you should do your own research and reach your own conclusion. It is up to investors to make the correct decision after necessary research. Investing includes risks, including loss of principal.