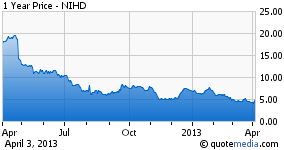 As we have written in the past, we like NII Holdings (NASDAQ:NIHD) and think it is now executing its business plan as we have outlined in our previous articles. In fact, today an elcomercio.pe article says that Nextel Peru was being sold by NIHD for $500 million to a local phone company, Entel Chile. In our article calculating a bare bones value for the entire company at $9.69 per share, we had assigned a $300 million value to Nextel Peru. Should a sale be announced as described by this article, it would add $200 million to our bare bones analysis or $1.17 per share, upping our new target price to $10.86 per share.
Moreover, Stifel Nicolaus has updated their research report. Here is an excerpt:
At least two published reports out of Peru this morning are suggesting that Nextel Peru is close to being acquired by Entel for approximately $500 million. Nextel Peru ended 2012 with just over 1.6 million subscribers and had an EBITDA burn of approximately $14 million last year. The company's assets in Chile and Argentina are also on the block.

We have roughly estimated gross proceeds of approximately $1 billion for all three markets that are being evaluated for sale.

In addition, the company continues its process related to the sale of almost 4,700 cell sites in Mexico and Brazil. According to reports, bidding was completed in the initial phase last quarter, with 12-14 bidders participating.

We continue to estimate gross proceeds from the 4,700 towers at around $1 billion, as the company's cell sites are significantly higher (at around 150-175 ft tall on average), and are bigger in size than the average LatAm towers, given the iDEN equipment that is installed at the base.

We have spoken with several tower industry insiders that have suggested these characteristics actually argue for a premium valuation for Nextel's towers, however our valuation estimate continues to place a modest haircut on recent LatAm tower sale comps.
We reiterate our long position thesis and increase our bare bone valuation as stated above to $10.86 per share.
Disclosure: I am long NIHD. I wrote this article myself, and it expresses my own opinions. I am not receiving compensation for it. I have no business relationship with any company whose stock is mentioned in this article.