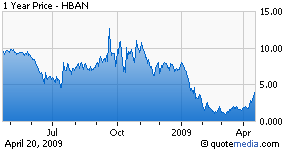 Huntington Bancshares (NASDAQ:HBAN) is expected to report Q1 earnings before the market open on Tuesday, April 21 with a conference call scheduled for 1:00 pm ET.
Guidance
Analysts are looking for EPS of (10c) on revenue of $582.13M. The consensus range is (18c)-5c for EPS, and $560.43M-$606M for revenue, according to First Call. In recent weeks Huntington Bancshares took two major steps to raise its tangible common equity. On April 1 the bank announced that it was restructuring its relationship with Franklin Credit, in a move Huntington said would increase its tangible common equity by 29 basis points. The agreement will also result in a $160M one-time, after-tax benefit to Huntington. Under the deal, Huntington took control of the take control of the mortgage loans and OREO assets that previously served as the collateral for commercial loans to Franklin, Huntington CEO Stephen Stienour said.
In March, Huntington reached an agreement with some of its institutional investors that allowed the bank to exchange 9.05M of its common stock for 43,100 of its 8.50% Series A convertible preferred stock. That deal added $43.1M to Huntington's tangible common equity, total common equity less goodwill and other intangible assets. Investors will want to use the bank's results and conference call to understand if the bank will need to take additional steps to increase its tangible common equity.