BofA (NYSE:BAC) reported better than expected earnings today, but a quick glance at the income statement shows those profits aren't related to its core banking operations. Strip out trading and the company's pretax profit disappears.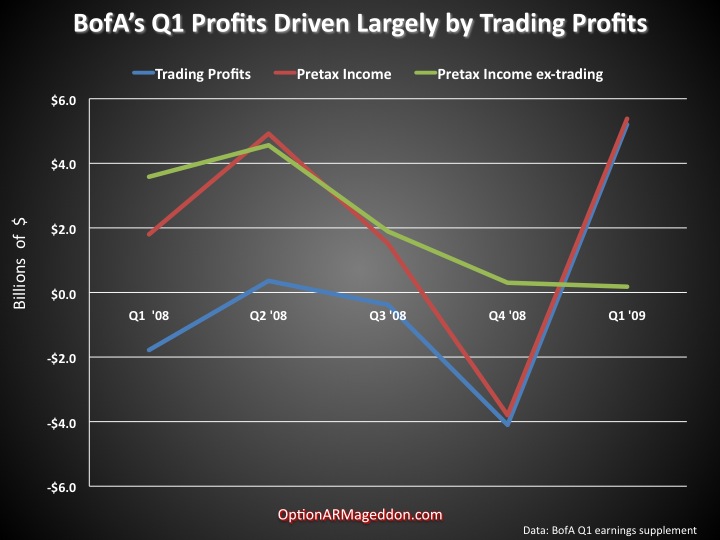 (Click to enlarge)
BofA reported profit of 44¢ per share. Analysts had been expecting 4¢. But if you back out trading profits, earnings were a paltry 2¢ per share.
As for the strength of the balance sheet—measured by tangible common equity over tangible assets—at first glance it appears to have improved slightly. But investors should be VERY skeptical.
While TCE increased to $51.2 billion from $35.9 billion last quarter, it's very hard to trust that figure. The bank has an "other asset" bucket on the balance sheet that nearly doubled quarter over quarter, from $137 billion to $250 billion. Much of the increase was likely due to the acquisition of Merrill. But investors should be asking: what is in that bucket? No doubt a significant portion is intangible…
Keeping in mind that it may be impossible to trust the company's calculation of TCE, tangible leverage did improve slightly compared with last quarter, to 43x from 48x.* That's still remarkably high. It means BofA still has a tiny cushion to absorb losses from the asset side of the balance sheet. Assets need only decline 2.3% in order to wipe out what's left of common equity…
—–
*This calculation differs from BofA's. Like the other banks, they exclude mortgage servicing rights, which under GAAP are intangible. This has the effect of increasing TCE from $51.2 billion to $65.6 billion, reducing leverage from 43x to 34x. That is misleading.