While the overall S&P closed at a new record Tuesday (1570), the small cap Russell 2000 was down 0.5% and is down 1.8% the first two days of April. As a result, overall breadth on Tuesday was quite weak. Less than 50% of NYSE traded securities were positive on the day and advancing volume not much above 40%. What that means is that a very select group of mega-cap stocks are now carrying the entire market on their shoulders.
This leadership is not the kind that suggests robust global economic growth. Healthcare and Consumer Staples are the far and away leaders while Materials and Technology trail significantly YTD. Defensive names like Johnson & Johnson (NYSE:JNJ), General Mills (NYSE:GIS) and Pfizer (NYSE:PFE) are powering the market higher. "You can't stop Celgene (NASDAQ:CELG), it's the key to this market," quipped Jim Cramer to open CNBC's Squawk on the Street Monday morning. Indeed, healthcare stocks are the new momentum plays with the S&P Health Care ETF (NYSEARCA:XLV) closing above its upper Bollinger band each of the last three days. Commodities - which are levered to global economic growth - have not kept pace with the S&P so far this year.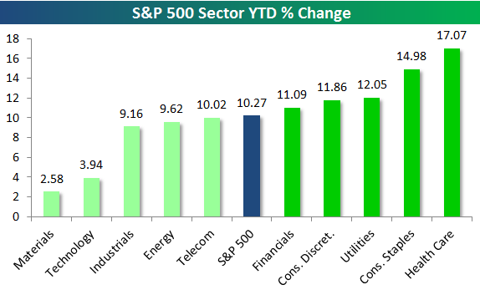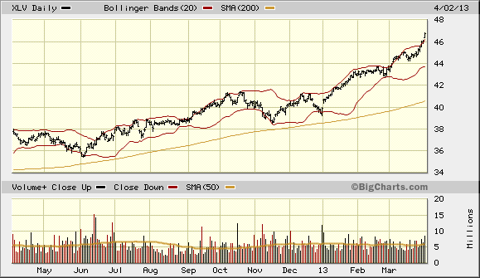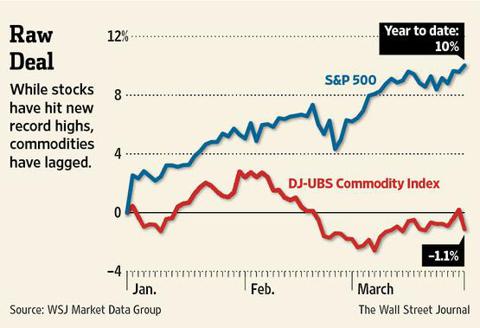 *****
Even the most bullish of market participants, Wall Street strategists, have their doubts about the rally. "Markets have blown past what fundamentals dictate they should be doing," Barclay's Barry Knapp told The Wall Street Journal. "This is really a story where the fundamentals are not driving the market," said UBS's Jonathan Golub (both quoted in "Growls Keep Coming From the Bear's Den," WSJ, April 1, R1).
Meanwhile, the media focus on the stock market's new highs is causing individual investors to come back. The Wall Street Journal ran a story about this on Saturday ("Mom and Pop Run With The Bulls," WSJ, March 30, B1). Lucie White and her husband, both doctors, put money into the market last week for the first time since pulling everything out in 2008. "We just didn't want to be left on the sidelines," said Mrs. White.
*****
This is the set up as we head into an earnings season that looks to be quite weak (see my "A Preview of 1st Quarter Earnings", SeekingAlpha, March 26). Eighty-six S&P companies have issued negative guidance compared to just 24 issuing positive guidance - a ratio of 3.58 to 1, the highest since FactSet began tracking it in 2006. While the S&P makes new records daily, a look beneath the surface shows all is not well.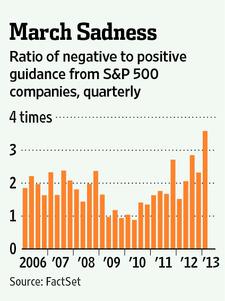 Disclosure: I am short SPY. I wrote this article myself, and it expresses my own opinions. I am not receiving compensation for it. I have no business relationship with any company whose stock is mentioned in this article.