JPMorgan Chas (NYSE:JPM) is set to release its 1Q2013 results at 7:00 A.M. (Eastern) on April 12, 2013. Below I have provided an update of the quarter as well as what to keep an eye on.
JPMorgan has a market cap of $185 billion and currently trades for $48.28 per share. Shares are up 10% this year, 60% off of their 52-week high. Analysts have a mean target price of $54.47 and median target price of $54.00 on the shares. Thirty analysts have an average earnings per share estimate of $1.38 for the 1st quarter of 2013 on average estimated revenues of $25.96 billion. JPM has beat earnings estimates in the last four quarters and is looking to do so again (per YAHOO! Finance).

Click to enlarge
Positives for JPMorgan
P/E of 9.1 and D/E of 1.3 are below the industry averages 18.7 and 2.1 respectfully.
P/B is below 1 at 0.9.
Net margins of 20.5% and ROE of 10.7 are above the industry averages of 13.2% and 6.7.
JPM "clawed" back over $100 million in bonuses awarded from the CIO "whale" and implemented a compensation plan to better align management with long-term results.
Following the recent 2013 CCAR results, JPM is authorized to repurchase an additional $6 billion of common equity for 2Q13-1Q14 and intents to increase its dividend from 0.30 per share to 0.38 (26% increase) in 2Q13.
2013 CCAR results all above minimum ratios:

Click to enlarge
Keys to Profitability: What to Look For
Inflows
Core NIM has been trending lower over the past two years but, Treasury yields have moved slightly (very slightly) higher in the last three months indicating (at the least) that there wasn't an increase in interest rate risk during the quarter. Graph from JPM's 4Q2012 report (pdf):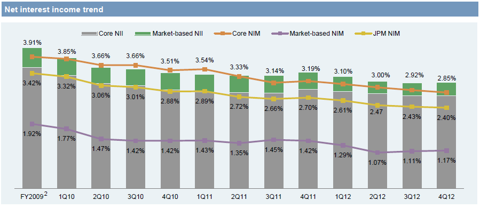 Click to enlarge
Treasury Yield Curve from U.S. Dept of Treasury: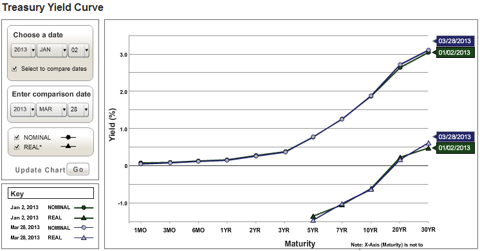 Click to enlarge
Outflows
JPM, like most banks has been able to capitalize on banking self-service trends by reducing staffs, which has made it more efficient. As you can see below, the percent of deposits per teller has gone down along with CBB branch staff. While this is unfortunate for anyone who has lost their job, JPM has and will continue to save money because of it.
(click to enlarge)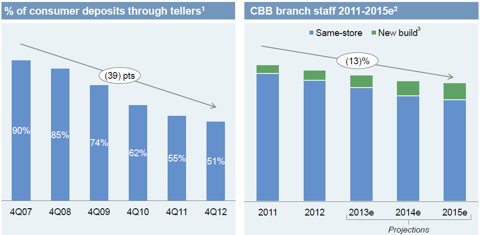 Click to enlarge
Also keep an eye out for the loan delinquency rates. As shown below, they have been trending lower across all loan types: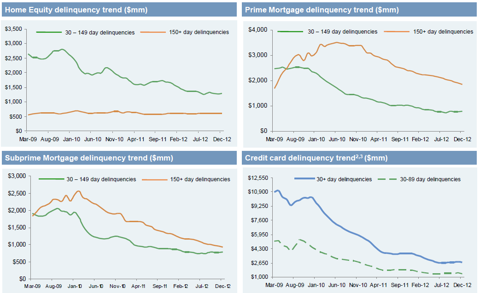 Click to enlarge
Bottom Line
While Bank of America (NYSE:BAC) trades with a lower P/B ratio, it has had to focus on selling assets and becoming more efficient. During this time, stronger and already more efficient banks like JPMorgan and Wells Fargo (NYSE:WFC) have been able to focus on customers and growing future revenue streams. As it stands now, JPM offers a lot of upside and great opportunity for anyone looking for a big bank with a big dividend.
Note
Citi (NYSE:C) releases earnings on 4/15/13
U.S. Bancorp (NYSE:USB) on 4/16/13
Disclosure: I am long WFC. I wrote this article myself, and it expresses my own opinions. I am not receiving compensation for it (other than from Seeking Alpha). I have no business relationship with any company whose stock is mentioned in this article.