Recently I've been looking at some cheap stocks trading below tangible book value. This has led me to take a deeper look at RealNetworks (NASDAQ:RNWK), which upon initial inspection clearly appears to be a "bad" business, a relic of the early Internet days from the mid 1990s that has all but dried up. This company has not been able to do anything right the past 5 years, as it has repeatedly been losing money with a rapid deterioration on both the top and bottom lines. There has been the occasional positive surprise, such as recently in Q4 2012, but no renewed growth trajectory that has proven sustainable. Real has been through 2 CEOs in less than 2 years as successive turnaround plans have not been able to stop the slide. The company's founder Robert Glaser has now been back at the helm since July 2012 on an interim basis to try and finally right the ship and return the company to profitability.
In this article I'll show just how compelling the valuation of this company has become, as the sale of significant amounts of intellectual property for $120m to Intel (NASDAQ:INTC) last year has left the company with a ton of cash and no debt. The company is currently trading below net cash, with a market value of $7.53/share vs. cash per share of $7.68. Despite the fact that losses from operations are expected to continue in 2013, credible steps are being taken to reduce operating costs by $45m which will keep cash burn to a minimum, and more importantly the market price is not reflecting on the sale value of either of the three business units (in particular the mobile and social gaming business). With the CEO and founder Glaser maintaining a very high ownership stake of about 38% in the company, there is strong alignment now between management and shareholders to unlock some of this value through further restructuring or asset sales. I therefore see a very strong risk/reward profile for Real going forward and find it to be sitting at a compelling valuation today.
Business Overview and Prospects
To put it simply - trying to find the positives in the current businesses of RealNetworks is almost akin to putting lipstick on a pig. All of these businesses have been in decline for several years including rapid revenue declines from 2011 to 2012. As of Q4 reporting the company was still aligned under the old business unit names, Games, Emerging Products, and Core Products. Recently as part of its turnaround plan the company has re-organized into new units called Games, The Real Player Group, and Mobile Entertainment. The RealPlayer group is aligned more or less with the old Emerging Products, while as Mobile Entertainment with the old Core Products.
| | | | |
| --- | --- | --- | --- |
| Business Unit | 2012 Revenues | 2011 - 2012 Revenue Increase % | 2012 Operating Margin |
| Core Products | $149m | (22%) | 8.7% |
| Emerging Products | $42.5m | (9%) | 8.9% |
| Games | $67m | (31%) | (5.9%) |
As shown in the table above, revenues have declined in all units significantly over the past year. The reasons for revenue declines in these businesses has been largely related to rapid changes in the competitive landscape and the rise of mobile and tablet computing. The main services offered in core products are mobile ring tones, music on demand, video on demand, and messaging services, referred to as SaaS services by Real. These services were quite popular with feature phones in the mid 2000s but have come under huge pressure with the rapid rise of smartphone adoption and the availability of a broad array of apps in the Android and iOS ecosystems, which make many of these services redundant. In addition to these services, in the Core Products segment the company also reports software license fees for its Helix platform and fees from SuperPass. These products offer on demand audio, video and broadcasting related capabilities. Although not performing as poorly as the SaaS services, these products have still come under heavy pressure from a broad array of competing products, and they do not seem to offer any compelling competitive advantages that makes them stand out.
The emerging product category consists mainly of RealPlayer. For those who have been around the Internet since the early days in the 1990s, you probably remember RealAudio and later RealPlayer as the most popular streaming audio/video software. In fact founder and current CEO Robert Glaser is largely credited as the father of streaming audio on the Internet. At the height of its popularity around the year 2000, RealPlayer controlled nearly 85% of the market for streaming content. However its market share quickly eroded in the next decade as Microsoft (NASDAQ:MSFT) with Windows Media Player, Adobe (NASDAQ:ADBE) with Flash and several others flooded the market with similar offerings which were either cheaper or even given away free. In today's market RealPlayer still survives in a small niche, which seems to get increasingly smaller year after year as revenues slowly decline. With the abundance of streaming media options available today to the Internet user, these types of products have largely become commodities in my opinion, and there would not appear to be any long-standing advantage that can guarantee the platform's survival.
The final segment of RealNetworks is the Games division, which consists mostly of GameHouse. This business is a maker of casual and social games for PCs, mobile devices and Facebook. This business has also seen rapid decline in recent years as it has had to try and quickly adapt its model from PC based Internet games which it offers through its various websites (GameHouse, Zylom, and Atrativa). The games segment has also seen a flood of competition come in both from the social gaming space, such as Zynga (NASDAQ:ZNGA), but also from the growth and strength of traditional casual gaming sites such as Yahoo! (NASDAQ:YHOO), and MSN Gamezone. Probably this business segment however is the most promising going forward, as GameHouse has been rapidly transforming itself to focus solely on social and mobile, with a particular focus on casino games. Social gaming through platforms such as Facebook is still growing at a least CAGR of 16% according to industry reports and all players both big and small are likely to benefit in the coming few years. In fact I would expect further market consolidation in the space, which I'll discuss more below in the catalyst section. This growth potential could be a ray of light for RealNetworks going forward.
Current Valuation - Assumes No Value for the Ongoing Business
So after examining the rather bleak overall business prospects of RealNetworks the past few years, it is no surprise that the company has been forgotten by Wall Street. The share price has fallen all the way from a split adjusted high of about $90/share in the early 2000s to the mid $7 range where it stands today. The company currently is trading below 0.80 of tangible book value, as seen in the chart below. This is near the bottom range of the past 5 years.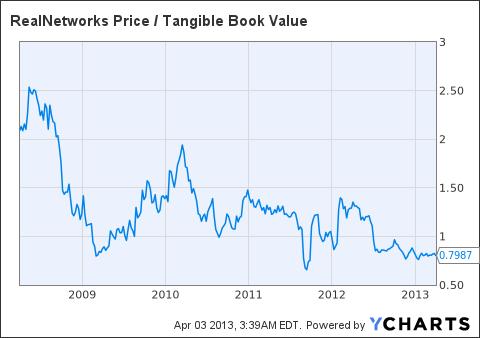 RNWK Price / Tangible Book Value data by YCharts
Particularly interesting is that the majority of tangible book value is in the form of cash and liquid securities. The company owns no real estate. There is also almost no intangible assets (only $9m out of $434m total assets on the balance sheet). The majority of goodwill was removed with impairment charges 4-5 years ago.
As the company has been losing money, there could of course be some cash burn expected in the coming year, which is probably discounted in the market price. However in Q4 2012, Real actually turned a surprise profit - albeit a small one with EBITDA of $3.3m. The company was quick to point out this was due to some unusual seasonality however and it does expect to lose between $7-10m in Q1 2013. Although the outlook continues to be poor, the company is realizing overhead cost savings of $45m, which should narrow losses going forward in the remainder of 2013. In the Q4 conference call in February the company reported good results on this initiative. Even with a potential loss of $50m in cash this year due to restructuring and operating losses, the company would still be trading near tangible book value. For me this is further justification that the downside risk is quite limited in the near term, as the valuation does not take into account at all the possible sale of business units or positive surprises with new product releases. The risk/reward ratio is therefore very favorable with such low expectations built in already in the market price.
Potential Catalysts for 2013-2014
A few key catalysts could unlock shareholder value for RealNetworks in the near term:
Sale of GameHouse - The Games division is made up primarily of GameHouse, which is a maker of social and mobile games. The company has been losing money in the past few years as the rapid shift to mobile computing left it scrambling to adapt its business model, which was based on casual PC based games. The business now has about 200 employees, at least half of which are focused on Facebook (NASDAQ:FB), iOS and Android game development. The company is making a major push towards the social casino game market, which has been hot in the past 2 years. Recently in 2012 there has been several acquisitions in this space. IGT buying Double Down Interactive for $500m, and Aristocrat buying Product Madness for $40m in November 2012. Double Down only had 70 employees, less than half of GameHouse, however its flagship casino games are much more popular having reached the #4 spot on Facebook in 2011 and averaging more than 1 million daily average users (DAU). Probably the more interesting comparison here is Product Madness, which has a similar profile and breadth of games as GameHouse, which you can see at AppData. Both have several games in the top 100 for Facebook with DAU over 100k. A valuation of $40m for GameHouse seems very plausible, and even conservative when you consider the size of the employee base, the legacy PC game business, and the fact that sales were still $67m in 2012. Although this has declined rapidly as the business shifts models towards Facebook and mobile gaming, the valuation of similar businesses in this high potential growth sector are typically at least with P/S ratios of 1.5-2. Examples are Zynga at 1.88 and Dena (OTC:DNACF) at 1.48. I therefore think a valuation of ~$50m is reasonable based on recent transactions in the space and growth potential going forward.
Traction with New Product Releases - Real has stated that the company is committed to releasing at least 1 new major product in each business unit in 2013. This will be beyond normal product upgrades (i.e. RealPlayer version 17+ doesn't count!) Although the competition is fierce in these markets and it is not clear whether this will have any meaningful impact to the business, any positive surprises here will cause the stock to appreciate significantly. With the share price trading below tangible assets, any signs of growth potential in either of its 3 business units will be a positive.
Business Restructuring - The company has recently announced that starting with Q1 it has re-organized into 3 new business units - Games, Mobile Entertainment, and the RealPlayer Group. Most of the corporate costs such as HR, Finance, and legal expenses will be largely distributed within each unit. The idea being to simplify the company structure and reduce overhead making each unit more lean and agile. I also think this makes it easier to break up the company and sell one or more of these units to unlock value, which could also be an underlying motivation here. Since Graser owns 38% of the company himself, management has a big incentive to stop the bleeding and increase shareholder value. More asset sales could be a way to realize this. With corporate operating expenses of $70m in 2012, any significant reduction here will return the company to profitability and drive share price gains.
The Bottom Line
RealNetworks is a fallen angel of the early Internet days that has had one disappointment after another in recent years. For a variety of reasons the company was not able to keep up with changes in the streaming audio and video markets and its flagship product RealPlayer only maintains a fraction of the market share that it used to garner. The company's attempt to diversify in other areas also has not worked out so well, as its PC based gaming division GameHouse and SaaS mobile entertainment business have largely been the victims of swift technological change with the smartphone revolution the past few years. Having gone through rapid business decline and high management turnover, the stock has been left for dead by Wall Street and now has virtually no analyst following and is priced well below tangible book value. However when one looks objectively at the balance sheet, and the potential re-sale value of certain parts of the company such as the high potential social gaming unit, it suddenly becomes clear that the company is significantly undervalued and presents a very good risk/reward ratio. With an estimated fair value of GameHouse of ~$50m, or $1.41/share, coupled with the tangible asset value of about $9.60/share consisting mostly of cash and securities, I think the company is worth easily $11/share. This does not take into account the small remaining amount of intellectual property (2 US patents, 40 Korean patents, and several pending applications), and it also assumes almost no worth for the mobile entertainment and RealPlayer businesses as going concerns. Putting this all together, I think RealNetworks is a compelling deep value investment today with upside potential of more than 50% from current market prices.
Disclosure: I am long INTC, MSFT. I wrote this article myself, and it expresses my own opinions. I am not receiving compensation for it (other than from Seeking Alpha). I have no business relationship with any company whose stock is mentioned in this article.
Additional disclosure: I may initiate a long position in RNWK over the next 72 hours.