With the market trading at a multi-year high, it may be a good time for smart investors to review their holdings and perhaps take some profits. It is also a good time to review stocks with low beta and strong cash flow to reduce the volatility. PepsiCo (PEP) surfaces when it comes to strong cash flow and low beta. However, taking a deeper look, PepsiCo's cash flow may not be cheap with current valuation.
Management Update
For 2012, PepsiCo delivered EPS directly on target. The capital spending was 4% of net revenue for 2012, below our target of 4.5%, a 20% reduction from 2011 CapEx investment level. Inventory days had decreased, and payables days had increased. Overall, the company had a healthy cash flow for 2012.
Increasing Operating Cash Flow
Excluding the pension and restructuring cash outflows, the management operating cash flow increased 20% or by more than $1.2B compared to 2011. This cash flow performance enabled the company to return $6.5B to PepsiCo shareholders through a combination of share repurchase and dividends, a 16% increase from 2011.
Enhancing Productivity
As for the productivity commitment, the management executed a comprehensive restructuring program and accelerated the company's productivity efforts across the value chain. The organization is de-layered, and the efficiency is improved by reducing headcounts and rationalizing the supply chains to reduce costs and investment in fixed assets. As a result of these efforts, the company delivered in excess of $1B in productivity in 2012.
By increasing automation across the value chain and implementing new processing technologies, asset utilization is increased, and input cost is reduced. Now much of this is enabled by the IT investments the company made over the past several years. With all these, the company is expected to achieve a three-year, $3B productivity target through 2014.
Concerns
Colas, which have been under pressure for some time, have declined as consumers, who increasingly sought greater variety for beverages. The company had started to diversify in 1990. Now, almost 40% of North American beverage volume is non-carbonated, and only a fifth of North American beverage volume is full sugar Cola.
Expectations
The management expects 7% core, constant currency EPS growth reflecting the earnings associated with solid organic revenue growth and continued focus on productivity and strategic investments. From an M&A perspective, the management believes the portfolio was largely where it needs to be, and consequently there is no need for any large scale M&A. As a result, the company continues to return strong cash flow to its shareholders. A new three-year $10B share repurchase program was approved to succeed the current program that expires in June of this year, and the board had approved a 5.6% quarterly dividend increase beginning with or June payment. In total, about $6.4B is expected to be returned to shareholders in 2013, with $3.4B in dividends and $3B in share repurchases.
The outlook for 2013 is consistent with the company's long-term targets for net revenue, operating profit and EPS. The management expects to drive improved margins and improved net ROIC. Lastly and most importantly, returning cash flow to the company's shareholders remains a top priority for the company. Readers are encouraged to review the full earnings call transcript for PepsiCo's CEO discussion for Q4 2012 results from Seeking Alpha.
Analysts' Calls and Estimates
The last analyst's call for PEP was from UBS on February 19, 2013, which reiterated a neutral rating with a target price of $75. Analysts currently have mean target price of $79.54 for PEP. Analysts, on average, are estimating an EPS of $0.71 with revenue of $12.61B for the current quarter ending in March, 2013. For 2013, analyst are projecting an EPS of $4.39 with revenue of $68.12B, which is 4.00% higher than 2012.
Free Cash Flow and EPS Estimate
Since early 2012, PEP's free cash flow continues to increase and reached $5.86B by the end of 2012. The current price to cash flow ratio of 21.26 is in the middle range as the ratio has been fluctuating in the range of 18-24 since early 2009.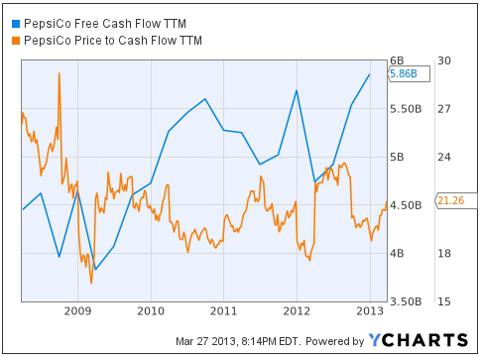 Source: YCharts.com
Fundamentally, key stats will be reviewed for PepsiCo as compared to Coca-Cola Co (NYSE:KO) and the industry average.
| | | | |
| --- | --- | --- | --- |
| | PepsiCo | Coca-Cola | Industry Average |
| Cap Size | $123.02B | $181.48B | N/A |
| Beta | 0.48 | 0.51 | |
| Revenue Growth (3 Year average) | 14.8 | 15.7 | 6.2 |
| Operating Margin (%, ttm) | 13.9% | 22.4% | 17.4 |
| Net Margin (%, ttm) | 9.4% | 18.8% | 12.0 |
| ROE, ttm | 28.8 | 26.5 | 26.5 |
| Debt/Equity | 1.1 | 0.4 | 0.6 |
| P/E | 20.3 | 20.5 | 16.6 |
| 5 Year Average P/E | 16.8 | 17.6 | N/A |
| P/B | 5.5 | 5.5 | 5.1 |
| P/FCF | 50.62 | 55.50 | N/A |
Both KO and PEP are trading at higher P/E as compared to the industry average and their 5 year average P/E. As for the cash flow, both have over 50 plus price to free cash flow ratio, indicating that KO and PEP's cash flow do not come cheaply at the current price level. PEP, on the down side, also has lower margins and revenue growth with higher debt/equity as compared to KO. Nonetheless, PEP generates a slightly higher ROE with a lower P/FCF, comparing to KO.
How to Invest
PEP has been strongly bullish since early 2013. Investors may want to wait for a pull back to establish the long-term position to enjoy a better dividend yield and a cheaper cash flow. For bullish investors, a credit put option spread of July 20, 2013 $67.5/$72.5 can be reviewed upon a major pullback. Investors can also review the following ETFs to gain exposure to PEP:
Dow Jones U.S. Consumer Goods Index Fund (IYK), 6.74% weighting
Consumer Staples Select Sector SPDR (XLP), 4.49% weighting
Morningstar Large Core Index Fund (JKD) 3.15% weighting
Note: Investors and traders are recommended to do their own due diligence and research before making any trading/investing decisions.
Disclosure: I have no positions in any stocks mentioned, and no plans to initiate any positions within the next 72 hours. I wrote this article myself, and it expresses my own opinions. I am not receiving compensation for it (other than from Seeking Alpha). I have no business relationship with any company whose stock is mentioned in this article.