Northern Tier Energy (NYSE:NTI) is a master limited partnership (MLP) that has a meaningfully high distribution and strategically located assets. Over the past few trading days, Northern Tier Energy has seen its stock price decline nearly 20%. However, Northern Tier Energy is still up over 70% since its 2012 IPO. This recent price decline may be an opportunity to start a position at an attractive price.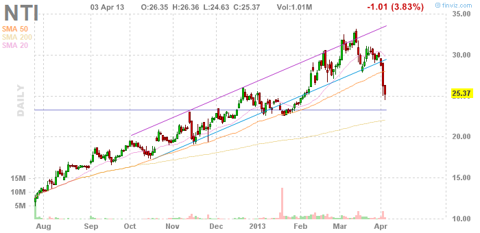 Click to enlarge
Northern Tier Energy's last quarterly distribution was for $1.27 per unit, and at current prices, this would lead to an annualized yield of over 20%. However, Northern Tier Energy has a variable distribution, and it is therefore difficult to determine its future yield. Below is the relevant quote from the Q4 2012 conference call:
The amount of our quarterly distributions will vary based on our operating cash flow during any respective quarter. Specifically, the fourth quarter distribution was affected by lower market prices for our products and higher feedstock costs when compared to the third quarter distribution.

These seasonal market changes are typical, and expected given the industry in which we operate. Our quarterly distribution will not be stable and will vary as a direct result of variations and certain factors including fluctuations in the prices of crude oil, other feedstocks, refined product prices, capital expenditures, reserves or payments based on changes in working capital requirements, and any other cash reserves being necessary and appropriate by the Board of Directors of our general partner. Unlike most publicly traded partnerships, we do not have a minimum quarterly distribution.
Northern Tier Energy's principal assets include a 74,000 barrel per calendar day refinery located in Minnesota, 166 company operated SuperAmerica brand convenience stores, and a 17% interest in the Minnesota pipeline (which is majority owned and operated by Enbridge). Northern Tier Energy receives nearly all of its feedstock from either the Bakken or Canadian sources.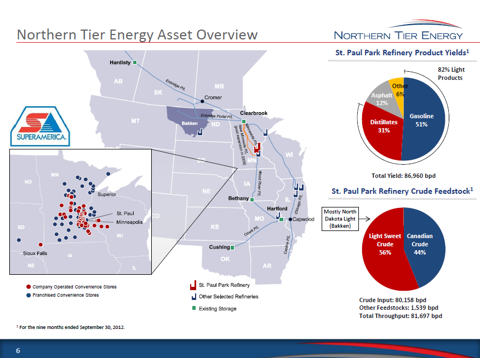 Click to enlarge
Northern Tier Energy makes the vast majority of its profits from its refining segment. Northern Tier Energy makes money by buying crude oil and selling the refined products. The difference between the refined products and the cost of crude is typically referred to as the "crack spread." Like most refiners, Northern Tier Energy has seen its crack spread stay relatively high throughout 2012.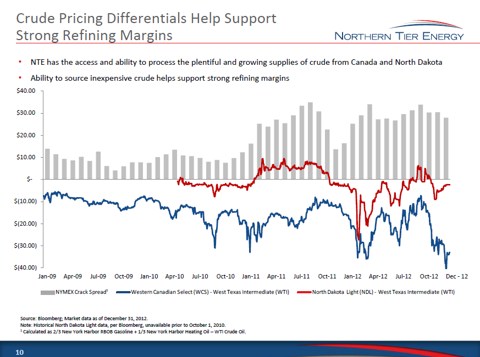 Click to enlarge
Due to its access to cheap and plentiful sources of crude from both the Bakken and Canada, Northern Tier Energy's margins have exploded higher. Gross product margins per BBL have increased 300% from 2009 levels. In addition, Northern Tier Energy's adjusted EBITDA has increased over 470% since 2009.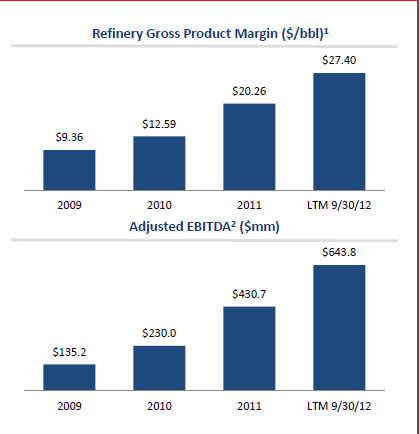 Northern Tier Energy should continue to benefit from cheaper feedstocks, as production of crude from Western Canada and the Bakken is expected to only increase. In particular, Canadian crude oil production is expected to double by 2030.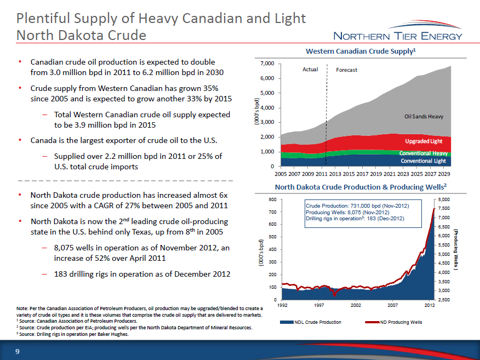 Click to enlarge
Conclusion
The most likely culprit for Northern Tier Energy recent decline are fears of increased costs associated from the proposed tougher standards on gasoline. The EPA is proposing the so-called Tier 3 rules that will require refiners to reduce the sulfur content of gasoline to 10 ppm by 2017 from 30 ppm. The new rules could cost refiners hundreds of millions of dollars. Valero (NYSE:VLO) predicts that it would have to spend between $300M to $400M on upgrades, while CVR Refining (NYSE:CVRR) announced estimated costs related to the standards of below $20M.
In terms of risk, I would label Northern Tier Energy an extremely high risk stock due to the price volatility it has shown since its IPO. I would also prefer Northern Tier Energy to have a more stable distribution. However, at its current price, Northern Tier Energy is worth a shot. I think the recent sell-off is overdone and that Northern Tier Energy could produce an outsized return.
Disclaimer: The opinions in this article are for informational purposes only and should not be construed as a recommendation to buy or sell the stocks mentioned. Please do your own due diligence before making any investment decision.
Disclosure: I have no positions in any stocks mentioned, but may initiate a long position in NTI over the next 72 hours. I wrote this article myself, and it expresses my own opinions. I am not receiving compensation for it (other than from Seeking Alpha). I have no business relationship with any company whose stock is mentioned in this article.