I recently wrote an article titled "Stars Are Aligning Against Gold; Hope Vs. Fear," making the case that gold's value is not based on its traditional role as an inflation hedge, but instead on its safe haven value. It isn't fear of inflation that is holding up gold -- it is fear itself. On March 15, 2013, the Cyprus bank crisis hit the news, sending stocks tumbling and gold rallying. Headlines like "Gold Proves 'Safe Haven After All' As Cyprus Banks Re-Open With Eurozone's First-Ever Exchange Controls" bolstered that opinion. SPDR Gold Shares (NYSEARCA:GLD) rallied from $154.00 on March 15, 2013, to peak at $156.25 on March 21, 2013 -- a gain of 1.46%. Gold itself peaked slightly over $1,615/oz. Clearly gold was responding to the "risk-off" trade.
That Was Then
Since that peak in mid-March, however, calm has returned to the markets, and the risk-off trade has turned to a risk-on trade. Being a safe haven was no longer a benefit of gold, but a liability. In just two short weeks, headlines that were bullish on gold have been replaced by headlines that are bearish. Today's headline "Gold Prices Fall As Cyprus Fears Ebb" is about the exact opposite of two weeks ago, but the underlying theme of gold being a risk-off trade remains the same.
Technical Review
Gold is now trading below the pre-Cyprus crisis level and is challenging the two-month low. The red arrow in the graphic below highlights the day the crisis hit, and the red line demonstrates the level of GLD on that date. Currently, GLD is almost 2% below that level. The crisis itself only added 1.46% to its value. To make matters worse, the current headline "Gold Just Got Whacked On Heavy Volume" highlights the fact that increased volume is accompanying the sell-off.
Click to enlarge images.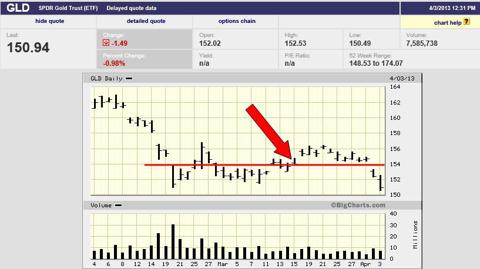 From a longer-term perspective, GLD peaked over 1.5 years ago in August 2011 at $184.59, a full 18% above where it stands today. $150 has also been a key support level, having been tested multiple times since breaking that level in July 2011. If that level is breached, I would expect more downside for gold.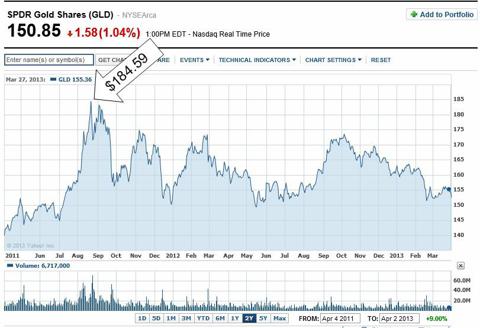 In conclusion, in my opinion GLD's value is based on it being a safe-haven, risk-off trade. As the Cyprus crisis demonstrated, those are becoming short-term events and investors in GLD have been using them as an opportunity to exit, not add to their positions. The markets and economy are in the process of transitioning from crisis mode to recovery mode, and that does not bode well for GLD. Investors should ask themselves: If a bank crisis couldn't drive GLD significantly higher, what will?
The other warnings sign is that equities are selling off today, interest rates are lower, and GLD is down more than both the S&P 500 and Dow Jones Industrials. It appears investors are selling equities and GLD, and buying bonds. GLD is no longer the safe haven of choice -- at least for today. With GLD currently resting on key support, investors in GLD may want to devise an exit strategy if things continue to deteriorate.
Disclosure: I have no positions in any stocks mentioned, and no plans to initiate any positions within the next 72 hours. I wrote this article myself, and it expresses my own opinions. I am not receiving compensation for it (other than from Seeking Alpha). I have no business relationship with any company whose stock is mentioned in this article.
Disclaimer: This article is not an investment recommendation. Any analysis presented in this article is illustrative in nature, is based on an incomplete set of information and has limitations to its accuracy, and is not meant to be relied upon for investment decisions. Please consult a qualified investment advisor. The information upon which this material is based was obtained from sources believed to be reliable, but has not been independently verified. Therefore, the author cannot guarantee its accuracy. Any opinions or estimates constitute the author's best judgment as of the date of publication, and are subject to change without notice.