The US natural gas revolution is having a profound effect on almost every domestic industry. In the transportation sector buses, refuse trucks, fleets, and long-haul trucking are all migrating to natural gas vehicles (NGVs) to reduce costs and emissions. It would appear natural gas is poised to power locomotives in the rail industry as well. General Electric (NYSE:GE) has the most to gain as the nation's railroad companies switch over to natural gas.
The Natural Gas Revolution - A Short History
According to the Citi Energy 2020 Independence Day report, power generation in the United States grew by 6% over the past 10 years, but natural gas use as a feedstock for power generation grew by a whopping 47% while coal consumption dropped 10%. Over the past 5 years, natural gas production rose by 14 Bcf/d, an increase of over 26%. Shale gas production rose over 7x during that time to over 26 Bcf/d or 40% of total US production. As a result, domestic natural gas prices are by far the lowest of any major economy in the world.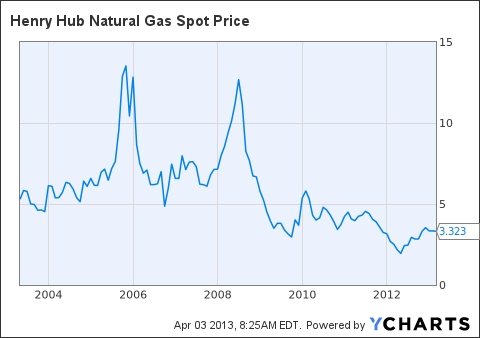 Henry Hub Natural Gas Spot Price data by YCharts
In this age of central bank money printing, currency devaluation, and understated inflation, it is amazing to look at the chart above and note that US natural gas is cheaper today than it was 10 years ago.
Shale Oil Is Great, But Gasoline & Diesel Prices Are Hitting Highs
As we all know, the fracking technology used to increase natural gas production quickly migrated to oil production as the bottom fell out of nat gas prices. Domestic oil production has zoomed upward as the technology was applied to prolific shale plays like the Eagle Ford, Bakken, and Permian Basin. Yet gasoline and diesel prices reached their highest levels ever in 2012 on an average annual basis: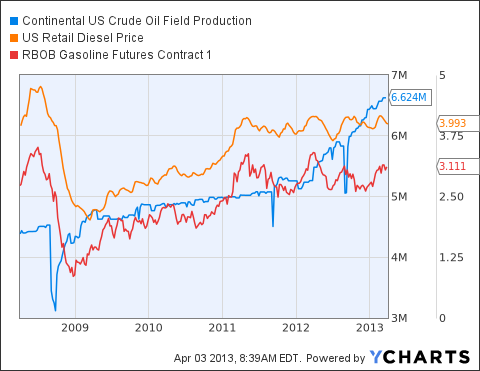 Continental US Crude Oil Field Production data by YCharts
Natural Gas Transportation
As a result of the fuel market fundamentals discussed above, a large migration is taking place in the US toward natural gas transportation. Buses, refuse trucks, fleets, and long-haul truckers are all migrating to natural gas vehicles (NGVs) in order to reduce costs and emissions. Another piece of the transportation pie is up next: the railroads.
A Railroad Renaissance
Rather than discuss the shale oil induced rail revolution in detail, let me instead refer you to Richard Zeits' excellent article "Bakken: The Rail Revolution - Everything Investors Need To Know". (Side Note: Why Does Mr. Zeits have only 958 followers? Look at how many of his articles are Editor's Picks).
Although coal shipments are down (a good thing), railroads are more than making up the difference by transporting shale oil. At the same time, low nat gas prices have caused a resurgence in the US petrochemicals sector. According to the Citi report, the American Railcar Industries mentioned in its 3Q'12 conference call that the industry backlog for railcars at the end of September 2012 stood at 61,400 railcars. Around 46,700 tank railcars were backlogged at the end of September 2012, or over 75% of the industry backlog. In addition to crude oil and chemicals, these railcars transport propane, ethanol, asphalt, fracking proppant, and corn syrup. Conclusion: the natural gas and fracking booms are causing rapid growth in rail traffic.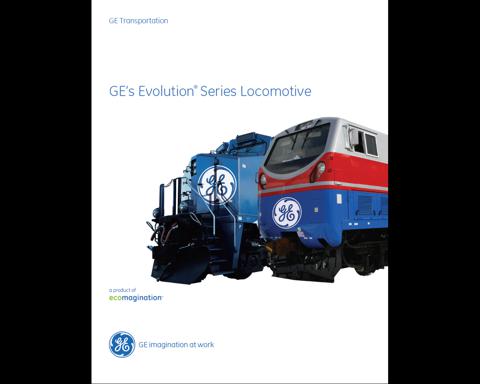 When Buffett Speaks, People Listen
On a recent CNBC interview (watch it here), Warren Buffett, speaking about Berkshire Hathaway's (NYSE:BRK.A) Burlington Northern Santa Fe ("BNSF") unit, said the following:
We have a couple locomotives we're experimenting with this year on it…The railroads are definitely experimenting with converting to natural gas...When you get natural gas, you know, at $3.50 and you look where oil is, you've got to look at converting any kind of an engine to natural gas.
Buffett's pronouncement led to a flurry of media coverage including this fine article from Bloomberg's Tim Catts. The article reports on an emerging battle between GE and Caterpillar (NYSE:CAT), the world's largest suppliers of locomotives, to win the natural gas powered locomotive business.
Do The Locomotion: Natural Gas or Diesel?
The CEO of GE's transportation unit, Lorenzo Simonelli, had this to say about the new era of natural gas transportation:
If you believe the price advantage over diesel is going to stay here for the next 10 to 15 years, then LNG is a revolutionary fuel.
In addition to BNSF, railroad competitors Union Pacific (NYSE:UNP), Norfolk Southern (NYSE:NSC), and CSX (NYSE:CSX) are all studying natural gas powered locomotives.
Next to employee compensation, fuel is the #2 expense for the railroad companies. Let's put some numbers behind it. Last year UNP, the nation's largest railroad by revenue, burned 1.09 billion gallons of fuel at an average cost of $3.22/gallon. Yet it costs truckers only $2.99 to buy LNG with the same energy content as a gallon of diesel at Clean Energy's (NASDAQ:CLNE) Long Beach facility according to company spokesman Gary Foster. Since diesel locomotives typically have a fuel capacity of around 5,000 gallons, they would easily qualify for volume discounts, which Foster said could reduce the price by as much as 30%. That puts volume pricing of LNG at $2.10 per gas gallon equivalent ("GGE").
Huge Cost Savings
For UNP in 2012, that would have meant a fuel cost savings in the neighborhood of ($3.22-$2.10)*1.09 billion=$1.22 billion dollars. That's only one year. And that's big money.
Although Caterpillar is the world's largest maker of diesel and natural gas engines, and the company is developing a locomotive that runs on a mixture of natural gas and diesel, perhaps no company has a bigger vested interest in seeing LNG adopted in the rail business than does General Electric. This is one reason I selected GE for my portfolio of 5 Natural Gas Transportation Stocks for 2013.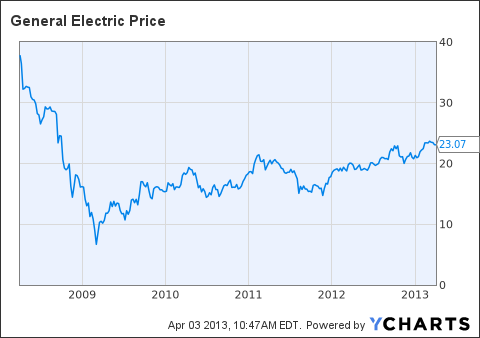 GE entered the nat gas transportation arena in earnest with a strategic partnership with CLNE. Under the joint collaboration to expand "America's Natural Gas Highway," GE's Oil & Gas Division will provide its ecomagination MicroLNG plants to rapidly liquefy natural gas for the refueling stations. Also, GE's Oil and Gas unit is well positioned to take advantage of growth in shale oil and gas drilling as well as infrastructure to support LNG refueling. LNG refueling of locomotives would be a natural extension of this business plan. I expect GE to pull out all the stops to win the natural gas locomotive business.
A New Paradigm
I can envision a day where a locomotive pulls into a Bakken depot to load crude oil while simultaneously refueling itself with LNG produced locally as a by-product of Bakken crude production. Whiting Petroleum (NYSE:WLL) has built two natural gas gathering and processing plants in the area: Robinson Lake and Belfield. I can envision long-term supply contracts whereby WLL's natural gas goes straight to a GE ecomagination MicroLNG (they may need to add a higher capacity "MiniLNG" product) and straight into a BNSF locomotive.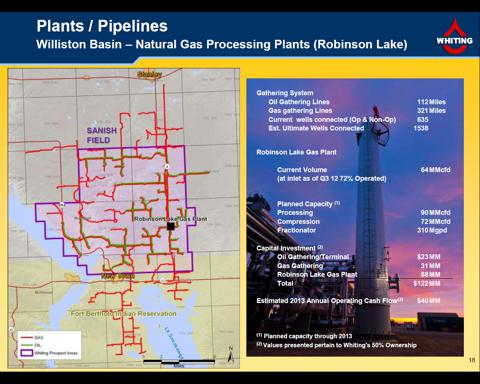 As GE ecomagination LNG plants sprout up to refuel locomotives, it will be just a matter of time before the companies and roustabouts in the Bakken region demand CNG refueling stations to power the cars and trucks that roam the Williston Basin with a cheaper (and cleaner) alternative to gasoline.
The burgeoning natural gas transportation sector, soon to include a step function increase in demand from the rails, will be a boon for Exxon Mobil (NYSE:XOM), the US's #1 producer of natural gas.
I have written for years how natural gas transportation can solve the economic, environmental, and national security problems resulting from decades of importing expensive foreign oil. I have urged the US to adopt a strategic long-term comprehensive energy policy centered on natural gas transportation to reindustrialize the country, create good paying jobs, reduce energy costs of ordinary Americans and to usher in a new era of economic prosperity. It is happening now despite the US government's lack of enthusiasm and support. GE and the railroads stand at the forefront of the natural gas led reindustrialization of the US. I rate GE as a long-term BUY and suggest investors scale into the stock, over time, on weakness. The stock currently pays a 3.3% dividend.
Disclosure: I am long XOM, WLL. I wrote this article myself, and it expresses my own opinions. I am not receiving compensation for it (other than from Seeking Alpha). I have no business relationship with any company whose stock is mentioned in this article.
Additional disclosure: I am an engineer, not a CFA. Please do your own research and contact your investment adviser. I am not responsible for investment decisions you make. Thanks for reading and good luck!