Back at the start of 2013 I wrote an article disclosing the entirety of my investment portfolio. The environment has changed materially since that time and my portfolio along with it. The start of the 2nd quarter marks an excellent time to provide an update, but first, let us review my performance.
Q1 Performance
In the first quarter of 2013 my portfolio delivered 17.63% total returns. Since I declared that it was designed for outperformance, rather than absolute returns, this number means nothing without comparison.
As a mostly REIT portfolio the most relevant comparison would be the MSCI REIT index. The table below compares it to this as well as prevalent funds and indexes.
| | | |
| --- | --- | --- |
| Index or fund* | Total Q1 return of index or fund | My portfolio's relative outperformance in basis points |
| MSCI REIT index | 8.07% | 956 |
| Standard and Poor's 500 | 10.2% | 743 |
| Health/biotech funds | 14.4% | 323 |
| Natural Resource funds | 11.0% | 663 |
| European Funds | 2.0% | 1563 |
| Commodities/precious metal funds | -2.2% | 1983 |
| Average stock fund | 10.3% | 733 |
*funds averaged across industry
While I am admittedly proud of this outperformance, the point is not to brag, but rather to share the reasons for its success. Once we explore why it worked, we can adapt the same techniques into a portfolio designed to outperform in the second quarter.
Why it worked
Much of the success can be attributed to two aspects:
An average dividend yield of 6.28%.
An average price/FFO of 9.29
In the low yield environment, investors fled to high yielding stocks creating rapid capital gains. The low FFO multiples provided sufficient earnings support for price appreciation.
While this was an excellent technique, the price appreciation of the past few months makes it more difficult. Most high yielding stocks now trade at a sufficiently high multiple to resist material price appreciation.
With the formerly effective catalysts expiring, my portfolio needs a new impetus for outperformance. In the sections below, I will disclose my present portfolio in its entirety; discuss the sources of potential outperformance of the overall portfolio and why I chose each position.
The portfolio
| | | | | |
| --- | --- | --- | --- | --- |
| Company (ticker) | Position size as a % of portfolio | Recent Market Price | Price/2013 FFO* | Annual Dividend Yield % |
| Ashford Hospitality (NYSE:AHT) | 11.70% | $12.21 | 7.3 | 3.88% |
| Aviv REIT (NYSE:AVIV) | 6.49% | $24.07 | ~12** | 5.81% |
| CAI International (CAP) | 10.72% | $27.85 | 7.6 | 0.00% |
| CapLease (NYSE:LSE) | 16.60% | $6.34 | 11.0 | 4.87% |
| CorEnergy Infrastructure Trust (NYSE:CORR) | 11.41% | $6.77 | ~7** | 7.39% |
| Felcor Lodging (NYSE:FCH) Preferred A (FCH-A) | 5.29% | $24.83 | n/a | 7.85% |
| Gladstone Commercial (NASDAQ:GOOD) | 4.14% | $19.71 | 12.3 | 7.70% |
| Mannkind Corp. (NASDAQ:MNKD) | 0.37% | $3.52 | n/a | 0.00% |
| MHI Hospitality (MDH) | 6.79% | $4.16 | 4.81*** | 3.37% |
| Northstar Realty Finance (NRF) | 2.1% | $9.43 | 7.08 | 7.64% |
| Northstar Realty Finance Preferred B (NRF-B) | 4.43% | $24.98 | n/a | 8.26% |
| Omega Healthcare (NYSE:OHI) | 7.28% | $30.61 | 12.7 | 5.93% |
| Textainer Group Holdings (NYSE:TGH) | 5.58% | $39.33 | 9.81 | 4.35% |
| Whitestone REIT (NYSEMKT:WSR) | 7.07% | $15.08 | 13.5 | 7.53% |
| Portfolio average | n/a | n/a | 9.44 | 5.18% |
*FactSet consensus estimates. P/E for non-REITs
**Aviv and CORR do not yet have a FactSet consensus estimate. Estimates are my approximation
***No FactSet estimate. Figure is based on the midpoint of 2013 guidance
Portfolio's angle for outperformance
The stock market is complex and unpredictable, so I absolutely cannot guarantee this portfolio's outperformance, but it has numerous aspects which improve its chances.
Valuation
The portfolio as a whole has a price to FFO of only 9.44. When we compare it to the US equity REIT average of 16.1 it is clear how cheap these stocks are. The power of cheap valuation comes from the superior earnings potential. REITs on average are expected to produce an earnings return on invested capital of only 6.21%, while the aforementioned portfolio is projected to earn 10.59%. That's earnings outperformance of 70.5%!
Superior earnings support higher dividends and/or greater growth, either of which has a tendency to attract investors and capital appreciation.
Growth
As shown in this report from REIS, cap rates have declined significantly but some acquisition potential remains in 2013.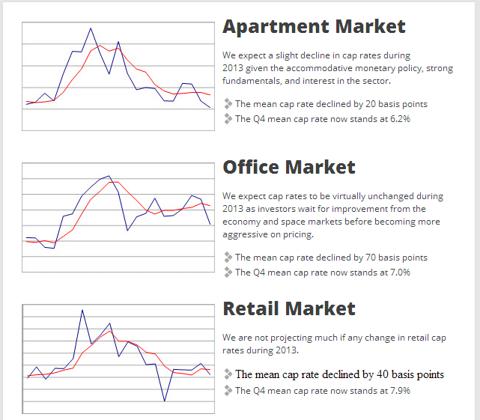 The slightly reduced cap rates combined with the threat of rising interest rates make accretive acquisitions harder to find. Property values are up and competitive bidding is squeezing spreads.
However, some companies have unique capabilities which allow them to circumvent bidding wars. I have selected many of these for my portfolio going into the 2nd quarter. This, I believe, will provide superior earnings growth. When combined with valuation, these stocks are not only cheaper on a current basis, but growing at a faster pace. The specifics of the unique growth of these companies will be discussed in more detail when we look at them individually.
No waste
In the first quarter, my 17.63% returns did not come from an anomalous opportunity, but rather from each position pitching in. Every security in the 2Q13 portfolio detailed above has the potential to individually outperform. No money is wasted with hedging or allocated just for asset class exposure. Similar safety can be achieved with simple (and free) diversification.
Each security and why I like it
It would be tedious to write an exhaustive report on each position in the portfolio. Instead, I will just provide a brief description of the qualities that make these stocks ideal for outperformance. If any of these securities are of interest to you, please feel free to access the full focus articles on each available in my archives.
Rather than sticking with the alphabetical approach of the portfolio table, these stocks can be more succinctly detailed by industry.
The Hotel REITs: Ashford Hospitality and MHI Hospitality
Both Smith Travel Research and PKF Hospitality project strong revenue per available room (abbreviated RevPAR) growth throughout 2013 and 2014 with an emphasis on average daily rate or ADR. This upswing in the cycle makes the industry more desirable and these two companies are best positioned to take advantage. In addition to being the best values in the sector, each has unique catalysts.
Ashford
Liberal use of leverage during upswing accentuates growth and its perennial delevering near the end of each cycle minimizes downside.
Expect an organic boost to FFO when it redeems and replaces its slew of high coupon preferreds.
A relative mountain of cash affords capitalizing on whatever opportunity comes along.
MHI Hospitality
Redemption of only a sliver of its 12% preferred added more than a penny of savings to annualized FFO. Redeeming the rest may have a substantial impact considering its market price is only $4.16.
2013 guidance shows it growing FFO more than 100%. Very little of this has been priced in
The true value of its upscale and upper-upscale waterfront hotels are not yet reflected in its market price.
The Healthcare REITs: Aviv REIT and Omega Healthcare
Healthcare REITs provide a nice counterbalance to the cyclical hotelliers as the medical industry is somewhat recession-proof. One of the driving forces of outperformance that I mentioned above was the ability to make accretive acquisitions despite the general spread compression. Each of these companies has shown a spectacular pipeline.
In the past year Aviv has made over $128mm of acquisitions at caprates averaging around 10%. Omega landed $206mm of 10.96% cap rate acquisitions. For both companies the lease durations are equal to or greater than 10 years and come with built in escalators.
A vast majority of healthcare properties are still owned by the operators. This creates a vast pool of sale-leaseback opportunities to fuel acquisitions going forward and both AVIV and OHI are well positioned to take advantage.
Healthcare REITs in general are not cheap as the sector's securities trade at an average multiple of 16.8. OHI and AVIV, however, remain a fair deal at only 12.7X and 12.0X FFO, respectively.
The uniquely capable acquirers: CorEnergy Infrastructure, Gladstone Commercial and Whitestone REIT
These 3 companies greatly bolster the growth potential of the portfolio while remaining good values. Each has a unique skill set or positioning to acquire properties without invoking competing bids.
CorEnergy is literally one of a kind. It is the only energy infrastructure lessor operating as a REIT. What does this mean? Well, the tax benefits of the REIT structure allow CORR to finance the expansion of energy operators without the operators having to lever up or lose resources. CORR can provide an immediate capital infusion through a sale leaseback transaction on properties ranging from $10mm-$1B and in return get a nice long-term cash flow. With no competitors in the space, it should be able to get favorable cap rates.
Gladstone Commercial uses a different set of acquisition criteria. While other companies are focused on acquiring properties with investment grade tenants, GOOD is equipped with the tools to grade unrated tenants. Therefore, it can get properties with unrated tenants that are of the same quality as investment grade, but at the higher cap rate associated with a riskier purchase. With the refined skill set of David Gladstone GOOD may be able to continue growing while the spreads of competitors are getting pinched.
Whitestone REIT has a different technique with extensive connections in relevant submarkets. Its acquisition team has repeatedly picked up distressed properties before they even go to market. Such activity has mutual benefit in that the distressed seller gets the money they need faster and WSR gets a cheaper price. In fact, most of Whitestone's purchases have been below replacement cost.
Such connections were evinced once again today with the off-market $25.7mm purchase of Headquarters Village with 8% cash flow yield.
While each of these three companies has a different methodology to their unique acquisitions, it has the same result; Strong cash flows to support unusually large dividends.
CapLease
As the largest position in my portfolio at 16.60%, LSE deserves its own category. It first became such a large position because of the extreme value at the time I bought it. Much of it was purchased shortly after its most recent stock offering when it was priced under $5.00. This incredibly cheap pricing explains why I bought so much, but why have I not trimmed the position now that its price has appreciated so much? Well, it has to do with its value relative to its peers. Triple-net pure plays are incredibly desirable at the moment with locked-in cash flows. Most of this sector trades around 18X FFO so CapLease's 11X is still very cheap. I believe LSE is headed to at least $7.00 where it would still be fairly cheap. Until it gets closer to a proper valuation, I see little reason to trim this oversized position. As its market value approaches its intrinsic value I intend to cut back piece by piece. The logic behind this reasoning requires too much explanation to include here, but is explained in depth in a piece published concurrently in my instablog.
The shipping container lessors: CAI International and Textainer Group Holdings
CAI International and Textainer fall outside my wheelhouse as they are not REITs, but their earnings come in a similar form. Rather than leasing REIT qualifying property, they lease standardized containers.
This industry has been growing rapidly and consistently with a 25 year CAGR of 8.8%. Many investors, however, are concerned about a potential slowdown from the European turmoil and anticipated slowing of Chinese growth. Such things are legitimate concerns, but even with a reduced growth rate these companies have tremendous potential.
CAI International is the growth play as it invests all of its earnings into new containers, marketing and other expansive purchasing. If it manages to earn anywhere near the estimates, it is significantly undervalued and should see a fair amount of capital appreciation.
Textainer is a more mature player in the industry. Its rate of growth is far smaller, but conservative leverage and consistent market share ensure sufficient earnings to service its healthy and growing dividend.
Big risk, big reward: Mannkind and Northstar Realty Finance
Nine times out of 10 my stock purchases are based on my own research, but I will admit to buying MannKind strictly in response to a powerful argument from fellow SA writer Joe Springer. MNKD is developing a new treatment for diabetes that seems superior to current treatments in both biological efficacy and ease of use. As a former dietician I can see the medical industry's deep seeded need for such a treatment and the vast magnitude of its potential earnings.
Northstar Realty Finance is a hybridized mREIT focusing on CMBS. While its hybridization makes it somewhat less risky than its peers, I consider investment in such a highly levered industry to be quite risky. In the case of NRF, I find the large reward to be worth the risk.
On the chopping block
In the past, my portfolio has had a large portion dedicated to preferred equity. It could be purchased well below par giving it both an oversized dividend and room for capital appreciation. Times have changed and nearly all preferreds with a decent coupon are now trading near or above par. Consequently, the possibility for capital appreciation supplementing the dividend has vanished and these may underperform the market.
As my preferreds NRF-B and FCH-A are now approaching $25.00, they are on the chopping block to be sold as soon as I find a sufficiently desirable opportunity with which to replace them.
Risks and other considerations
This portfolio is not for everyone. It is designed strictly for outperformance and consequently has a little bit less risk mitigation. One could argue that it is underweight in countercyclicals and therefore banking on strong domestic and global economies.
It is also not designed for buy and hold. I watch these stocks very closely and trade with moderately high frequency.
Conclusion
My portfolio materially outperformed the market in Q1 and I believe it is well positioned to do so again in the 2nd quarter. Its outperformance is catalyzed by an emphasis on valuation along with a healthy dividend, growth potential and efficient allocation of all resources.
Disclosure: I am long all of the aforementioned securities. These represent the entirety of my personal portfolio and may or may not be reflective of 2nd Market Capital and its affiliated accounts. This article is for informational purposes only. It is not a recommendation to buy or sell any security and is strictly the opinion of the writer.
Disclosure: I am long AHT, AVIV, CAP, LSE, CORR, GOOD, MNKD, MDH, NRF, OHI, TGH, WSR. I wrote this article myself, and it expresses my own opinions. I am not receiving compensation for it (other than from Seeking Alpha). I have no business relationship with any company whose stock is mentioned in this article.