With interest rates at an all-time low, more and more people are looking for high-quality dividend payers, such as General Electric Company (NYSE:GE). With its 3.3% dividend, GE has been a very popular stock in recent times. In this article, I will be looking at the sustainability and expected growth of this dividend. I will also be judging GE's current valuation.

(Picture from Google Finance)
Since the beginning of this year, GE's price tag has gone from $20.99 to $23.08; an increase of 10%. This has caused its price-to-earnings ratio to reach 16.9, which is far above the 5-year average of 13.9 and only just below the 10-year average, which is at 17.1.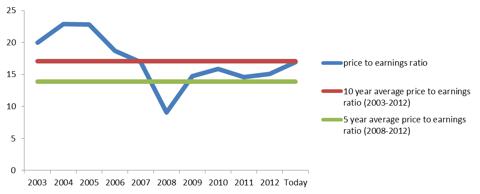 Between 2003 and 2006, the p/e ratio was even higher than it is today. Back then however, GE was growing its earnings at a far higher pace, as can be seen in the graph below.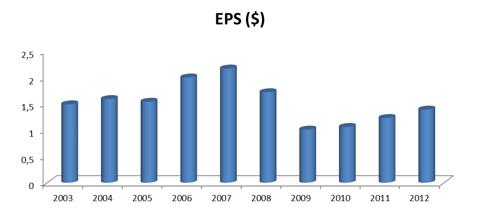 Average analyst expectations for GE's earnings per share are $1.67 for 2013 and $1.85 for 2014. Considering the fact GE usually pays out around 50% of its earnings per share as dividends, we could expect to see the dividend reach $0.92 by next year. At the current price of $23.08, this would give us a yield on cost of 4%.
(Picture from Yahoo Finance)

Speaking of dividends, GE has paid its shareholders regularly for over a century. Unfortunately, lower earnings led to the dividend being reduced in 2009, to $0.64, and then further reduced in 2010, to $0.46. Since then however, it has been going up again.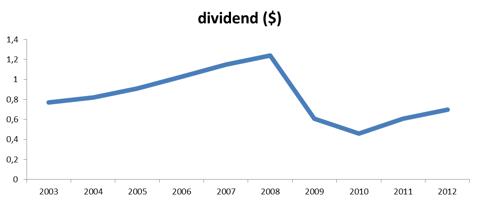 In 2012, GE purchased over $5 billion of its own stock, which seems like a lot. However, with a market cap of close to a quarter of a trillion dollars, $5 billion doesn't really make all that big a change.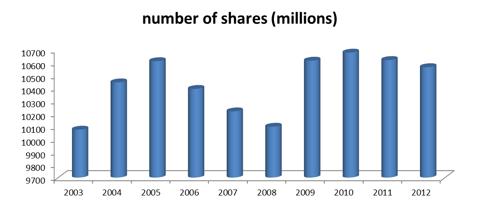 Now, we've seen a lot of positive and less than positive points, now it's time to sum them all up and determine whether or not we should buy GE.
Positive points

Negative points

Analysts expect GE's earnings per share to go up in 2013 and 2014.
High dividend yield of 3.3%
Long history of dividend payments.
Dividend has been climbing back up after having been cut in 2009.

Very high price to earnings ratio.
Share price is currently close to the 52-week high of $23.90
Stock repurchases
Conclusion:
I like the expected growth in earnings, and the high dividend yield GE has, but at a price close to its 52-week high, GE seems to be overvalued. You'll notice I've listed stock repurchases as a negative point. At a price-to-earnings ratio that's at its highest point since 2007, I believe GE shouldn't buy back any more shares. I will be waiting for the first and second quarter results to come out, and if they indicate that GE will meet or go above analyst expectations, I will consider buying some shares.
I'd love to hear your opinion on GE. Feel free to leave a comment below!
Disclosure: I have no positions in any stocks mentioned, and no plans to initiate any positions within the next 72 hours. I wrote this article myself, and it expresses my own opinions. I am not receiving compensation for it (other than from Seeking Alpha). I have no business relationship with any company whose stock is mentioned in this article.