Magnum Hunter Resources (MHR) entered into a definitive agreement to sell production from 49 wells on 19,000 net mineral acres to Penn Virginia (PVA) for a total purchase price of $400 million, $361 million in cash and $40 million in PVA stock. PVA shares will be issued at $4.00 per share which implies 10 million new shares. As of April 2, 2013, PVA shares closed at $3.90 and 50.1 million shares were outstanding. The cash received represents $2.14 per share to MHR. To help fund the transaction, PVA announced that it intends to offer, subject to market and other conditions, $400 million aggregate principal amount of senior notes due 2020 in a private placement.
Click here for PVA's acquisition presentation
The Eagle Ford assets represented 23% of MHR's daily total production and 17% of total proved reserves. Based on MHR's estimated ultimate recovery per well in the North Dakota Bakken and Utica of 550 MBOE and 1.0 - 2.5 MMBOE (click here for MHR's presentation), respectively, it would take 22.9 net Bakken or 7.2 net Utica wells to replace the divested Eagle Ford reserves. In dollar terms, this would require an investment of $162 million in the Bakken or $64 million in the Utica. OAG360 notes that the Eagle Ford reserves were 92.5% oil and liquids whereas wells in the Williston Basin are 96% crude oil and liquids and the Utica are an estimated 60% oil and liquids.
Deal Flow in the Eagle Ford is Heating Up. This is deal marks the third major deal in the Eagle Ford that has been announced in the past 45 days. On March 18, 2013, Sanchez Energy Corp (NYSE:SN) announced an Eagle Ford acquisition that more than doubled its production. On March 1, 2013, Aurora Oil & Gas Limited announced the purchase of a 100% working interest in 2,700 net HBP acres that produced 1,620 BOED net at year-end 2012. The SN and AEF deals were done at $59,000 and $72,531 per flowing BOEPD, respectively.
Deal Terms. The acquired assets have current production of 3,200 BOEPD, which adds to PVA's Eagle Ford production of 6,394 BOEPD in 2012. Based on the $401 million purchase price, the assets were acquired for $125,313 per flowing BOEPD or $21,105 per acre. The acquired acreage is a natural fit to PVA's current position as the assets are adjacent to their current position in Gonzales and Lavaca County. Based on the $125,313 per flowing BOEPD transaction value PVA's pro forma Eagle Ford position could be worth $1.2 billion today. See map below for MHR and PVA acreage positions.
OAG360 notes that MHR retained 7,000 net acres in Fayette, Lee and Atascosa Counties in South Texas were the company is participating in new horizontal Pearsall Shale wells with Marathon Oil Corporation (NYSE:MRO).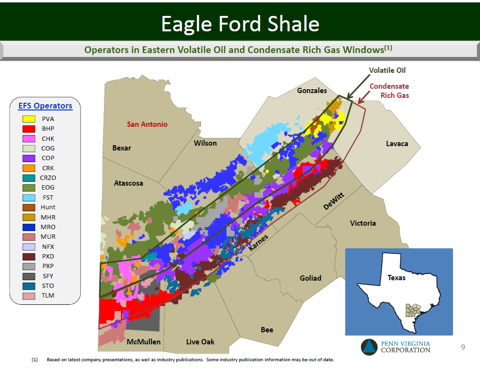 Source: Penn Virginia
For Magnum Hunter, this transaction provides funding for their 2013 objectives in the Utica, Marcellus and Bakken. Earlier this year, MHR announced a capital expenditure budget for fiscal year 2013 of $300 million for upstream activities. Funding this capital program had been a question for investors. Gary Evans, Chairman of the Board and CEO of MHR said on the Q4'12 conference call: "I want to also now talk a bit about our liquidity. As we mentioned in the press release this morning, our liquidity is right at $100 million, and that's before any asset sales. I can tell you that our target is to have at least $400 million to $500 million of asset sales in 2013. That is the plan and that is the goal, and we are working hard on accomplishing that." This transaction should put the near term liquidity issue to bed and focus investors back on the company's assets.
One of the early stage assets in MHR's portfolio that will be coming to forefront of their operations is the Utica. Even though Magnum Hunter Resources was an early entrant into the Utica Shale (2010), the company elected to wait and watch the play's development during 2011 and 2012. Most companies don't have the luxury in an emerging basin to wait and watch due to lease expiry concerns. However, the majority of MHR's acreage prospective for the Utica Shale (purchased through the acquisition of Triad Energy in 2010) is held by production from shallower targets.
It certainly seems as though MHR likes what it saw during 2012. The company has elected to drill four Utica Shale test wells during 2013 utilizing a four-well pad design. Plans are to spud their first well (Washington County, Ohio) in late February or early March and complete the 6,000-foot horizontal in the Point Pleasant portion of the formation. If management likes early results from the test wells, they may elect to further develop the play during 2013. MHR owns about 107,000 gross acres (81,000 net acres) of Utica potential.
For PVA, this transaction marks a meaningful continuation for the company along its "Gas-to-Oil" transition. PVA has built its Eagle Ford position from initial 6,800 net acres in August 2010 to 54,057 net acres post acquisition. From 2Q10 to 4Q12 the company grew overall oil/NGL production 253% to 8,673 BOPD primarily through development of the Eagle Ford. Given the current premium oil pricing environment compared to gas, more than 25:1 on an energy equivalent basis, every incremental unit of oil production that is brought on line significantly grows cash margin.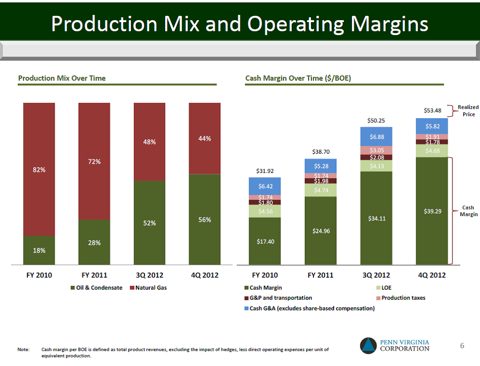 Source: Penn Virginia
The Eagle Ford will continue to be the near-term growth driver for the company with approximately 92% of the company's revised $457 million 2013 CAPEX expected to be allocated to the play. PVA plans to run a total of four operated rigs, two on existing PVA acreage and two rigs on the operated MHR acreage. Additionally, PVA will have two non-operated rigs running in the paly. In PVA's current presentation, the company shows the compelling economics they are generating across their acreage. The company is breaking even, producing an IRR of 10%, at a WTI oil price between $47 and $57 per barrel. The near month WTI price closed on April 1, 2013 at $97.07 per barrel.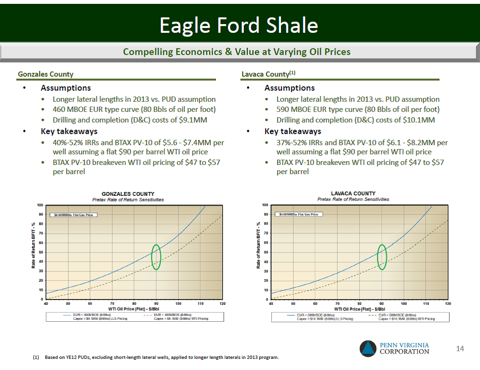 Source: Penn Virginia
Disclosure: I have no positions in any stocks mentioned, and no plans to initiate any positions within the next 72 hours.
Business relationship disclosure: Oil & Gas 360® did not receive compensation for the publishing of this company note. None of the professionals associated with Oil & Gas 360® hold any investment position in Penn Virginia or Magnum Hunter, nor does it intend to in the course of the next five business days. Although Penn Virginia and Magnum Hunter pay Oil & Gas 360® a monthly fee to be a profiled company on the website, Oil & Gas 360® reserves the right to publish notes and observations on any company that is sees fit to distribute.