Chesapeake Energy (NYSE:CHK) is engaged in a fight to "right size" its balance sheet to the level of cash flow that the company generates in a world of sub $4 natural gas.
The only way for Chesapeake to reduce its level of leverage (other than painfully diluting shareholders through equity issuance) is by selling off pieces of its massive oil and gas asset portfolio.
Chesapeake seems to be discovering when you are heavily leveraged it isn't always easy to get the prices you desire in asset sales. This was first evidenced by the disappointing value Chesapeake locked in for its Mississippi Lime acreage in a Joint Venture deal last month.
Last month it appeared that there was reason to be concerned about the price that Chesapeake might be able to fetch for some Eagle Ford acreage that it is currently actively marketing for sale.
Hess Corp (NYSE:HES) which is the focus of an activist shareholder campaign announced the sale of some Eagle Ford acreage to Sanchez Energy (NYSE:SN). The valuation of the property implied by the sale was lower than many expected.
In exchange for 13.4 MMBOE of proved reserves, 4,500 BOE/D of current production and approximately 43,000 net acres Hess received $265 million.
On a production basis that equates to $59,000 per flowing barrel. Simply based on current production, that price doesn't appear to be rich and at the very least suggests that not much is being paid for the non-producing acreage.
If we ignore the production entirely the price per acre is $265 million / 43,000 = $6,100 per acre, which likely would have been disappointing by itself, forget about the fact that the Hess acreage had significant production.
This week another transaction took place in the Eagle Ford from which valuation data points can be retrieved.
Here are the details:
Magnum Hunter Resources Corporation (MHR) today announced that it has entered into a definitive agreement to sell all of its ownership interests in the Company's Eagle Ford Shale oil and gas properties in Gonzales and Lavaca Counties of South Texas to a wholly-owned subsidiary of Penn Virginia Corporation (PVA) for a total purchase price of $401 million.

Of the properties to be sold to Penn Virginia, there exists approximately 19,000 net mineral acres in this entity along with 49 producing wells, 7 wells drilled and in the completion stage and 4 wells currently drilling. For the month of March 2013, the average daily production for the properties was approximately 3,000 Boepd.
The valuation metrics look quite a bit different on this deal than the one that Hess completed last month.
- On a flowing barrel basis the price paid is ($401 million / 3,000 barrels per day) = $133,000 per flowing barrel
- On a per acre basis the price paid is ($401 million / 19,000 acres) = $21,105
The per flowing barrel price is ($133k / $59k) 2.25 times more than Hess received and on a per acre basis the price is ($21.1k / $6.1k) 3.45 times.
Clearly, all acreage in the Eagle Ford is not created equally.
What then is the difference between the lower value acreage that Hess sold and the more valuable acreage that Magnum Hunter sold?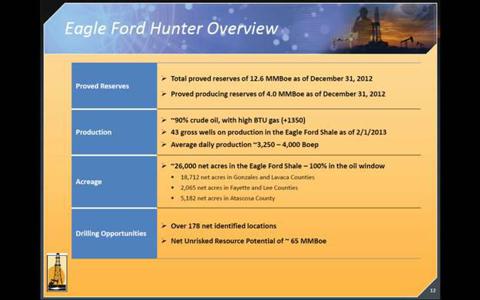 Click to enlarge
The slide above which is from Magnum Hunter's most recent presentation lays out the specifics on the acreage that it sold for $133,000 per flowing barrel.
What sticks out is that the acreage is 100% in the oil window in the Gonzales and Lavaca Counties.
The acreage that Hess sold meanwhile, as detailed below in its most recent pre-sale presentation is located not in the oil window, but in the gas condensate window.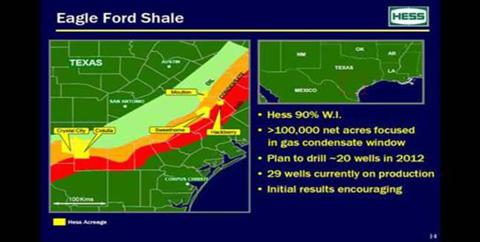 Click to enlarge
Production from the oil window clearly must be much more profitable than production from the gas condensate window.
What then does that mean for Chesapeake shareholders?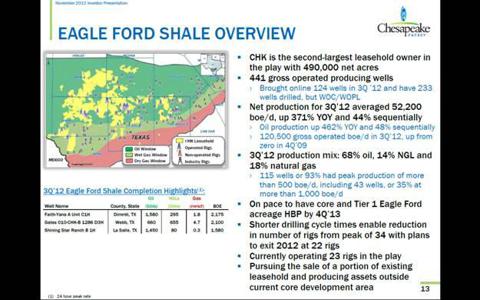 Click to enlarge
The slide above shows Chesapeake's Eagle Ford acreage. The company is pursuing the sale of a portion of that outside the core development area.
I believe that acreage up for sale is likely outside of the oil window and likely down in the wet gas window in the La Salle and Webb counties. That would mean that Chesapeake is likely going to be receiving a price more like the Hess deal and less like the Magnum deal.
The Magnum deal then isn't likely a good sign for what Chesapeake shareholders can expect from the acreage being sold, but is a good sign for the core Chesapeake acreage in the oil window that is being retained.
Disclosure: I have no positions in any stocks mentioned, and no plans to initiate any positions within the next 72 hours. I wrote this article myself, and it expresses my own opinions. I am not receiving compensation for it (other than from Seeking Alpha). I have no business relationship with any company whose stock is mentioned in this article.