On the same day Genworth Financial (NYSE:GNW) issued a press release indicating they completed the restructuring of its U.S. mortgage insurance business, The Washington Post reported the Obama Administration is pushing for broader access to home loans for consumers with weak credit.
Shares of Genworth Financial are under pressure, down over 3% today. Two other mortgage insurers, Radian Group, Inc. (NYSE:RDN) and MGIC Investment Corp (NYSE:MTG) are each down almost 4% as well.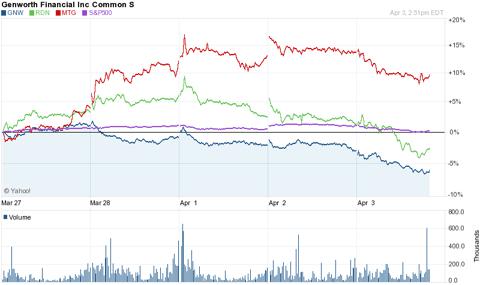 Click to enlarge
Chance Timing or Strategic, Political Move?
Mr. Obama's announcement came on the heels of the disclosure that Fannie Mae recorded record profits, $7.6 billion in Q4 2012. It's also quite an about face, after the Obama Administration reproached the banks for their mortgage practices during the housing boom era. The banks, of course, are timid about originating loans that could get them in trouble in the future.
The Obama Administration's thesis is that the housing rebound is not benefiting enough people, including precluding young professionals from access to mortgage loans. The problem is that many young Americans are too heavily indebted already, combined with a diminished earnings power from a lackluster economy.
Instead, young professionals should focus on repaying student loan debt, if they are encumbered by it, before taking on more financial obligations. In addition, more young people should be focused on entrepreneurship, and finding new, resourceful and innovative ways to secure their future.
This writer thinks Mr. Obama should continue to canvas for his Jumpstart our Business Startups ("JOBS") Act legislation before levering up Generation Y with more debt.
U.S. Mortgage Insurance Restructuring:
Concurrent with Mr. Obama's announcement, Genworth reported it had received all the necessary regulatory approvals as part of its U.S. mortgage insurance restructuring plan.
The details of the plan are as follows:
The capital plan, announced on January 16, 2013, consisted of several actions including transferring ownership of the European mortgage insurance subsidiaries to Genworth Mortgage Insurance Corporation (GMICO) that was completed on January 31, 2013 and implementing an internal legal entity reorganization which created a new public holding company structure that removes the U.S. mortgage insurance subsidiaries from the companies covered by the indenture governing Genworth's senior notes that was completed on April 1, 2013.

Also, as part of the plan, Genworth continues to have the future option, under certain adverse conditions, should they occur, to implement a "NewCo" type structure, for the continued writing of new business in all 50 states. The company anticipates the risk-to-capital ratio of our flagship writer, GMICO, will be reduced by approximately 15 points and the combined risk-to-capital ratio of the U.S. mortgage insurance subsidiaries will be reduced by approximately 10 points from this plan.
The news, which was previously disclosed, effectively gives management the ability to quarantine the risk of the U.S. mortgage insurance business from the rest of the enterprise, while continuing to write new mortgage insurance policies in all 50 states.
With tighter controls in place since the heady days of the housing boom, Genworth has been writing more risk-adverse and, therefore, profitable policy vintages.
Conclusion:
Irrespective of the news coming from the Obama camp, mortgage insurers should continue to be cautious and focused on risk mitigation, before considering return on the policies written. Combined with the retrenchment of the Federal Housing Administration's involvement in the mortgage insurance market, the private insurers should benefit from reduced competition from the federal government.
But the mortgage insurers must make sure they are vigilant in policy writing, or else risk getting involved in a business that is a race to the bottom.
Disclosure: I am long GNW. I wrote this article myself, and it expresses my own opinions. I am not receiving compensation for it (other than from Seeking Alpha). I have no business relationship with any company whose stock is mentioned in this article.