For many managers and shareholders, holiday retail sales this past year were rather disappointing. Coach (NYSE:COH), like many other retailers experienced a sharp, yet unanticipated decline in sales. The aftermath produced a wide spread drop in the security prices for many firms across the industry, and prices have remained stagnant ever since. In particular, Coach's market value per share dropped nearly 25% to where it currently trades at around $50 per share. Unlike your average retailer, Coach's unique product line, brand loyalty, and exclusive customer base provide room for this undervalued retailer to recover quicker than expected. In light of this, I think there is a feasible short-term investment - its valuation is attractive and analysts one-year price targets reveal a very small amount of variation. For a primer, here is an overview of Coach's business model.
Once A Mom & Pop, Now A Modern Shop
As of today, Coach is a well established manufacturer and supplier of high-grade luxury goods. However, an elaborate journey was required to transform its business from what it once was. Coach was founded in 1941 at a small loft in Manhattan. At this location, six artisans worked persistently constructing products by hand that eventually formed Coach's first product line. At first, Coach began operating as a small family-run workshop, but its custom made products quickly earned a reputation. The craftsmanship of its products attracted a unique customer base, and the value added through these products enabled Coach to quickly expand its business.
Starting off, Coach's six member management team was highly restricted in terms of it working capacity available. Its product line as well as the number of goods available for purchase was highly limited. Today, Coach's market capitalization is roughly $14 billion, and its operations are managed by over 18,000 employees. Customers now have a far more diverse offering of goods including bags for both men and women, various accessories, business cases, footwear, wearable, jewelry, sun wear, travel bags, watches and an assortment of fragrances. The combination of a growing product line and simply the cutthroat nature of the retail industry itself makes maintaining a competitive edge rather difficult at times, but Coach's brand loyalty acquired over the past 70 years helps counter potential set backs. Going forward, Coach's extensive footprint across the landscape of the entire industry will continue to allow it to compete with firms such as Louis Vuitton (OTCPK:LVMUY), Prada (OTCPK:PRDSY), Hermes International (OTCPK:HESAY), and Michael Kors (NYSE:KORS), Ralph Lauren Corporation (NYSE:RL), and Tiffany & Co. (NYSE:TIF).
Today, Coach operates across a diverse landscape with establishments throughout the United States as well as 20 different countries. Its United States retail segment includes 523 retail stores. Of these store, you will notice below that 354 are retail and 169 are factory outlets.
Figure 1: Coach's U.S. Retail Stores

Click to enlarge
Respectively, Coach's factory outlets are providing the most room for expansion. Since 2010, Coach has consistently increased the number of factory outlets by 18.2% each year. Evidently, it costs money to build stores, and firms that expand to rapidly often accumulate unwanted debt and are faced additional sunk costs. But for Coach, this does not seem to be the case. Coach's luxury-priced products have provided margins substantial enough to make expansion a lucrative, yet safe option. Coach's management feels North America can support a total of 500 retail stores, including up to 30 in Canada. In FY 2013, Coach plans on opening 10 new retail and 18 new factory outlets. The new establishments will augment productivity and continue to leverage Coach's market share in the industry.
Figure 2: Coach's U.S. Factory Stores

Click to enlarge
The breadth of Coach's international distribution channel is quite extensive, and below are several metric outlining the number of establishment Coach operates in foreign countries.
Figure 3: All Coach's Stores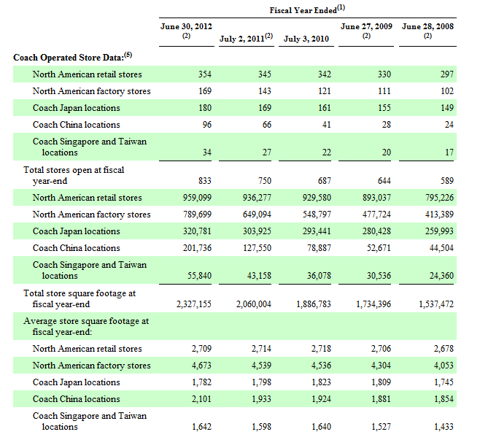 Click to enlarge
Although Coach's distribution network reaches over 20 different countries, its foreign establishments are located in Japan, China, Singapore and Taiwan. Recently, China and Taiwan exhibit the largest amount of growth in terms of the number of new stores. Since 2010, the number of new stores built in China and Taiwan have increased annually by 53.25% and 24.3%, respectively. As are beginning to see, Coach using market penetration to its advantage and is positioning itself to profit off growth in foreign markets. According to Coach's 10-K, in 2013 Coach plans to continue expanding further into Latin America through its distributor partners in Venezuela, Columbia, Panama and Peru. Expansion into foreign markets is a lucrative growth play that is feasible, and is actually one of the top company goals mentioned by Coach's executive team members at a conference in late 2012:
In order to sustain growth within our global framework, we continue to focus on two key growth strategies: increased global distribution, with an emphasis on North America and China, and improved store sales productivity. Leverage the global opportunity for the Coach brand by raising brand awareness and building market share in markets in which Coach is under-penetrated, most notably in Asia, where China is our largest geographic growth opportunity, given the size of the market, its rate of growth, and our increasing brand awareness. We currently plan to open about 30 new locations in China during fiscal 2013, with the majority in mainland China. We will continue to expand market share with the Japanese consumer, driving growth in Japan primarily by opening new retail locations. We currently plan to open approximately 13 net new locations, most notably Men's locations, during fiscal 2013. In addition to the acquisitions of our Singapore and Taiwan businesses during fiscal 2012, and consistent with our strategy of directly operating key Asian markets, we have acquired our domestic businesses in Korea and Malaysia subsequent to the end of fiscal 2012. Outside of Asia, we are developing the brand opportunity as we expand into Europe and South America.
Performance
Currently, Coach is trading right around $50 per share. With 280.78 million shares outstanding its market capitalization is roughly 14.45 billion. As you will see below, Coach is trading just about 10% above its 52 week low of $45.59. On the technical side, Coach appears to have just rebounded slightly from its six month support line that was established back in March. Its 14 day relative strength index indication is high at 57.73. To further evaluate the underlying risk within Coach's market returns, I regressed its monthly holding period returns with respect to the returns of the S&P in order to compute a firm-specific beta and alpha value. Its returns revealed a beta value of 1.42, which is relatively low indicating its returns are only of slightly higher risk than those of the market. In addition, its alpha value was negative, which is a sign the security is undervalued.
Figure 4: Coach's One-Year Price Graph from FinViz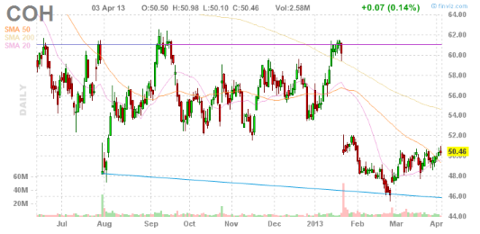 Click to enlarge
Coach's operations incorporate a high level of productivity. According to book value, its fixed operating assets are valued at roughly 243.36 million and generate a favorable return of 32.93%. In addition, Coach provides its shareholders with an abnormally high return on equity of 53.18%.
Figure 5: Coach's ROA & ROE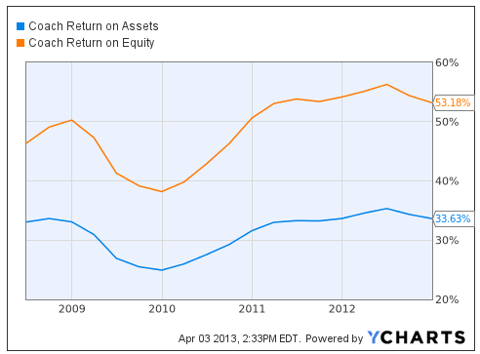 Click to enlarge
Valuation
Coach's basic valuation metrics are highly favorable. Currently, Coach trades at a P/E of around 13.5x, which I perceive to be considerably low relative to its peers. The P/E ratios for several of its peers appear to be rather steep ranging from 21.69x to as high as 32.17x.
Figure 6: P/E Comparison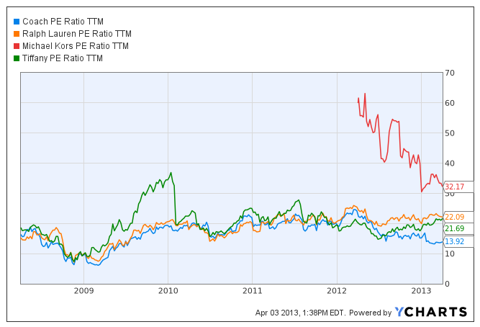 Click to enlarge
Also, Coach is trading at the lower range of its three year valuation based on its price to book and its price to sales. Its price-to-earnings growth ratio is also considerably low at only 1.061.
Figure 7: Coach's P/S, P/B, & PEG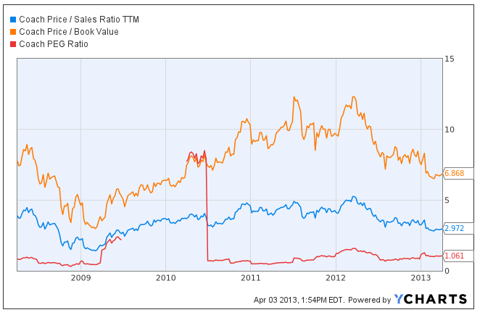 Click to enlarge
In order to place a fair value on Coach's common stock, I used a modified version of the corporate valuation model. The model starts by projecting the firms value of operations through the use of a forward free cash flow estimate, and then discounts the estimated figure back by the difference between the firm's weighted average cost of capital (OTC:WACC) and the projected growth rate. For Coach, I computed a weighted average cost of capital of 11.10%, and to be conservative I used a growth rate of 6.5%. The remaining steps are strictly procedural and are shown below. The model arrives at an intrinsic price per share estimate of $76.13, which implies an upside of nearly 50% from its current market value per share. Note this model is estimating the expected fair value per share for the end of FY 2013. If you use the same model with Coach's current values for the inputs below, it will compute an intrinsic price per share of what the stock is really work today. Coach's current fair value per share is $62.50, which indicates the stock is undervalued by roughly 25%.
Figure 8: Coach's Intrinsic Valuation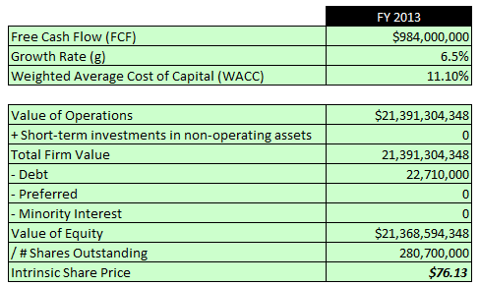 Click to enlarge
Analysts Estimates
To provide investors with an idea of how my intrinsic value estimate varies with the consensus of professional analysts, I extracted one-year price targets set by analysts at 18 different firms. As you will see, the price targets used are set by analysts at a wide range of different investment banks and asset management firms. Shown at the bottom of figure 9 are several sample statistics I computed from the price targets provided. While the distribution of this sample is irrelevant, arguably, it does seem to be normally distributed given the arithmetic average and median are relatively the same. As you will see below, Coach's average and median one-year price targets are $62 and $61, respectively. The lowest price target of $53 appears to be considerably different from the vast majority of the other estimates. However, it is important to note that every price target set is higher than Coach's current market value per share.
Figure 9: Coach's Analyst Estimates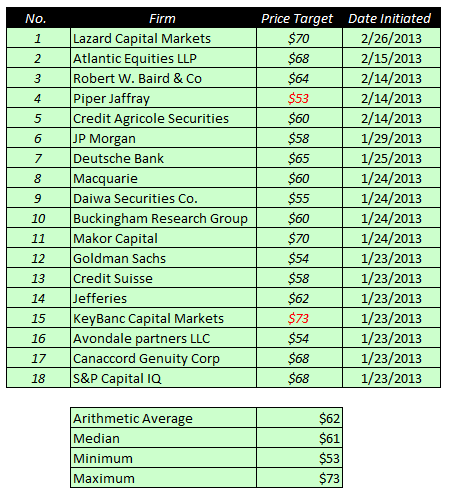 What to Make of This?
At $50 per share Coach is highly undervalued, and it is clear analysts have taken this into account. Looking forward, I do no feel that it is highly likely for Coach to continue its path as a growth stock. However, I do agree Coach has the potential to continue its plans for slow expansion, while still generating a strong return on its equity and assets. As previously mentioned, Coach's management only anticipates adding a small amount of new stores to countries including the US and Canada where a large sum of stores already exist. On the other hand, Coach expansion plans for Latin America are far more aggressive, which I feel is a feasible option given the underdeveloped nature of economies in Latin America countries. Therefore, I feel the diversified and moderate growth strategy Coach's management has in effect will continue to generate substantial margins through targeting new markets, yet avoid the debt burden associated with rapid expansion. Overall, I recommend buying Coach as a value play with a six-month to one-year investment horizon.
Sources: TD Ameritrade, Google Finance, Yahoo Finance, YCharts, FinViz, The Wall Street Journal, sec.gov & The Street.
Disclosure: I am long COH. I wrote this article myself, and it expresses my own opinions. I am not receiving compensation for it (other than from Seeking Alpha). I have no business relationship with any company whose stock is mentioned in this article.