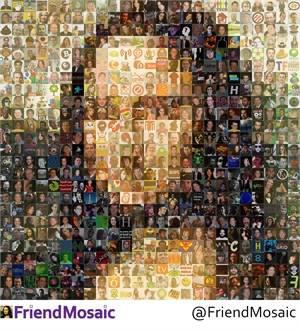 I recently wrote an article titled "Ballantyne Strong Should Reinstate The Stock Buyback", which made the case that Ballantyne Strong (NYSEMKT:BTN) had a solid cash position, profits and a past history of a successful stock buyback program. It also highlighted the Q&A session from the conference call, where multiple callers discussed the reinstatement of the stock buyback program. What was most interesting, however, about the article wasn't the actual article, but the comments that it inspired. One comment most of all highlights the power of interactive media and the benefits of reading Seeking Alpha articles. Commenter Pieceofmind correctly identified that insiders from BTN had executed open market transactions, but the current 4S reports did not accurately reflect that fact:
"I confirmed with the Company that there were multiple Form 4s filed, and the CEO and two Directors did make recent open market purchases

There were also separate transactions that were grants of restricted stock"
The follow-up comment stated:
Robert - you were correct and as a result we alerted management/legal counsel and they re-filed a few of the Form 4s, which now reflect some of the open market purchases

Here's link...http://1.usa.gov/ZC27cN

-P
The astute research by a Seeking Alpha reader was able to identify this issue 5 days before the news hit the headlines: "Ballantyne Strong CEO Buys 10K Shares and 4 Insider Trades to Note".
Insider buying, while it may not be meaningful on its own, may give a clue as to something being in the works at BTN. The 10,000 share purchase by President and CEO Gary L. Carvey represents an increase from 45k to 55k shares or a 22% increase. That is a rather sizable increase, and represents a total investment of over $200k.
Technical Review:
While insider buying may be an early clue to positive news to come, it is always a good idea to search for more clues before reaching a conclusion. The technical behavior of a stock often provides such clues. Since the time of the original article on March 18, 2013 , the stock is up about 4.69%, 5.02% since the conference call on March 11, 2013. That is decent momentum for such a short period of time. Volume has also been increasing since early March, and it had a nice spike on the day of the conference call. Three month average volume is 81k shares per day. Since the conference call, volume has been almost double that at 146k per day. Lastly, the stock price has been trading above its 50 day moving average since January 2013, and has recently broken above the 200 day moving average, and remains above it as of this writing.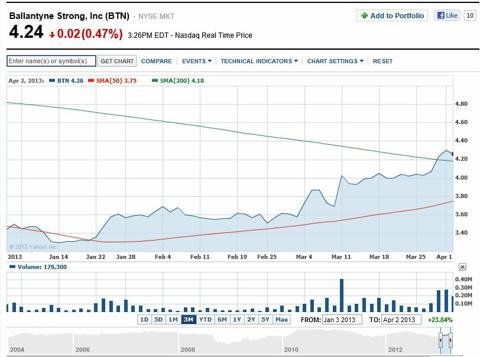 In conclusion, many trends seem to be pointing in the right direction for BTN. It recently returned to profitability, has a solid cash position and valuations, recent insider buying, increasing volume, price momentum and the stock price trading above key moving averages, particularly the 200 day moving average. While none of those observations may mean much by themselves, put them all together and they start to form a mosaic of good news. Does that mean the stock price will head higher? No, not necessarily, but trends like this are often worth watching to see how they unfold. As time passes, more information gets presented to the markets, and investors can add more and more dots to the mosaic. This article starts the mosaic, and as time passes, investors can add more and more dots as they become known. Over time, enough dots may improve the resolution and clearly paint a picture supporting a buy or sell decision.
Disclaimer: This article is not an investment recommendation. Any analysis presented in this article is illustrative in nature, is based on an incomplete set of information and has limitations to its accuracy, and is not meant to be relied upon for investment decisions. Please consult a qualified investment advisor. The information upon which this material is based was obtained from sources believed to be reliable, but has not been independently verified. Therefore, the author cannot guarantee its accuracy. Any opinions or estimates constitute the author's best judgment as of the date of publication, and are subject to change without notice.
Disclosure: I am long BTN. I wrote this article myself, and it expresses my own opinions. I am not receiving compensation for it (other than from Seeking Alpha). I have no business relationship with any company whose stock is mentioned in this article.